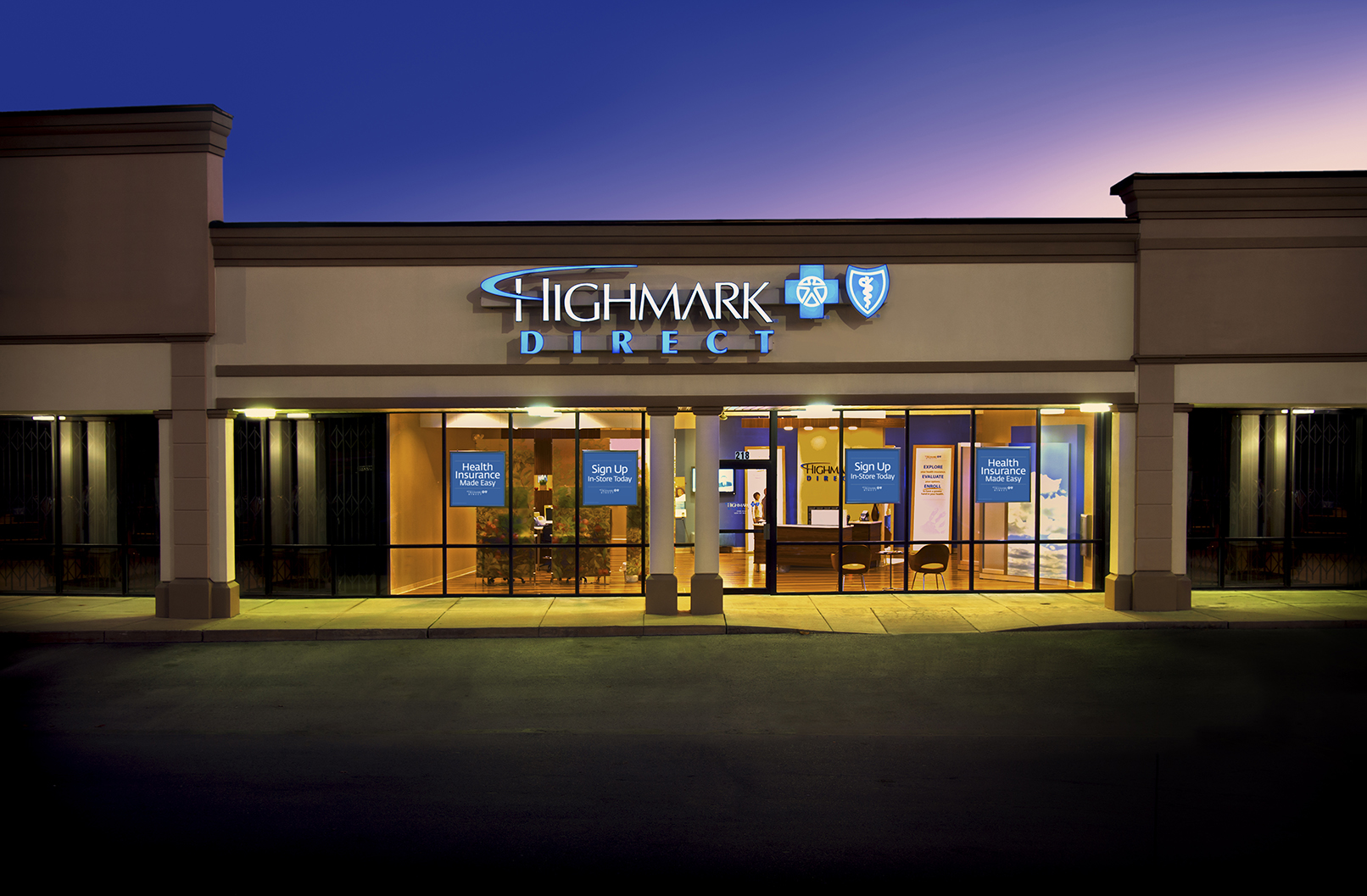 Highmark Inc. serves approximately 12.7 million members in western, central and northeastern Pennsylvania through the company's total health plan and ancillary membership for businesses and residents. The company provides a broad range of individual health insurance products and Medicare supplemental programs. Highmark also contributes millions of dollars to help keep quality health care programs affordable and to support community-based programs to improve people's health.
Recognizing the significant shift happening in the health care landscape, Highmark was at the forefront of developing a personalized way for people to shop for health insurance. In 2009, Highmark launched Highmark Direct, a first of its kind health insurance retail location in Pennsylvania. After starting with two stores in 2009, the Highmark Direct footprint has grown to 11 stores across the state, including four locations in southwestern Pennsylvania. The Pittsburgh-area stores are in North Fayette, Monroeville, the North Hills and the South Hills. In 2015, Highmark Direct stores saw more than 100,000 total visits as people had experiences with the Affordable Care Act and federal health insurance marketplace. In the midst of consumer uncertainty and confusion, Highmark Direct provided face-to-face interactions to help people make sense of health care and health insurance.
As people continue to take a more active role in choosing their health insurance and managing their health care, Highmark knows it is important to provide them the appropriate tools and information to help them make well-informed decisions. The Highmark Direct retail stores are the most visible aspect of Highmark's commitment to customers. The stores provide a resource of health insurance information for individuals, seniors and small businesses. Staff members at the Highmark Direct stores are trained to walk people through Highmark's insurance products and services so customers can determine the best coverage options for themselves and their families.
For the purchase of something as important as health insurance – which can be confusing for almost anybody – people like being able to have personal interaction as they go through the process of learning about and buying coverage. Seniors are able to visit the stores for informational seminars, where they can learn more about their Medicare coverage as well as supplemental insurance needs. And even people who are already Highmark members can gather important information about how they can better manage their health through Highmark's wellness programs.
The Highmark Direct stores provide in-person consultations with insurance experts who can discuss options and provide assistance in applying for and purchasing coverage. This kind of personal consultation can be invaluable for people buying health insurance for the first time or who do not have employer-sponsored health coverage, such as those who are self-employed or between jobs.
In addition to selling health insurance plans, Highmark Direct also offers ancillary products such as dental insurance and travel insurance.
To make an appointment, or to locate your nearest Highmark Direct store, visit www.highmarkdirect.com. To learn more about Highmark and its initiatives, visit www. highmark.com.
At UPMC Insurance Services Division, we seek to offer the highest quality and value to our members and our community. As part of the UPMC family, we work closely with world-class hospitals, physicians, and researchers at UPMC, and with community provider-partners across our service area, to deliver award-winning health care products, programs, and services. And we seek to do all this with a personal touch, helping individual members and their families enjoy the best possible health and quality of life.
We continually analyze and improve our products, programs, and services based on our customers' needs and the most current research. This enables us to bring to the marketplace innovative health care offerings along with the advantages customers want from a health plan: quality, choice, access, service, and value. Our commitment is to provide these advantages to every customer.
UPMC, our parent company, is an integrated global health enterprise. In 2012, UPMC was the only medical center in Western Pennsylvania to be named to the U.S. News & World Report Honor Roll of America's Best Hospitals. UPMC ranked 10th in a national field of nearly 5,000 eligible hospitals.
All of our health plans are highly ranked nationally. We maintain "Excellent" NCQA accreditation for our Commercial HMO/ POS, Commercial PPO, Medicaid, Medicare Advantage, and Medicare PPO plans.
Our award-winning wellness and disease management programs are developed by UPMC experts in the fields of exercise, nutrition, and chronic care, and incorporate the latest research findings, best-practice preventive care, and disease management protocols.
Our provider network includes the world-class tertiary and specialty hospitals of UPMC, as well as quality community hospitals, physician practices, and many other types of facilities. Our network has more than 125 hospitals and 15,000 clinicians, including some 11,500 physicians.
To find out more about UPMC Health Plan, visit www.upmchealthplan.com.
Aetna offers Health Maintenance Organization (HMO), High Deductible Preferred Provider Organization (PPO), Preferred Provider Organization (PPO), Preferred Provider Organization Value (PPO), and Preventive and Hospital Care.
The HMO is a network of doctors, hospitals, health care providers and pharmacies that offers medical treatment at a reduced cost to members. This type of coverage is often some of the most affordable health insurance a person can buy in Pennsylvania. Some health-insurance shoppers want a plan with a higher deductible that allows them to pay a lower monthly premium or to pair a deductible plan from Aetna because the plan qualifies to be paired with a tax-advantaged Health Savings Account (HSA).
Health-insurance shoppers who enroll in an Aetna PPO plan or PPO Plan Value enjoy access to a network of preferred providers that includes family doctors, hospitals, and specialists. They need not select a primary care physician (PCP) and need no referrals to see the providers in the network. Unlike HMO insurance networks, PPO plans from Aetna include two levels of coverage. Participants have one set of benefits for care received from providers within the network, and another for care received outside the network. A PPO plan pays for more of insureds' health-care bills when they receive care within the preferred network.
Aetna's Preventive and Hospital Plan is a limited insurance plan that offers affordable, monthly, plan premiums. Well-suited to people who use only basic health care services, this plan allows the freedom to go directly to almost any recognized health-care professionals, including specialists, for covered expenses. Typically, insureds have a choice of annual deductible levels that allow them to have greater control over out-of-pocket expenses. Although this type of plan also increases affordability by offering a narrower scope of benefits than other major medical plans, these plans should not be confused with the type of catastrophic or bare bones health insurance available elsewhere.
United Health One offers copay plans that give insureds the security of a predictable, fixed payment for each medical-care office visit, and high-deductible health plans that can save money and help protect against the cost of a catastrophic injury or long hospital stays. The company's health savings account plans (HSA) provide tax-advantages, with competitive interest rates on HSA accounts. And Short Term MedicalSM Plans offer gap coverage for in-between times, such as when someone is a new college grad in between employment or waiting for new employer sponsored benefits to begin. United's dental plans and vision plans can be added to one's personal, health insurance plan or purchased by themselves.
And UH continuity is a new, innovative benefit that insureds add to their personal health insurance. This coverage allows them to turn off coverage when they have group insurance and turn coverage back on when they need it at a later time.
HealthAmerica has served Pennsylvania for over 35 years. Listed among the country's top 20 health plans in the U.S.News/NCQA America's Best Health Insurance Plans list, HealthAmerica has provided health-benefit solutions to employers across Pennsylvania. The company offers a broad range of traditional and consumer-directed health-insurance products, including managed care, self-funded, Medicare, indemnity, nongroup, and pharmacy plans.
HealthAmerica has corporate offices in Pittsburgh and Harrisburg, Pennsylvania, and serves 11,000 businesses and more than 500,000 members in Pennsylvania and Ohio. The company offers progressive medical management, innovative wellness programs, and statewide and national provider networks.
HealthAmerica's HMO, POS, and Medicare Advantage plans have ranked among the top 50, best health plans in the U.S. News/ NCQA "America's Best Health Plans" list every year since 2005. These plans currently have "Excellent" accreditation by the National Committee for Quality Assurance.
Plan Members get access to information and resources that help them make the most of their plans. By registering for My Online Services™ members manage spending accounts and claims, research doctors and hospital quality information, and send and receive secure messages from HealthAmerica's customer service.
Providers enroll in directprovider.com for access to member eligibility and benefits, claims, remittance advice, authorizations, a resource library, provider news, and secure messaging.
Employers administer their companies' health plans through Online Account Management™ that offers secure, password-protected service features. A dedicated Net Support Team stands by via a toll-free phone number to assist with HealthAmerica's online services.
Brokers enjoy a wide spectrum of products designed to meet the changing needs of their customers. Brokers get quotes online, download forms, and more. And new and expanding brokers can learn about becoming appointed and selling HealthAmerica's newer products, such as Medicare and individual plans. mg