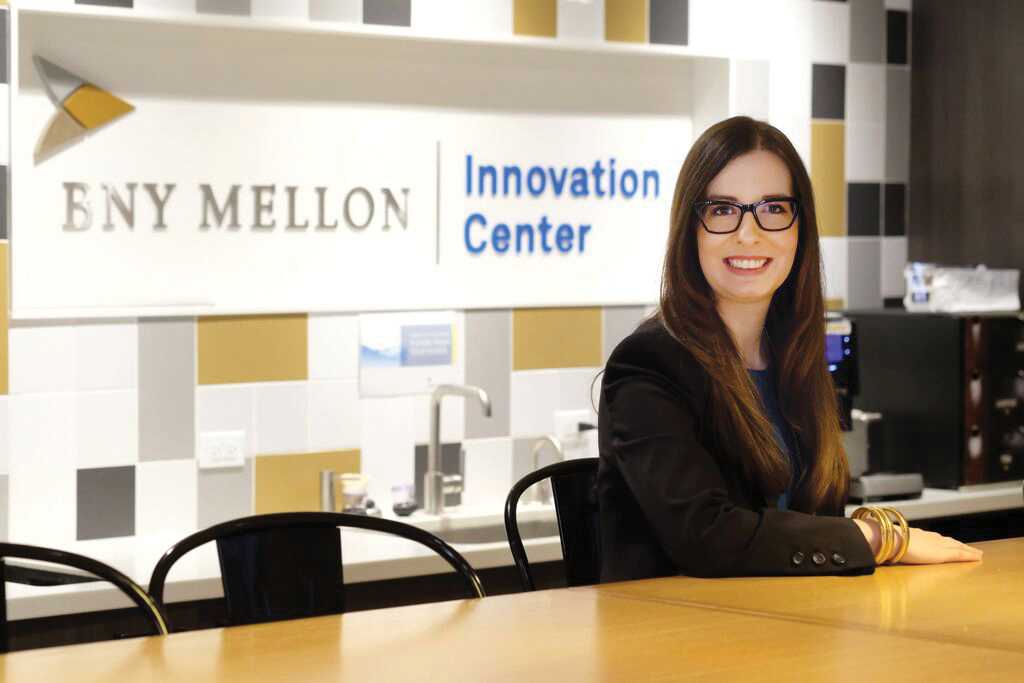 Ashley Blankette
Head of Pittsburgh Innovation Center
& Group Manager of UX
BNY Mellon
"It's time to think big because Pittsburgh has moved beyond the usual answers and is coming up with truly game-changing ideas."
Growing up in the rural outskirts of Pittsburgh in Greensburg, Ashley Blankette was surrounded by more farmland than neighbors, so imagination and innovation were cultivated early on. After receiving a dual bachelor's degree from Penn State in Graphic Design and Advertising & Communication, she and her husband moved home to be close to their families, but not without some pushback: "When I told classmates and professors I was coming back to Pittsburgh I faced a lot of skeptics, but I feel like I played the long game and won. Pittsburgh is incredibly exciting and it's really just the beginning of opening up what potential we have here."
Ashley's first job out of school was as a designer with ThoughtForm Inc., a communications and design consultancy in the Southside. She spent five years with the company discovering she had a passion for designing interactive experiences and welcomed the challenge of taking complex information and data and representing it in simple, useful ways. From there, Ashley took a job with global consulting firm, FTI Consulting, as a user experience (UX) designer and honed her skills in an area that she saw was on the rise, which ultimately led her to BNY Mellon.
As a UX designer at BNY Mellon, Ashley spent her first 3-4 years building a team of 12 in Pittsburgh that is responsible for evangelizing design thinking within the bank, and also for clients. "There's a lot of great young talent coming out of our local universities in technology and Human Computer Interaction (HCI). I didn't have to look far to find the talent I needed to grow a successful team." Recent graduates also benefit from BNY Mellon's Technology Leadership Program that allows new staff to rotate in various areas of technology within the bank to identify where they fit best.
In 2017, anticipating that she wanted to move into the innovation space, Ashley enrolled in the MIT Innovation and Strategy Executive Education program. Her career evolution that brought together design, client advocacy and technology provided a strong platform to move into the innovation space and in December 2018, Ashley was named the Head of the Pittsburgh Innovation Center: "I'm constantly impressed with how BNY Mellon culture creates an environment where there are active champions for women in leadership and there's a real focus on advancing the careers of women in technology." This commitment is recognized nationally: In 2017, BNY Mellon was named one of the Top Companies for Women Technologists by AnitaB.org for the third year in a row.
When she's not innovating at work, Ashley and her husband Matt, a teacher with Norwin School District, are often exploring some of the lesser known sides of Pittsburgh. "We love architecture and old homes, especially mid-century and people don't always recognize what an amazing stock of homes we have here. I think the east suburbs are an especially underappreciated side of the city." She recommends going for a drive to check out some of the beautiful mid-century homes on Marbury Road in Churchill and seeing some of famed Pittsburgh-architect, Tasso Katsalas', work. The couple also collects mid-century antiques and are always using estate sales as a good excuse to explore new neighborhoods around the region. Ashley recommends the store Who New in Lawrenceville for great antique finds.
Sometimes fails turn into successes, as one of their favorite finds came from a foiled estate sale trip when they happened upon Better Maid Donut in Carnegie. "At least once a month we wake up on a weekend and with one glance we know it's a donut morning." They are also big fans of Italian food and can often be found on Friday nights at Gia Visto, a BYOB  Italian restaurant in Monroeville, or picking up goodies at the neighborhood Italian grocery store, Labriola's.
As for where BNY Mellon and Pittsburgh are heading in the innovation space?
"Our global Innovation Centers are pushing the envelope in terms of technology and exploring the 'adjacent possible.' How can we combine our rich data with our technology framework and emerging technologies in ways that create new value for our clients? The sky is really the limit."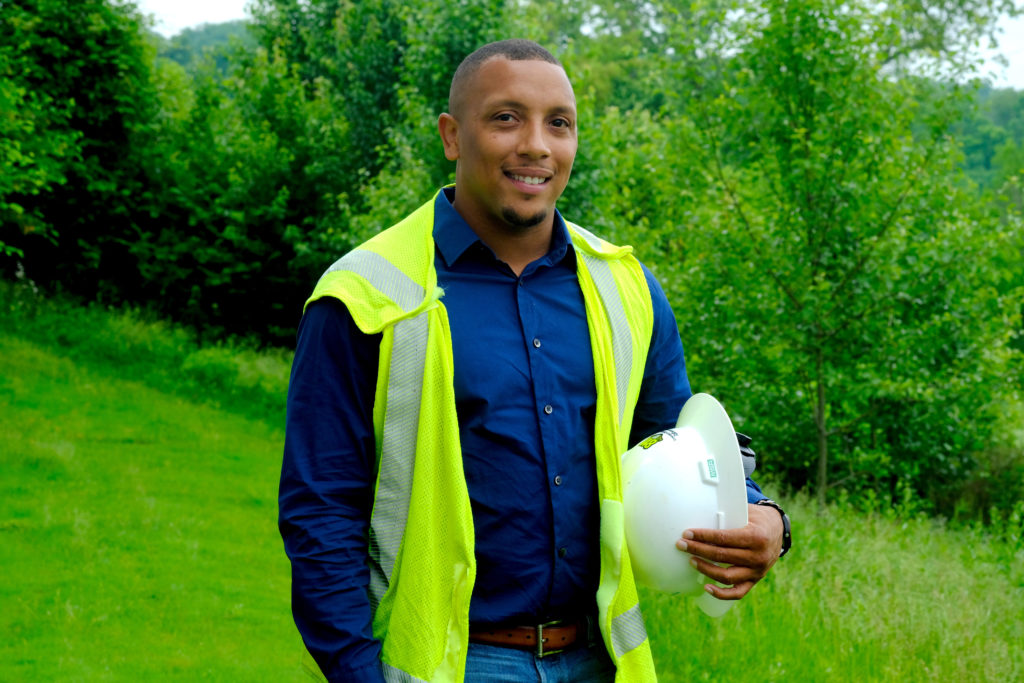 Mychael Wells
Field Operations Leader
Columbia Gas of Pennsylvania
"I've always had a strong connection to Pittsburgh growing up in the region, and it's exciting to see the transformation and be a part of the region's future leadership."
Born and raised in Rochester, PA, less than an hour outside of Pittsburgh, Mychael Wells always felt connected to the city and frequently traveled downtown to support local sports teams and attend events. A high school and college football player in an area that takes credit for football legends like Darrelle Revis and Joe Montana, Mychael learned hard work, persistence and leadership on the football field and was able to transition that drive into his career.
After graduating from Indiana University of Pennsylvania with a criminal justice degree, Mychael took a laborer position at Columbia Gas without any construction or natural gas experience: "The learning curve was steep, but I was able to train alongside staff who have been with Columbia Gas for 30 years. Our leadership recognizes the gap between entry-level talent and those nearing retirement, and they've done a great job creating the infrastructure for knowledge transfer to make sure people are ready to step into more responsibility and leadership roles."
Mychael committed himself to working hard and learning the company and upward mobility followed. He became a crew leader and then a damage prevention coordinator working with contractors and discussing pipeline safety, which gave him exposure to new areas of the company and also outward community engagement. He is now going on 3 years as a field operations leader and oversees day-to-day operations of the field crew. It's a dynamic role working with internal and external partners and aligns with his professional and personal commitment to giving back to the community.
Within the company, Mychael has led an Inclusion and Diversity committee and currently serves as the lead on The Leadership and Education for African American Development team. Mychael sees himself as a community leader and role model: "As a kid, we'd see the Columbia Gas trucks coming through our neighborhood, but never really knew what they did or how gas worked. When I started my laborer job, I had friends ask me why I was working at a utility when I'd come home dirty and worn-out. Now they see me in a leadership role with my company truck and they want to know how to get a foot in the door."
Outside of work, Mychael is passionate about mentoring youth in his community and discussing everything from career awareness to football plays.  He regularly spends time with about 10 kids that range from 7 to 16 years old: "Being at Columbia Gas opened doors for me to give back to my community and use my platform to inspire the youth in my neighborhood. I bought one of my mentees a lawn mower because he was interested in starting his own business, and since then he's been knocking door to door looking for work.  Having the financial flexibility to help him out and the opportunity to teach him about entrepreneurship is invaluable, and that's grounded in what I've learned here."
For fun, Mychael enjoys exploring the city with his family. They love going out and riding bikes on the cities extensive trail networks and more locally at Brady's Run Park in Beaver County. With the exploding restaurant scene they try to pick one new restaurant a month to check out, most recently targeting the East Liberty neighborhood and visiting Muddy Waters Oyster Bar, which has great New Orleans-style cuisine. A lifelong sports fan, Mychael supports the Pittsburgh teams, but is the most passionate about the Pitt Panthers football team who always have 2-3 players from his old stomping grounds. "My mom put me in football as a young kid, and it's really part of the fabric here. Things happen during the week, but you can guarantee on Friday nights everyone comes together to celebrate and enjoy. Football does a lot to bring the community together here, locally, and across the Pittsburgh region."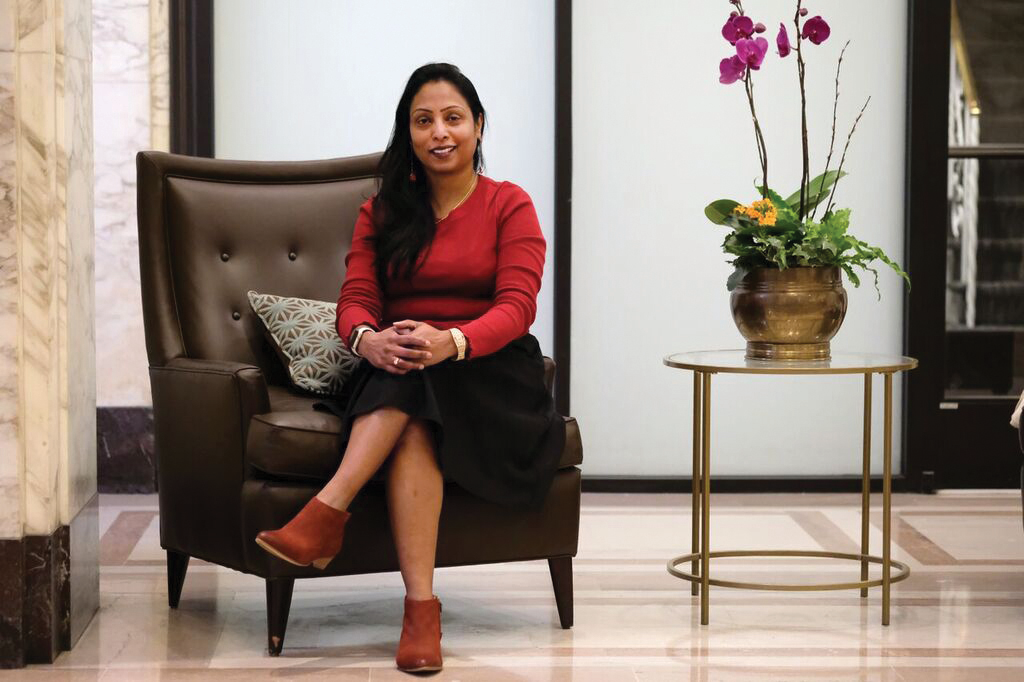 Sarala Deer
Senior HR Systems Analyst
Koppers
"Pittsburgh is booming and it's opening the door for skilled talent, like myself, who come from all backgrounds and walks of life."
Having traveled coast to coast and across continents, Sarala knows a thing or two about culture and place. For her, "there is no place like home." Fortunately, she's found it here in Pittsburgh.
Born in India, Sarala emigrated to Canada with her family and moved back and forth between the two countries for her education before ultimately moving to the U.S. for her workforce and HR systems certifications. She took a position working as a consultant, traveling under contract across the country as a technical lead for the cloud-based financial management and human capital management software vendor, Workday. Sarala enjoyed traveling, but wished to settle down in one place. As luck would have it, she applied to a position with Koppers – a global wood preservation technology company based in Pittsburgh – and was quickly contacted for an interview. The rest is history.
Sarala is now a senior HR systems analyst for Koppers, serving as the main point of contact for its HRIS function across all locations, domestic and global, with a focus on business processes and application support. Thanks to Koppers "family atmosphere," the job comes quite easy to her: "I get a chance to sit with coworkers and superiors on a regular basis discussing what's important to us. It makes you feel like you are part of the Koppers family." Sarala is equally proud of the company's commitment to diversity, female leadership and employee recognition for good work: "It is truly the best place to work. I've noticed from day one that Koppers is there for their employees. Women are very well respected and they are open to leaders of other cultures and ethnic groups." 
Outside of the workplace, her colleagues helped Sarala discover what makes Pittsburgh great. "It's not plain, flat land like the other places that I have lived," she says, "And, like Toronto, the neighbors are friendly and welcoming." She followed their advice and purchased a home in one of the region's neighborhood gems, Bellevue – located along the Ohio River and just 6.5 miles from downtown Pittsburgh. It's a home she's always excited to showcase to her family. "My children come to see me whenever they get the chance and they say 'Mom, this is the best place you have chosen to live.'" 
From the city's love for the Steelers to its love of bridges, Sarala enjoys exploring and getting acclimated to the city. "I love to drive around and explore new and beautiful places." She enjoys visiting Kennywood Amusement Park, the PPG Zoo and Aquarium, Phipps Conservatory and Botanical Gardens as well as the local stores and shops in her neighborhood. The eclectic food scene in Pittsburgh has also introduced her to "the best meatballs I've ever tasted" from Sienna Mercato, delicious Thai food from Nicky's Thai Kitchen, and she's a big fan of the Indian cuisine offerings from The Commoner.
Even though she is far from where she was born, Sarala has found a "taste of India" right in her backyard. While taking the scenic drive along the windy, mountainous back roads of Pittsburgh's suburbs, she discovered a Hindu Temple situated beautifully atop a hill. "Instantly, I was at home, in India." Her advice for newcomers: "People are so friendly here. Just one smile and one 'Good Morning!' and they are all there for you."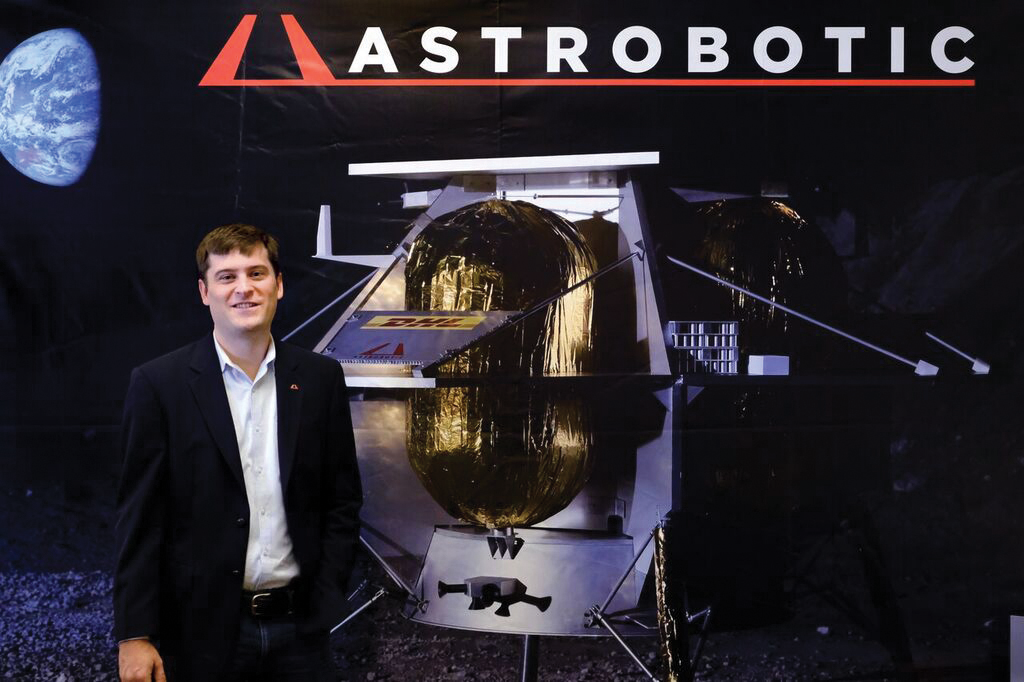 John Thornton
CEO
Astrobotic
"If Pittsburgh can land on the moon, we can do anything. This will be a huge exclamation point on the reputation and success of the city."
In history, there have only been 3 countries to land on the Moon and they were all super powers – The United States, Russia, and China –and in 2020, John Thornton plans to put Pittsburgh, PA on that list as the newest lunar super power. John is the CEO and co-founder of Astrobotic, a lunar logistics company that delivers payloads to the Moon for companies, governments, universities, nonprofits, and individuals. If this sounds straight out of a sci-fi novel it's because until recently, it was, but John and his team are working diligently to make the Moon accessible to everyone: "We are working to push the ecosphere of human activity by making the Moon part of our economic domain on a regular basis."
The son of engineers, John always liked to build things, including a model rover in middle school, but didn't firmly set his sights on space until the end of his college career. He moved to Pittsburgh to attend Carnegie Mellon University and study mechanical engineering, ultimately completing an accelerated master's degree in the field. After an internship with Boeing and a full-time job offer upon graduation, John found himself with a unique opportunity for a free summer. He teamed up with CMU roboticist and professor, Red Whittaker, to lead the build of Scarab, a NASA concept robot for lunar drilling that was delivered to NASA and continues to be tested. Shortly thereafter, the Google X prize was announced in 2007 for a once-in-a-lifetime moon shot opportunity and the rest is history.  While the Google X prize did not come to fruition, it was the impetus for the work that John continues today with Astrobotic: "There's been built up demand for years to go back to the moon for exploration and we've been building the infrastructure to respond to that demand. One sale at a time, one technology development at a time, one investment at a time."
The government announcement that the U.S. will be investing in two new NASA programs in October 2018 with plans to invest nearly $2B over the next five years through public-private partnerships is the opportunity Astrobotic has been waiting for: "It has been 11 years of working with some of the greatest minds in space today. None of this is done by a single person. It takes a village to get to the Moon and our partnership with Airbus, NASA and the United Launch Alliance gives us confidence that we can get this done right the first time." In addition to strong national partnerships, Pittsburgh provides an important role in getting to the Moon and accomplishing their goals: "The biggest reason we're in Pittsburgh is for the world class robotics talent. We home grow robotics talent and we import space talent from around the country and that makes us best in class in space robotics."
When he's not pushing the limits of time and space, John and his wife, Justine Kasznica, enjoy spending time outdoors hiking, biking, backpacking, and out on the rivers. Ohiopyle is a favorite spot, as well as nearby trails and parks in West Virginia. They bought their house in Highland Park in 2010 with no running water or working electricity and have spent the better part of the last decade turning the passion project into a home. Local favorites after a long day include Smiling Banana Leaf in Highland Park for Thai food and Spoon in East Liberty. As for budding entrepreneurs, John said the best advice he can give is to be passionate and persistent and if it's technology or robotics-driven, it doesn't hurt to be in Pittsburgh:
"I think there are a huge number of folks coming here and recognizing that Pittsburgh is ground zero for a lot of robotics and cutting edge technology, combined with great quality of life and employment opportunities makes it the place to be."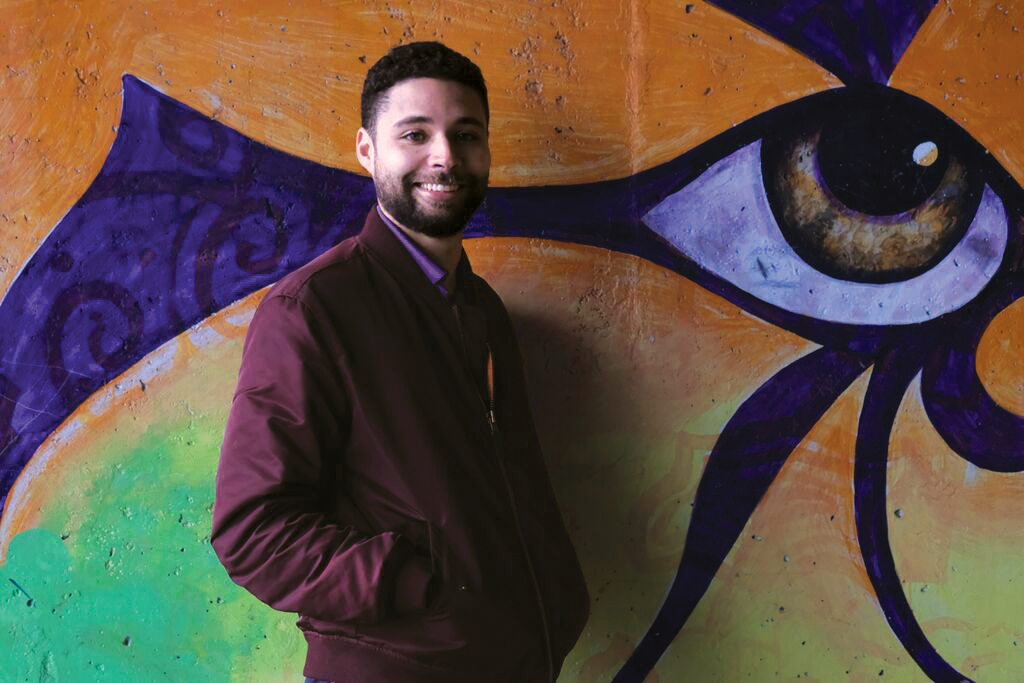 Josiah Gilliam
Program Manager
 

|

  

Founder
My Brother's Keeper 
 

|

 

Run2Win
"In Pittsburgh, there is this interesting mix of historical legacy and future potential. It's one of the oldest metros in the U.S. yet, in many ways, represents the future. There aren't many places that can say that."
Josiah's "quintessential boomerang story" began in the Coverdale neighborhood of Bethel Park, a suburb in the South Hills, just 10 miles outside of the city's urban core. Though he moved around a lot as a kid, his parents — native Pittsburghers — always considered the city home and they moved back during Josiah's sophomore year of high school.
Josiah left Pittsburgh for college, but moved back to the city with the hopes of finding the sense of community he'd searched for while away. What he found was that and more: potential, access, and opportunities for growth and impact unlike other places. "If you want to come to a city and make an impact and grow, you'd be hard-pressed to find a better place than Pittsburgh just based on pure potential." 
Working in the nonprofit sector for the past six years, he takes full advantage of the access the city offers by channeling his passion for connecting with people, communities, and networks. He leads the charge for Pittsburgh's My Brother's Keeper Initiative (MBK) – a national initiative focused on identifying ways to narrow opportunity gaps for boys and young men of color and their respective communities and recently stepped back from his position as the web and digital communications manager at the Homewood Children's Village to focus on MBK and related projects. One such project is running a consulting group that Josiah recently founded called Run2Win, for design, communications and branding support across for-profit and non-profit spaces. He is proud of the opportunity Pittsburgh affords him as a young professional to put down roots, make a mark, and thrive. Josiah is actively engaged on various community boards, is a mentor with the YMCA Y Achievers Program, and sits on the Young Leaders Outreach Team for the local ACLU.
Josiah's current priorities are self-care and the work he does. He really enjoys finding and building a sense of community with friends interested in building a better Pittsburgh. Throughout the week, you'll find him out and about all across the city attending various work and community events. He appreciates the accessibility of the city: "I love that I can get around easily using public transit. I use the Monongahela Incline and MLK Jr East Busway just about every day, but I also walk, take advantage of Healthy Ride and grab the occasional Uber or Lyft."
As busy as the week can be, Josiah takes Sundays to center himself and spend time with family. He also enjoys basketball and is an enthusiastic participant in Pittsburgh's ever-changing food scene. He loves to eat at Noodlehead in the East End and Aiello's Pizza in Squirrel Hill. He also recommends Bigham Tavern for a quick bite and cocktail in his neighborhood of Mount Washington – an area whose adored city views are complimented nicely by its parks and trails.
When he's not working or eating, Josiah is an eager learner of the storied legacies of culture, music, arts and community he finds in places like Homewood and the Hill District. Though Pittsburgh shares a bold city-wide identity, he often ponders about "the really old bones of the city," its history and its transformation resonating in and through the unique communities he works in. "Some of the best artists, most successful titans of industry, and greatest philanthropists that ever lived walked these streets. There is no shortage of cultural assets to check out in Pittsburgh and yet there's a sense today that we can build more culture into our experience for ourselves in real time." He enjoys visiting places like the Kelly Strayhorn Theater in Pittsburgh's thriving East Liberty neighborhood, catching a play or modern dance performance at the August Wilson Center in downtown Pittsburgh, or stopping by the Mexican War Streets on the Northside to explore the city's arts and culture hidden treasures.
"Pittsburgh's a rather intimate place. If you want to get involved, you can, and you may find ways to make an impact quicker than you may think. Pittsburgh is still in many ways a frontier town and so a pioneering spirit will always be rewarded here."