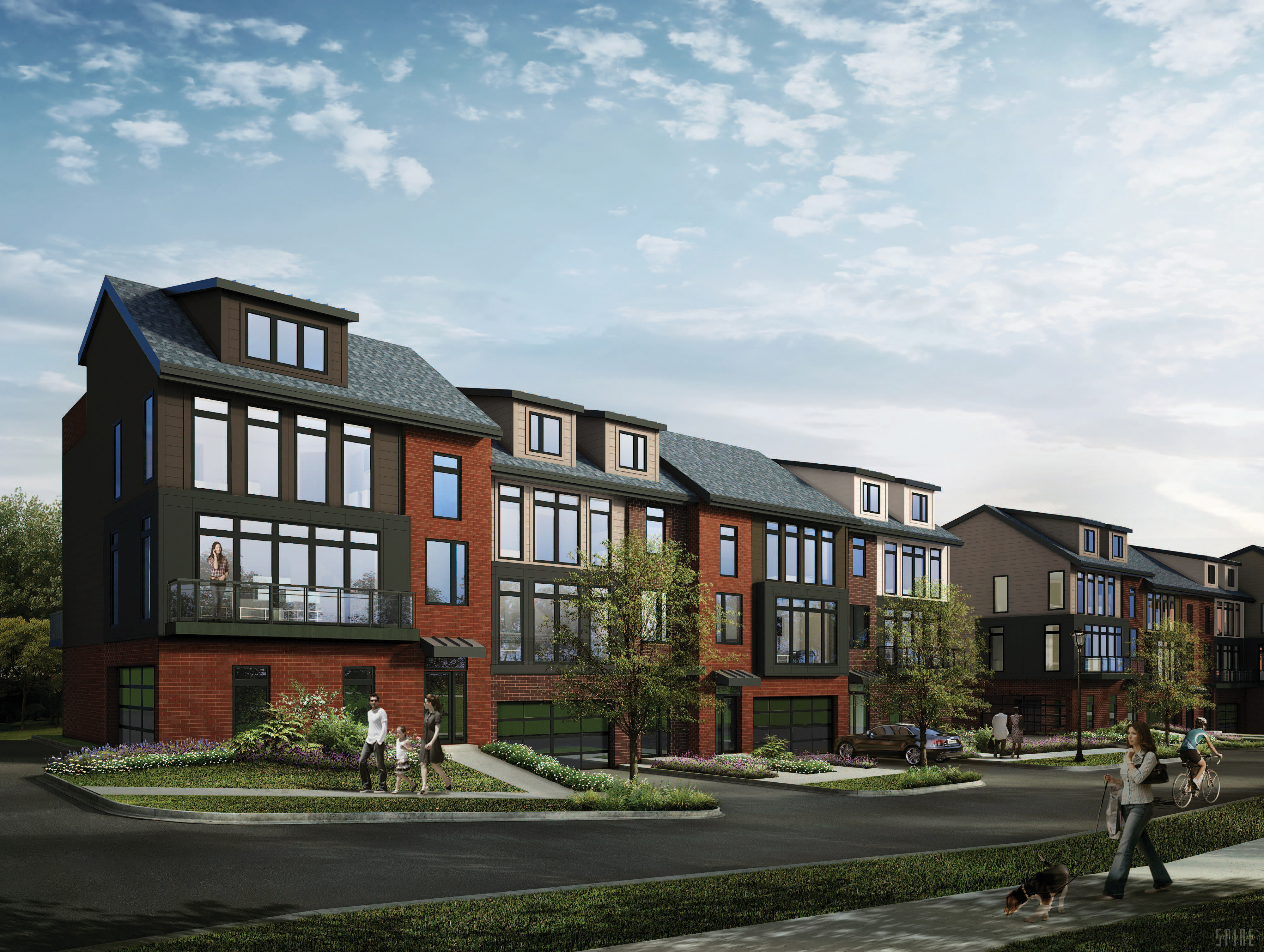 For those who take comfort in such things, the Pittsburgh housing market has moved back in rhythm with the national housing market during the past few years. As the U.S. finally recovered from the excesses of the housing bubble, the national housing market has been a model of stability for the past four years. Pittsburgh, of course, has been a stable housing market for more than a decade, and that's not necessarily a good thing.
It's obviously a good thing for Pittsburgh homeowners that home prices have been steadily rising since the region emerged from the Great Recession in 2011, well ahead of most U.S. cities. A couple of major trends, however, have kept Pittsburgh's housing market stable, even though Pittsburgh's economy may have been suited for a housing boom of sorts. Both home sales and new construction have been limited by low inventory. Development has been constrained by topography, cost, regulation and demographics. The rising prices caused by the low inventory and lack of development could be worse, but sluggish job growth has moderated demand until 2017. 
There are some early indications that at least some of the prevailing trends are beginning to reverse in 2018. What remains to be seen is how much these growth catalysts can overcome the impact of higher interest rates and some negative aspects of the Tax Cuts and Jobs Act of 2017.
The Problem with Finding a Home
The problem with the housing market may, in fact, start with the squeeze at the low end of the market. With the leading of the Baby Boomer generation now age 70, there should be a full-scale shift in housing. Boomers, who built and bought more and larger homes than any previous generation, are creating a huge spike in demand for senior living options. That should be driving the sales of smaller homes, as well as construction of more "right-sized" houses. Because there hasn't been enough new construction of these smaller homes to meet the demand, prices are rising faster for the homes that Boomers would want to buy. That, in turn, means fewer Boomers are able to move than want to. This is helping to hold down the number of existing homes on the market.
This right-size end of the market is also the product that suits most first-time buyers. Current first-time homeowners have faced more difficult conditions than previous generations. The so-called Millennial generation carries more student debt and has less faith in the investment value of home ownership than its parents did. Moreover, Millennials are a larger cohort than the Boomers who raised them, and the Baby Boom produced the largest generation born to date when it arrived. Thus, the two largest demographic groups ever born in the U.S. are competing for the same housing product at the same time. A shortage is inevitable.
How tight has the inventory become? On March 21, the National Association of Realtors (NAR) and ReMax both issued reports on the sales of homes in February. In both reports, the inventory of homes for sale was at record lows. 
NAR's report showed sales of existing homes increased by three percent in February to an annual rate of 5.54 million, breaking a two-month declining trend. The report also found that the inventory of homes for sale was 1.59 million units, an increase of 4.6 percent from January but a decline of 8.1 percent from February of 2017. That marks 33 consecutive months of year-over-year declines. Even at the increased pace of buying in February, the inventory is a 3.4 month supply, roughly half of what is normal in a balanced market. 
Not surprisingly, the NAR report found that the median home price jumped 5.9 percent year-over-year, the 72nd straight month of increases. Here in Pittsburgh, ReMax found that the median home price spiked 14.8 percent compared to February 2017.
ReMax, which based its report on the West Penn Multi-List data for the seven-county metropolitan area, noted a slight decrease in sales of 68 homes compared to last February. Even with the lower sales volume, the average number of days on the market fell to 79 and, like the national market, the inventory fell to 3.4 months supply. That was a precipitous decline from February 2017's supply of 5.9 months.
For most people, a market in which home prices are rising nicely and homes are getting multiple offers is a happy place to be. Those conditions reflect a healthy economy and a strong housing market but they are also less favorable for buyers. The relief valve for buyers in markets like the current conditions has historically been new construction. History has, thus far, not repeated itself. That's a U.S. housing problem but the tepid new construction market is especially a Pittsburgh problem.
The housing crisis of 2007-2008 largely bypassed Pittsburgh. While there was a slight increase in foreclosures – and a shakeup among the lenders that dabbled in subprime loans – there were none of the major problems that other cities faced. Few people lost their homes. Home values stumbled slightly for a year or so. But by 2010 home values were increasing again and, thanks to the Marcellus Shale boom, Pittsburgh's housing market became healthier than it was before the Great Recession. In spite of the market's health, new construction has not yet returned.
An examination of the housing data for metropolitan Pittsburgh reveals a tale of two markets: one before 2008 and one after. From the early 1990s, when the housing market began to expand in response to Pittsburgh's economic rebirth and the completion of several important infrastructure projects (think Parkway North), builders were consistently starting between 2,500 and 3,500 single-family detached homes. In fact, the average number of new homes started during the 1995-2007 period was just over 3,000 units. The same was true of single-family detached homes – mostly townhouses – which saw an average of 928 units built during that timeframe. For nearly 15 years there were about 4,000 new units of single-family new construction available for sale in the Pittsburgh market. That changed in 2008.
New home construction in Pittsburgh fell by almost 1,800 units per year from 2008 until 2013. During the nine years since the recession started, there has been an average of 1,920 new single-family detached homes started. The average for the last five – which covers the period in which Pittsburgh saw job growth – has been 1,962. Apartment construction tripled during this latter period, with an average of more than 2,600 units built each year; however, even as that market softened, new home construction for sale has remained unchanged. 
Another recent report of economic data suggests that, regardless of the inventory issues, demand for homes in Pittsburgh will only increase. After three years of flat employment growth, Pittsburgh experienced 1.4 percent employment growth in 2017. That's 12,000 new workers in the region who need homes. Real estate executives feel that the warming weather is going to bring that demand into the marketplace but differ about the impact.
Lawrence Yun, chief economist at the National Association of Realtors, said he expects sales to be flat this spring from a year earlier. Roughly 2.06 million homes were sold between March and June 2017, compared to about two million in the same period in 2016. Yun predicts sales will remain flat for all of 2018, due to inventory shortages and eroding affordability, as both prices and mortgage rates rise. That sentiment isn't shared in Pittsburgh.
"Real estate is going to boom this spring," says George Hackett, current president of West Penn Multi-List, Inc., and president of Coldwell Banker Real Estate Services, Pittsburgh. "Serious buyers should have their funds buttoned up ahead of time, so when a house comes on the market, they are ready to take action quickly."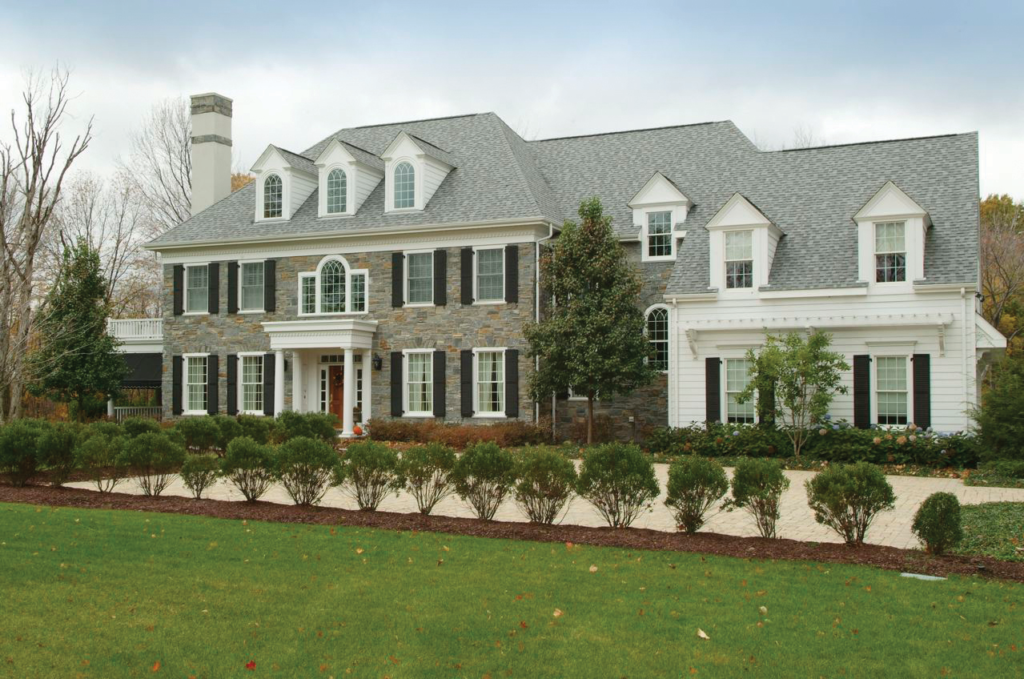 The February report from West Penn Multi-List of sales in all 17 of its counties shows that current trends held up in February. 
Closed sales are up 1.07 percent (3,018 units in 2018 versus 2,986 in 2017);
Closed sales volume up 9.55 percent ($542,452,302 in 2018 versus $495,180,324);
Average sale price is up 8.38 percent ($179,739 in 2018 versus $165,834 in 2017); and
Home listings are down 11.03 percent (2,314 units in 2018 versus 2,601 in 2017).
"I don't think this trend of low inventory will continue for much longer, and new listings will begin to emerge," says Hackett. "The market is in a good position right now but because of the weather it's been slow. I've talked to my agents and business has picked up a lot in the weekends in March."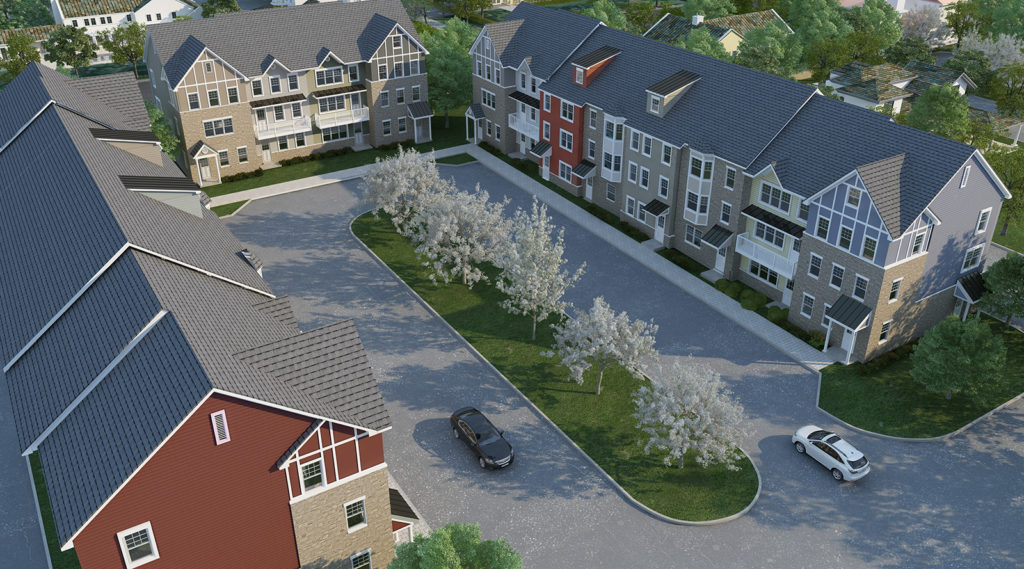 Whether or not Hackett's optimism turns out to be justified, the increase in inventory will have to come from existing homes entering the market. New construction over the past year changed very little. Although there has been an increase in land development projects in some communities, the slow pace of new development is the reason that inventories of homes, particularly affordable homes, are low.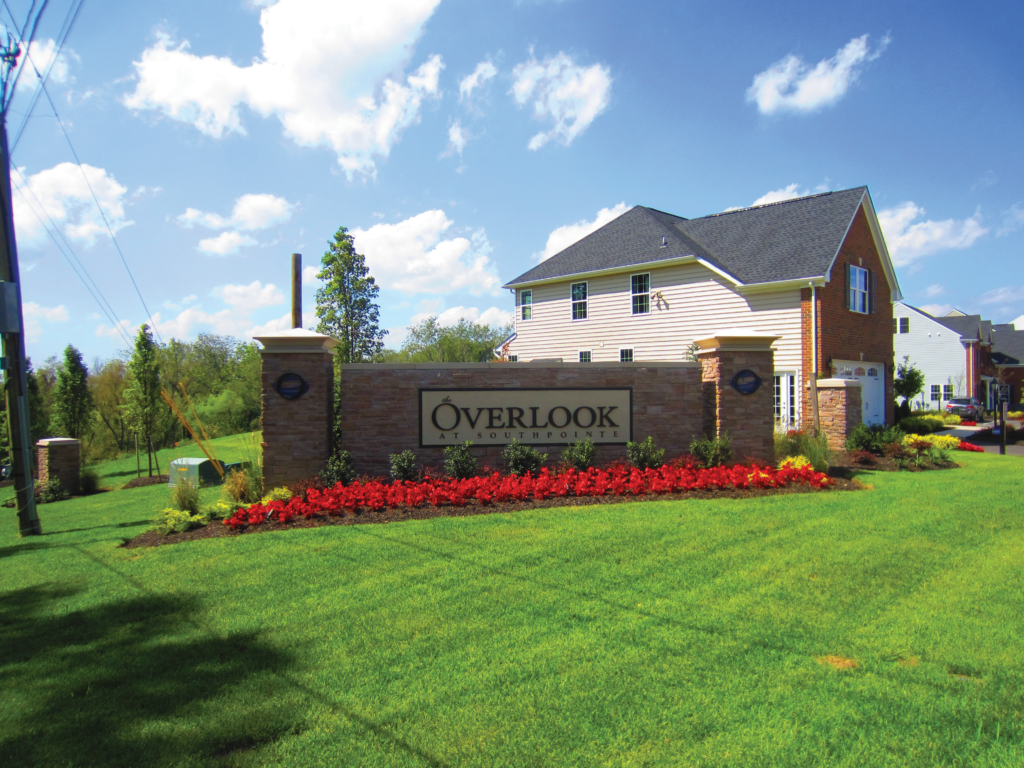 The Problem with New Development
It's not wrong to look at the Great Recession and the resulting banking regulations as the culprits behind the lack of new residential development; however, in Pittsburgh, those factors played only a small role in the declining lot availability. In fact, there was a looming lot shortage in Pittsburgh in 2005-2006. The problems affecting residential development are more structural than anything else. In truth, Pittsburgh's residential development landscape looks about the same now as it did before the housing crisis.
There are a couple of consistent factors about land development in Pittsburgh that haven't changed since before the 2007-2008 crisis. The first is the location. Appraiser Dave King, partner at Nicklas King McConaghy, sees new projects stretching further north into Lancaster Township and Buffalo Township in Butler County, but says most of the development has been limited to the traditional popular neighborhoods along I-79/279 in the North Hills and a few communities in the South Hills.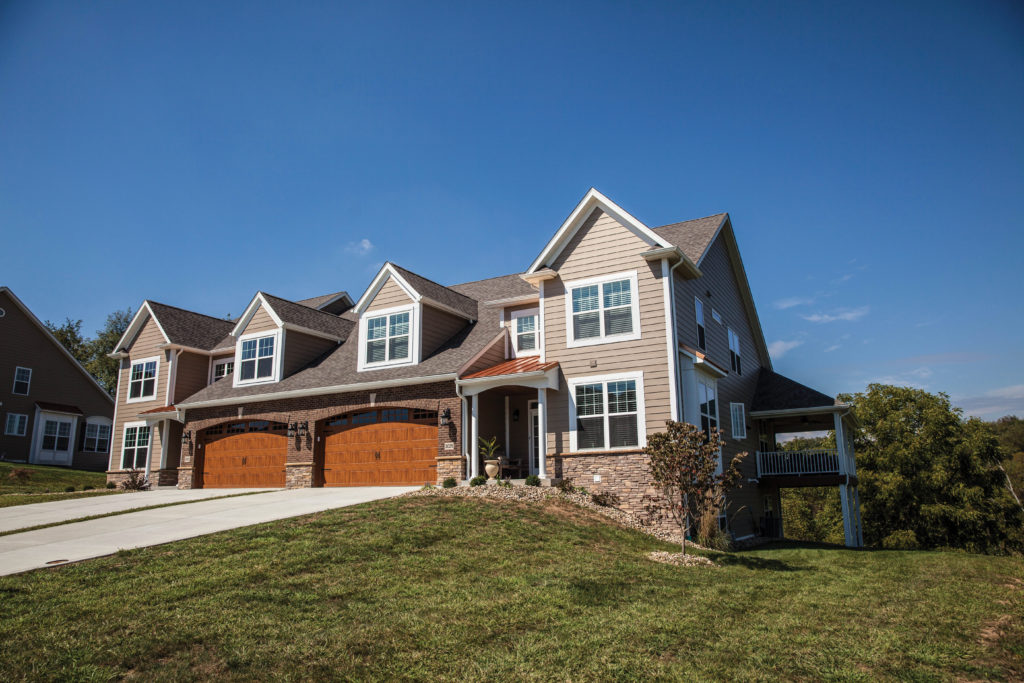 The second characteristic of the land development business that hasn't changed is the roster of developers. For a variety of reasons, Pittsburgh has not attracted or spawned many new developers for residential projects. Top builder Ryan Homes estimates that the average age of the developer principal it works with is nearly 65. That's an age at which business owners look to pare back their risk taking, and residential development is a risky venture, particularly in the post-recession Dodd-Frank era of banking regulations. This phenomenon has a material impact on the development of custom homes, which had been the bread-and-butter of the Pittsburgh market up until the Great Recession. Custom residential developments typically have multiple builders and the number of lots taken down – meaning homes are built – each year tends to be fewer. Developers of custom neighborhoods need to have more patience, as do their lenders.
The net result of the older stock of developers and risk-averse lending and development is a market skewed towards higher-volume builders. Pittsburgh's largest builder is NVR Inc., which builds in Western PA under the Ryan Homes and Heartland Custom Homes brands. These brands made up 35 percent of the single-family detached market and almost 40 percent of the combined single-family detached and townhouse market in 2017. The four most active builders, which included Dan Ryan Builders and Maronda Homes, were all production-oriented builders last year and they started 56.5 percent of all the single-family homes in Pittsburgh.
Asked about this trend, King could only recall one new developer among all the deals his firm reviewed over the last year or so.
"There isn't fresh blood coming into land development," King concludes.
The maturity of the Pittsburgh market means that the supply of land in desirable locations is smaller. With the steeper topography of the remaining land, developers must consider the higher cost of preparing the lots and extending utilities as part of that cost equation. 
As developers might have been looking to acquire land to boost the lot inventory in 2009 or 2010, their biggest competition for properties was gas companies rather than other developers. This heightened competition pushed prices beyond what could be economically feasible for new home construction, even though the gas industry was only leasing a limited number of acres. The psychological impact on the sellers was almost universal. New opportunities for land acquisition in Pittsburgh carry a higher price tag. That adds to the difficulty of developing new homes in a market that needs more product at the lower end of the price spectrum.
Higher costs are also why it's difficult to develop new construction for first-time buyers, who generally haven't accumulated the equity to afford more expensive homes. With what land and development cost, most new construction starts at $400,000. 
The solution to this development conundrum is likely to be a shift in housing product to a higher-density model. This trend is the dominant one in markets where land availability and costs are precious, like in Washington DC or Boston. Suburban and exurban development in major cities like these is dominated by high-density development, either multi-family close to the city or townhomes further out. Thus far, suburban development in Pittsburgh continues to be primarily detached single-family homes, but that trend is changing.
New construction fell slightly for single-family detached homes but rose by a greater number for single-family attached housing in 2017. According to the Pittsburgh Homebuilding Report, there were permits for 1,971 new single-family detached homes in 2017, a 6.3 percent decline, and 1,035 single-family attached units, an increase of 25.6 percent. This trend was exaggerated within the city limits, where there were permits for 249 units of new construction for single-family homes in 2017, almost all of which were attached units. It's worth noting that the single-family construction volume in the City of Pittsburgh was 61.6 percent higher than those permitted in Cranberry Township, which had the second-most starts.
There were also 1,465 units of new multi-family construction in the City of Pittsburgh in 2017, almost 62 percent of the total 2,368 apartment units started in the entire metro Pittsburgh market. 
It's become clear that the demographic shift in Pittsburgh is the biggest factor behind the resurgence in city living. Studies of new urbanism have found that the biggest demand driver for urban living is empty-nester relocation, rather than young adults. That hasn't been the case in Pittsburgh over the past six years. When residential development in Downtown picked up in the early 2000s, the principal buyers and tenants were 55-and-over. These were mostly suburbanites trading their comfortable home for a no-maintenance lifestyle near the region's lifestyle amenity hub.
Since the rise of the emerging technology companies in the 2010s has become the dominant economic driver, Pittsburgh has become dramatically younger. Even as the median Allegheny County age drifts above 45 years old, the median Pittsburgh city resident is less than 32 years old. Younger, and better paid than previous generations, this group of new workers has come largely from outside the region. This wave of Millennials tech workers has supported an extended boom in apartment construction and is now lining up to buy townhomes in the neighborhoods where the action is. This dynamic is why it costs $250,000 to buy in Bloomfield today what cost $70,000 in 2011. It's why a row home in Lawrenceville may fetch $400,000 this year.
With high tech and energy growing at rapid rates in Pittsburgh's economy, the region should get younger. Pittsburgh was ranked seventh by ULI with an increase of 4,177 (6.6 percent) people between the ages of 25 and 34 from 2010 to 2015. Evidence suggests this trend is accelerating. Over the past year, Apartment List, Growella, Curbed and Atlantic have all listed Pittsburgh as the best or second-best city for Millennials to live and work.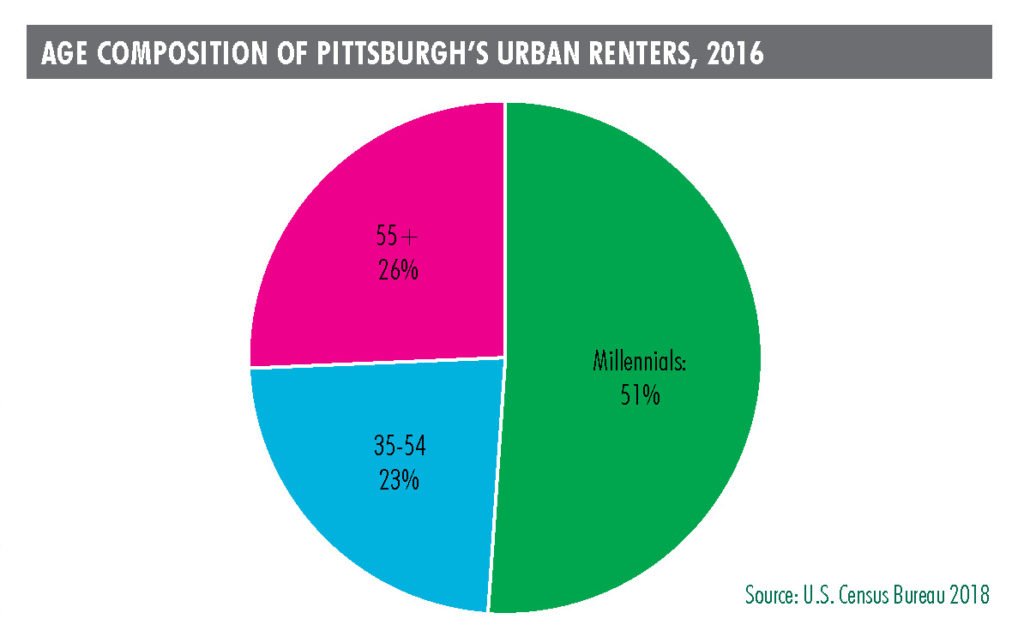 While the popular perception of the younger generation is that it's very different from its parents, the reality is that Millennials' behavior isn't all that different after all. The Millennials may have put off buying for a few years more than the Baby Boomers but as the leading edge of the younger generation hits 35, a shift is showing up at real estate offices around the region. Howard Hanna Financial Group reported that 43 percent of its mortgage originations were for buyers under 35 in 2017. LendingTree reported on March 20 that Pittsburgh had the second-highest number of applicants under 35 from February 2017 to February 2018. The combination of growing prosperity and affordability make metropolitan Pittsburgh a perfect spot for young people looking to make that most serious of investments.
One concern that has emerged about this trend of younger buyers is the impact of the Tax Cuts and Jobs Act of 2017, passed hurriedly by Congress at the end of December. Two key provisions of the bill could have a chilling impact on the first-time buyer. The limits placed on state and local taxes, combined with the $10,000 cap on home mortgage interest, could eliminate – or limit – one of the key incentives for home ownership. The tax advantage of ownership can also get diluted by the increase in the standard deduction, which jumps to $24,000 for a married couple filing jointly. Even though the higher standard deduction may reduce the overall tax burden more than itemized deductions would, the loss of the mortgage interest deduction could act as a disincentive to buy.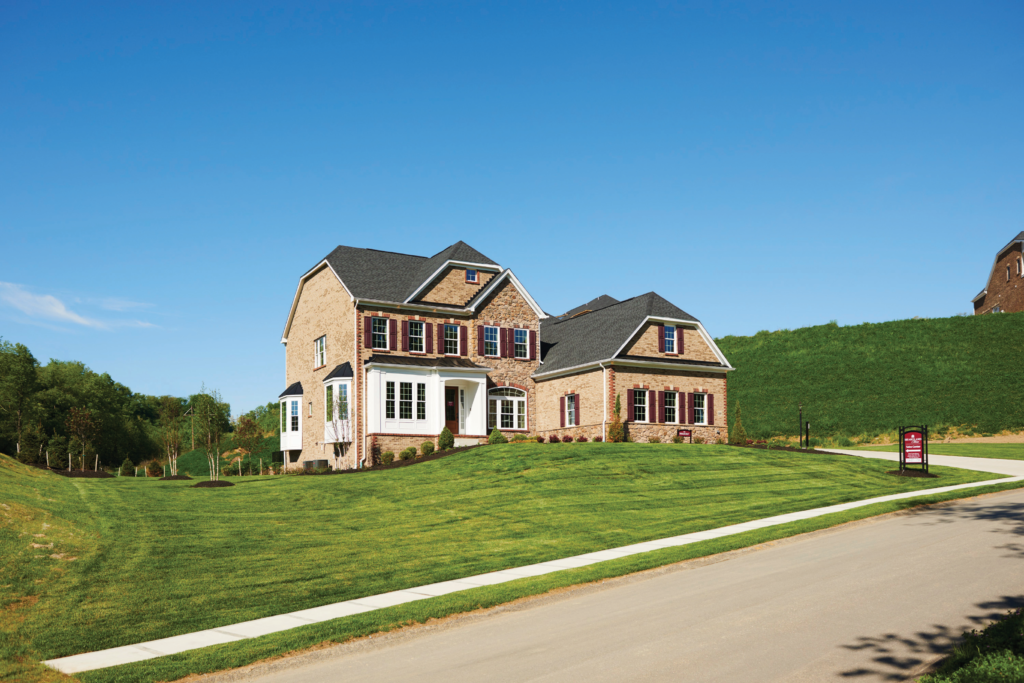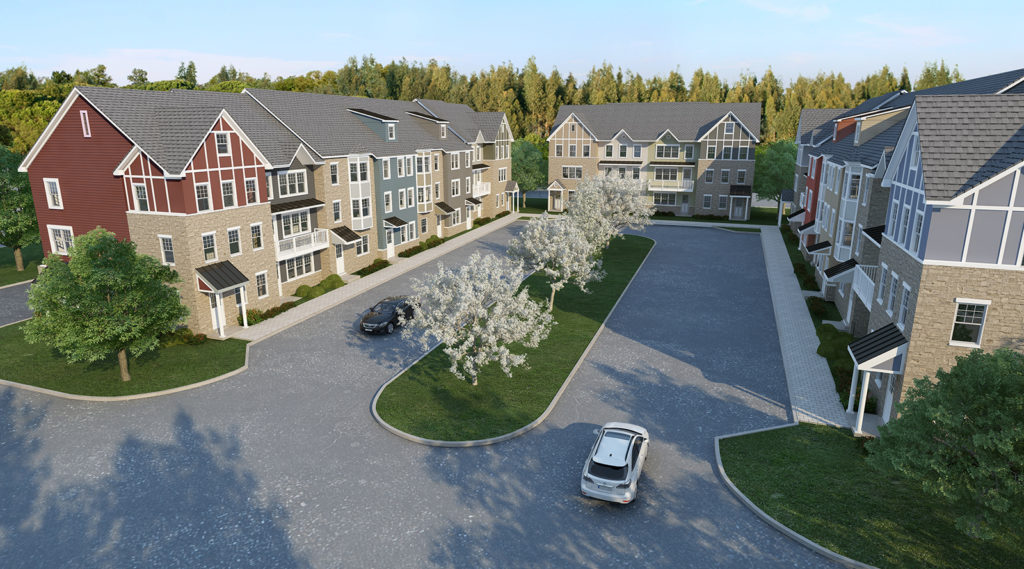 A recent survey by the National Association of Homebuilders found that 13 percent of potential buyers said the tax cuts would have a positive effect on a decision to buy, 66 percent said there was no change and 21 percent said the changes would delay or negatively impact a decision to buy.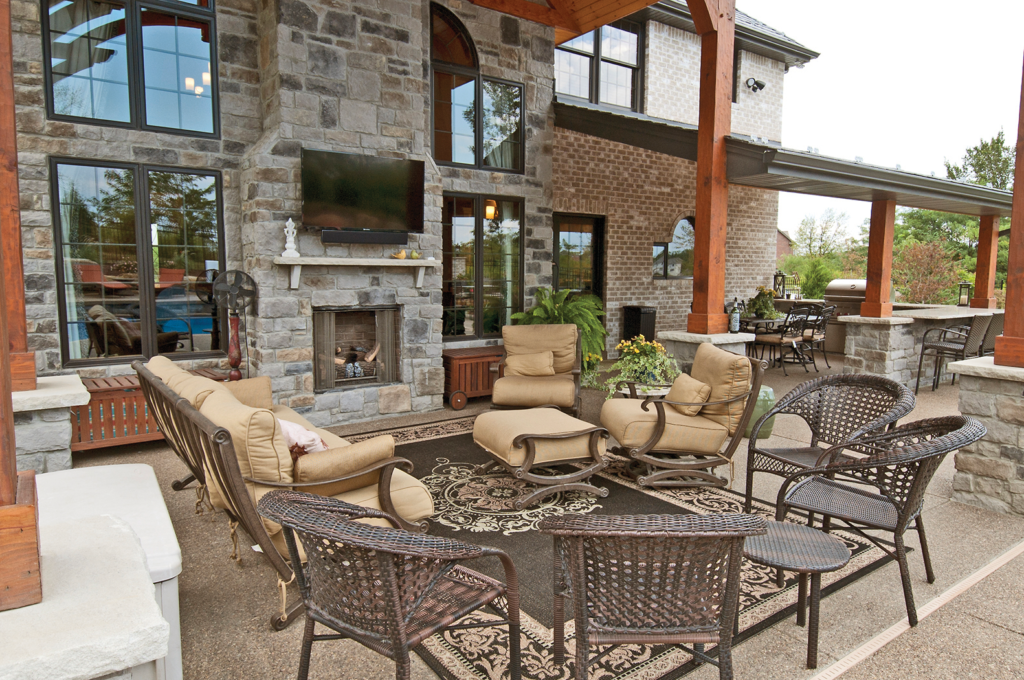 One custom homebuilder, Paragon Homes, reported that he had seen the impact already by early March and it was marginally negative. The builder's founder and CEO, Bill Fink, said the bill's cap on state and local taxes was being felt the most, especially because Paragon is building in South Fayette Township, which has the highest-rated school district in the region. South Fayette School District also has the second-highest tax rate in Pennsylvania. It doesn't take much of a home to hit the $10,000 limit, Fink notes.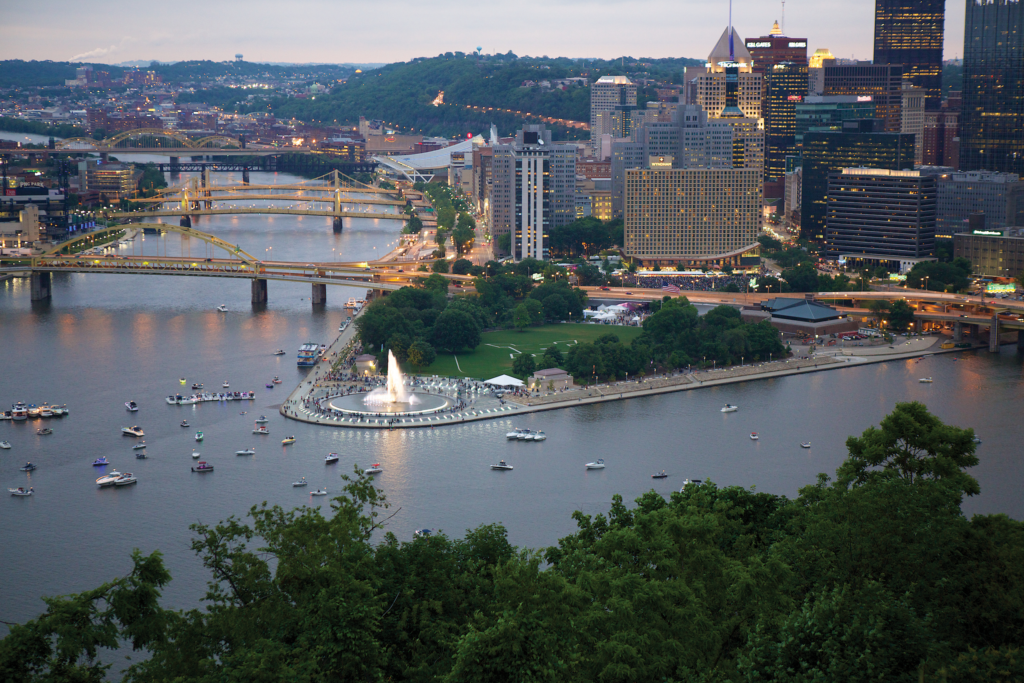 A few months is not enough time to get a legitimate sample size for the impact of the tax cuts on the housing market, especially at the microeconomic level of a city like Pittsburgh. The housing market in Pittsburgh will be affected more by the trends in employment, relocation and wages to drive higher or lower demand. For 2018 and beyond, the arrow is definitely pointing upward where these factors are concerned. The fly in the ointment remains the supply of homes to buy, whether those are existing homes or new construction.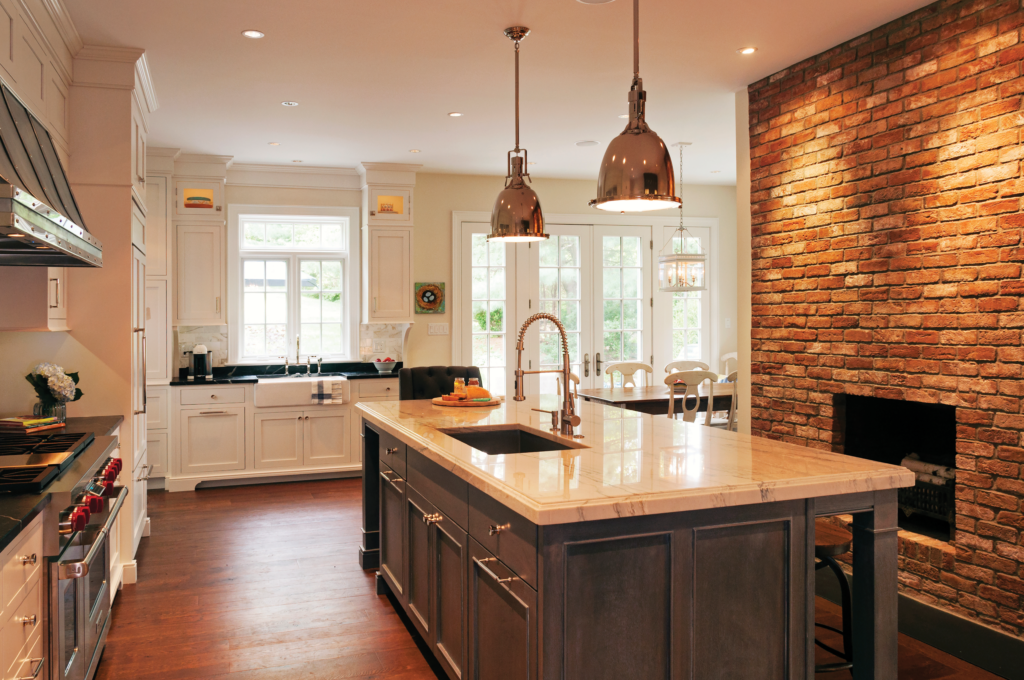 The answer to the supply problem is likely going to come from a shift in expectation from the buyers. More densely-developed products, like townhomes or even condos, will make better economic sense to develop and will be more affordable to buy. Because Pittsburgh's better school districts are suburban, that may mean an increase in zoning density in municipalities that have heretofore seen only sprawling subdivision. The recent upswing in construction of senior lifestyle communities, many of which won't come online until later 2018 and beyond, should offer more alternatives to empty-nesters. That would free up the logjam of existing homes. 
Absent a solution to the inventory problem, the laws of supply and demand will react to the conditions by pushing prices higher. That could have unfortunate side effects for the region. For a city that is attracting younger skilled workers, an extended period of tight supply could impact one of Pittsburgh's biggest advantages: its affordability. mg