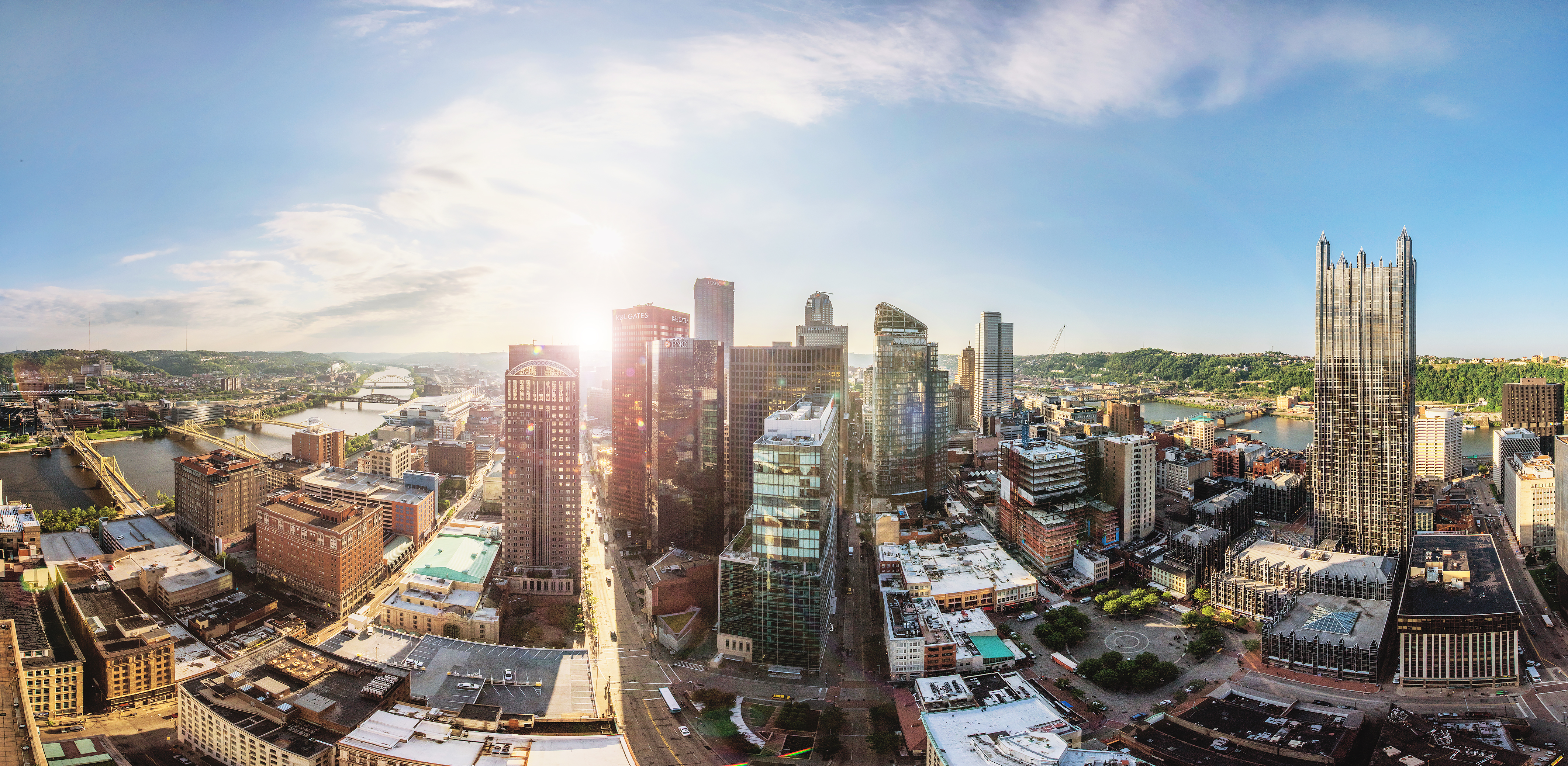 For years, Pittsburgh has been showing up on lists of America's most livable cities. Why? Because there's something for everyone here. While the region remains suitable to so many lifestyles, Pittsburgh's job market also offers something for everyone. No longer is Pittsburgh defined singularly by steel. Instead, job seekers can now choose from a range of industries, types of businesses, and employers ready to hire.
In only the past decade, the region's most visible employment sectors have given Pittsburgh a new identity. Now, we have abundant jobs in the health care sector. We have a tech sector producing careers of the future such as autonomous vehicle engineers and technicians or machine learning scientists. We have construction jobs vying to keep pace with Pittsburgh's staggering rate of development. Along with these key sectors, administrative, sales, service, and other types of more traditional occupations underlie the workforce. The Greater Pittsburgh region also possesses a deep capacity to educate its population and workers, with 61 colleges, universities and other post-secondary institutions. Among these schools, the area's community colleges and other institutions are putting new focus on adult learners and on the continuing education that's needed to harness tomorrow's jobs today. 
Today's and Tomorrow's Workforce
There isn't a shortage of work in Pittsburgh; rather, the challenge seems to be connecting the right people with the right jobs. Across many job fields in the United States, there are more open jobs than available workers to fill them. The same is true in Pittsburgh, says Linda Topoleski, vice president of workforce operations and programs at the Allegheny Conference on Community Development, a civic leadership organization improving Pittsburgh's economic future. Some sectors of the regional economy are growing faster than others, she says, but every sector has opportunities for a range of occupations. 
From health care to finance to energy and education, the region's leading sectors continue to trend upward. Yet more remarkable has been their ability to do so in unison. Pittsburgh's key industries and job fields have grown in harmony, on the whole. The 10-county Pittsburgh region added more than 6,600 new jobs in 2017, according to the Allegheny Conference.
Yes, year-to-year employment numbers and gains fluctuate among these sectors, but no one sector has become as encompassing an employment force as the steel industry used to be. "Since the decline and collapse of the steel industry, we have not necessarily been overly dependent on one sector over another," says Topoleski. "We've become more balanced," she adds—and that's a good thing.
The region's employment outlook benefits from certain qualities inherent to the leading industries. Pittsburgh's booming tech sector, for example, will require leading minds in engineering, software, and IT; such workers will be highly educated and skilled. Yet, these top-tier workers won't necessarily crowd out other skilled workers and those seeking jobs that don't require a four-year degree, because even the tech sector can provide jobs for workers across the spectrum. Whether working in autonomous vehicles, advanced manufacturing or cybersecurity, the tech sector will require technicians of various abilities and skills, for example.
Expansions in tech jobs have seen community colleges and other educational institutions offer new initiatives for training technicians, Topoleski says. Nontraditional adult learners who did not have a digital, computer-centered career path may still be a key cohort of the tech sector's workforce and the workforce of other information-oriented fields.
But if Pittsburgh's workforce is to fulfill the potential behind the region's bustling economic sectors, it will require importing talent to the area. Agencies like the Pittsburgh Technology Council, Vibrant Pittsburgh and the Allegheny Conference are all working to recruit new people to meet the information technology sector's growing need for employees. "One of the overarching strategies is to attract more diverse talent here and retain more diverse talent, because that's the only way we're going to grow," Topoleski says.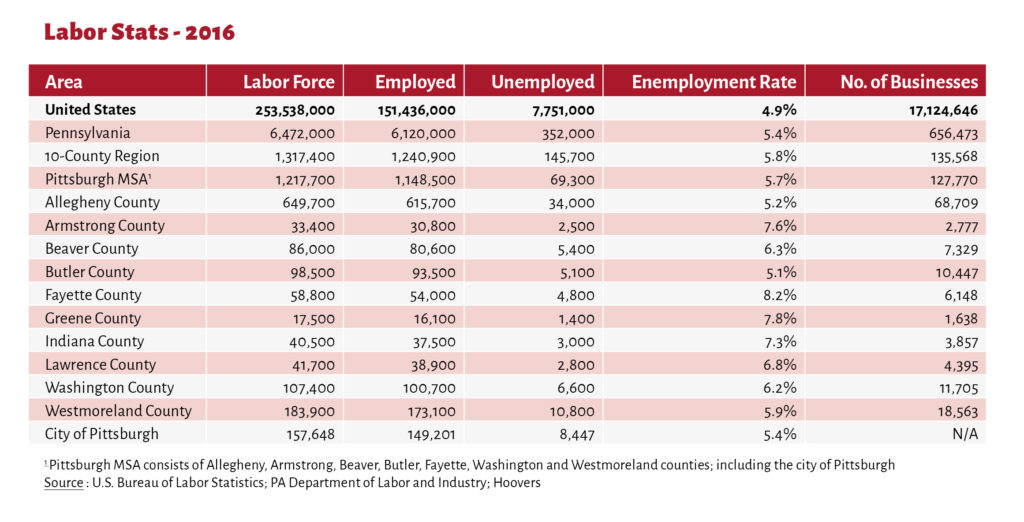 So, how will Pittsburgh's future workforce be different? "The underlying theme for the entire workforce is that we all will need to continually up-skill, particularly when it comes to digital skills," Topoleski says. "Being ready to face the future entails employees becoming more igitally fluent, for example, being able to learn data visualization or basic coding skills. Learning these skills sooner rather than later would be beneficial because the pace of change will only accelerate, Topoleski says.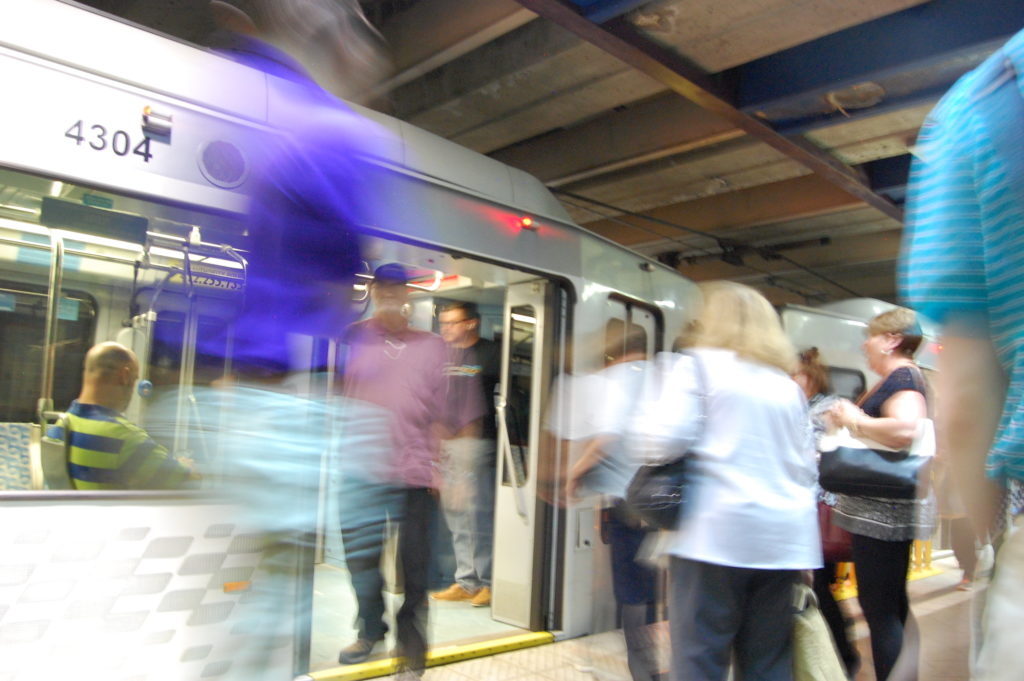 Possessing the resources and time to further educate and train employees may be the prerogative of larger, wealthy companies. But mid-size companies will not necessarily be denied similar opportunities. The Allegheny Conference is considering a shared services model for the region so mid-size companies can equally leverage training and employee education initiatives; it's an example of the workforce community's shared efforts to ready employees and employers for tomorrow's dynamic job demands. "There will be a shift in the way employers think about investing in talent and not just being consumers of talent. The worker as a commodity probably will change," says Philip Cynar, senior communications specialist at the Allegheny Conference. "Employers will want to make sure there are options for helping their employees to become the best versions of themselves that they can be."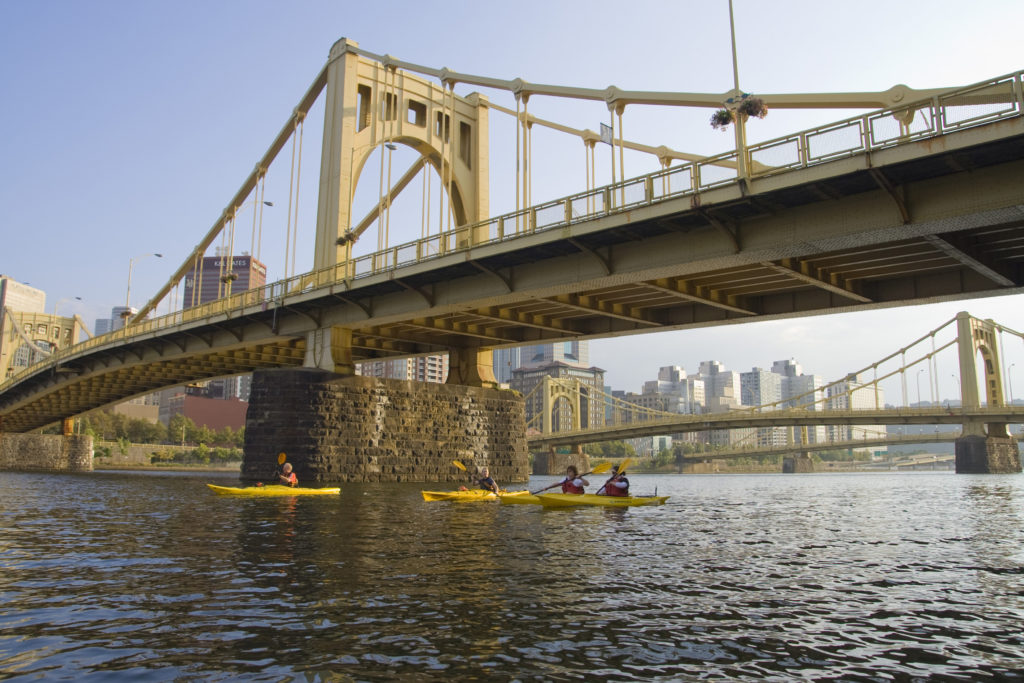 Connecting Graduates to Their First Jobs in Pittsburgh
With so many and such diverse colleges and universities in Pittsburgh, local schools have the unique opportunity to cultivate and prepare students for careers in Pittsburgh. Part of the disconnect between graduating students and unfilled open regional jobs could stem from students still being unaware of opportunities in Pittsburgh. While we no longer see an exodus of recent college graduates from the region, it's still common to lose graduates to places like Washington, D.C., Philadelphia, New York City, and the West Coast. Yet, the Allegheny Conference's Topoleski says, tours that bring groups of local students to workplaces representative of high-demand college majors have successfully connected graduates to internships and jobs right here.
And there's good reason for local companies to put the spotlight on themselves. The secret is out on Pittsburgh in so many ways, including its ability to mint such talented, workforce-ready graduates from its higher education institutions each year. But, while local companies vie for Pittsburgh-educated new grads, so too do big, enticing companies like Google, Facebook, Amazon, and Microsoft (some of which have offices right here in Pittsburgh). These companies, for example, crowd the career centers and online recruiting platforms at Carnegie Mellon University and other schools here each year looking to attract some of Pittsburgh's best.
Exposure to local companies and industries throughout students' college experiences may be the most effective means of keeping young job seekers in Pittsburgh after graduation. At Point Park University's Rowland School of Business, Dean Stephen Tanzilli says that internships, co-ops, and shadowing of companies are a key part of students' education and the curriculum. "One of our goals, of course, is to try to really retain so much of our young talent and getting them engaged with companies very early on in their college career," Tanzilli says. "We start as early as freshman year. My hope is that we're not only providing them with employable skill sets but that it helps keep them in Pittsburgh and Western Pennsylvania. I think that's a good thing for everybody."    
Pittsburgh's colleges and local companies benefit from a symbiotic, even interdependent relationship. Tanzilli says his school works with and seeks advice from companies in the financial services, energy, and many other sectors to shape curriculum. Students are then better equipped for the local job market and beyond.
While the spotlight on Pittsburgh's economy frequently falls on industries like IT and health care, these fields offer opportunities even for graduates with seemingly disparate backgrounds. Tanzilli points to these industries' needs for financial analysts, managers, marketers, social media experts, and more. "I see a lot of technical-based opportunities, but these technical-based opportunities need people that are steeped in business acumen in order to help manage and run these companies," he says. Students, he says, have been noticing these opportunities, too. "That's probably the best news, that students are starting to understand that those opportunities that used to be thousands of miles away are a few blocks down the street," Tanzilli says.   
Booming Development and Construction Jobs to Match
Without a doubt, Pittsburgh's economy has transformed. Within the past decade—or even more recently, by some standards—the region has experienced a surge in its tech sector, health care, and financial fields, among others. The resulting economic and jobs-based growth ties into literal growth made visible by new buildings and infrastructure sprouting up all over the region. 
Booming industries require new offices, warehouses, hospitals, labs, centers, and much more. Still other visible construction projects involve repurposing the infrastructure of Pittsburgh's past; the 200,000-square-foot former Ford Motor Company assembly plant in Bloomfield that used to mint new Model Ts will become the UPMC Immune Transplant and Therapy Center. The abandoned steel mill at the riverfront Hazelwood Green site in Hazelwood is undergoing revitalization to provide a new headquarters for Pittsburgh's Advanced Robotics for Manufacturing Institute—they're prime examples of historical sites given new life that reflects the future of our economy and the world for that matter.
All of this building, rebuilding, and revitalization means that the forecast for construction jobs has reached new heights. While it's difficult to pinpoint a ratio between the cost of a construction project and the number of jobs it creates, the past few years have seen more than just an uptick of construction jobs and opportunities, says Jeff Nobers, executive director of the Builders Guild of Western Pennsylvania. Of the various trade unions represented by the Builders Guild, some 3,000 of the 45,000 individual members of the trade unions are first-year apprentices. As recently as a few years ago, there were only around 1,000 first-year apprentices, Nobers says. 
Pittsburgh's rapid growth has made these new entries into the construction trades possible. "If the work isn't there and we can't send an apprentice out, we don't want to bring them in," Nobers says. But that's hardly been the case. Not only did new-employment numbers jump a few years ago, so too did the dollars going into construction. The 10-county Pittsburgh region averaged $2.8 to $3 billion in non-residential construction projects per year. Beginning around three years ago, those figures shot upward, Nobers says. 2018 may see $5.8 to more than $6 billion in construction. 
Yes, there's growing demand for construction and contractor work in Pittsburgh. But what's also grown are the skillsets and requirements of these jobs, Nobers says. "The days of just looking at a tradesperson—or a journeyman, as we used to call them—as being a person that lugs along some tools, cuts some wood, or puts some bricks down are way behind us," Nobers says. "These careers, and they are careers, require a level of technological skills. They require you to be analytical in your thinking; you have to be a problem solver; you have to be able to communicate effectively." The act of building has also arguably become more involved, and not only concerning high-tech hospitals and research centers. Office buildings, for example, Nobers says, have more environmental considerations in their construction than they used to.   
In the coming years, a short list of trade fields likely to need workers includes insulators, steamfitters, laborers, bricklayers, carpenters, ironworkers, electricians, plumbers—virtually every field involved in construction and contracting work, Nobers says. 
Shell Plant to Produce Plastics—and Jobs
When a new employer comes to town, the local workforce takes note. But that's an understatement to describe the excitement over the construction jobs and 600 permanent positions that the Shell ethane cracker plant in Potter Township, Beaver County, will provide. The plant will take ethane from nearby natural gas sites and "crack" the ethane molecules, converting them to ethylene to be used in plastics and other materials. The facility will anchor the emerging petrochemical industry in the region, producing some 3.5 billion pounds of polyethylene pellets annually. 
Construction on the massive site has already begun. Peak construction will occur likely sometime in 2019, with 6,000 construction jobs demanded, says Michael Marr, business integration lead with Shell Pennsylvania Chemicals. The majority of this construction workforce is made up of contractors and members of trade unions. 
In choosing Beaver County and, in effect, the Greater Pittsburgh region, for its plant site, Shell had to be sure the region could supply the necessary skill and construction-worker numbers needed to fulfill such a grand project. After consulting with builders and trade unions, Marr says, Shell was quickly assured. 
Once open for operations, which will be sometime in the early 2020s, the plant will require chemical, mechanical, and electrical engineers to manage the site and its production processes. Environmental engineers will also be needed to handle water treatment and oversee emissions and air quality. Plant operator positions will more commonly require a two-year degree and technical experience suited for operating and maintaining the plant's machinery and infrastructure. 
Hiring for some of these positions has already begun, and Marr says Shell has been very happy with the number and quality of applicants so far. The company has even been working with the Community College of Beaver County to develop a process technology degree program geared toward operator work at the plant as well as jobs with other regional employers in similar capacities. 
The Shell site could also provide new opportunities for military veterans. "It is a priority of Shell to find and hire qualified local veterans into our operations generally, but that's definitely the case here in Western Pennsylvania," Marr says. In May 2018, Shell held a military recruitment event at Heinz Field to inform regional veterans how they can leverage military experience or get additional training to pursue jobs with Shell and at the plant. 
Prosperity for All: Pittsburgh's Rising Challenge
As Pittsburgh's tech sector and related fields continue to boom, such growth will continue to strengthen Pittsburgh's economic vitality and shape its redefined identity. Yet this expansion and reemergence also presents one of the city's greatest challenges. The tech sector, energy firms, health care providers, and other growing industries will add more jobs to the region, inject further investment dollars, and continue to reshape Pittsburgh's reestablished pride. However, can all Pittsburghers share in this new identity? Will such unprecedented growth and potential be inclusive across the board?
As a region, we've long been aware of and said that creating and attracting new jobs must include opportunities not only for the PhD holder but for the GED graduate as well. Further, while such rapid growth in various industries has built up and beautified some of Pittsburgh's neighborhoods, others are waiting for prosperity to make a more visible impact. Therefore, inclusion among all populations, among all Pittsburghers, remains an underlying challenge. 
Investors and technology companies looking to establish new roots or to expand in Pittsburgh can bring a bevy of new jobs to the region. Their companies and businesses can also affect communities, bringing jobs to where they're needed most or, conversely, displacing residents from homes. The remaking of Pittsburgh and the future of its workforce will continue to be affected by outside companies coming to town and by the birth of new businesses and places of employment in our own backyard. 
Such growth will deliver new opportunities for all as long as a comprehensive, inclusive approach remains a priority for Pittsburgh. We've seen companies launch partnerships aimed at developing or further educating the workforce. We've seen companies establish initiatives to strengthen communities. Pittsburgh's workforce is robust, but there are some challenges to work on to make it more diverse.  Our workforce needs to more completely reflect the diversity of the many communities that make up the Pittsburgh region.  Employers, educators and employees will need to come together like never before to make sure that everyone who wants to work in the region will have the skills and opportunities to do so.  Connecting all of the dots will require some ambition, but by no means an unrealistic pursuit.   mg