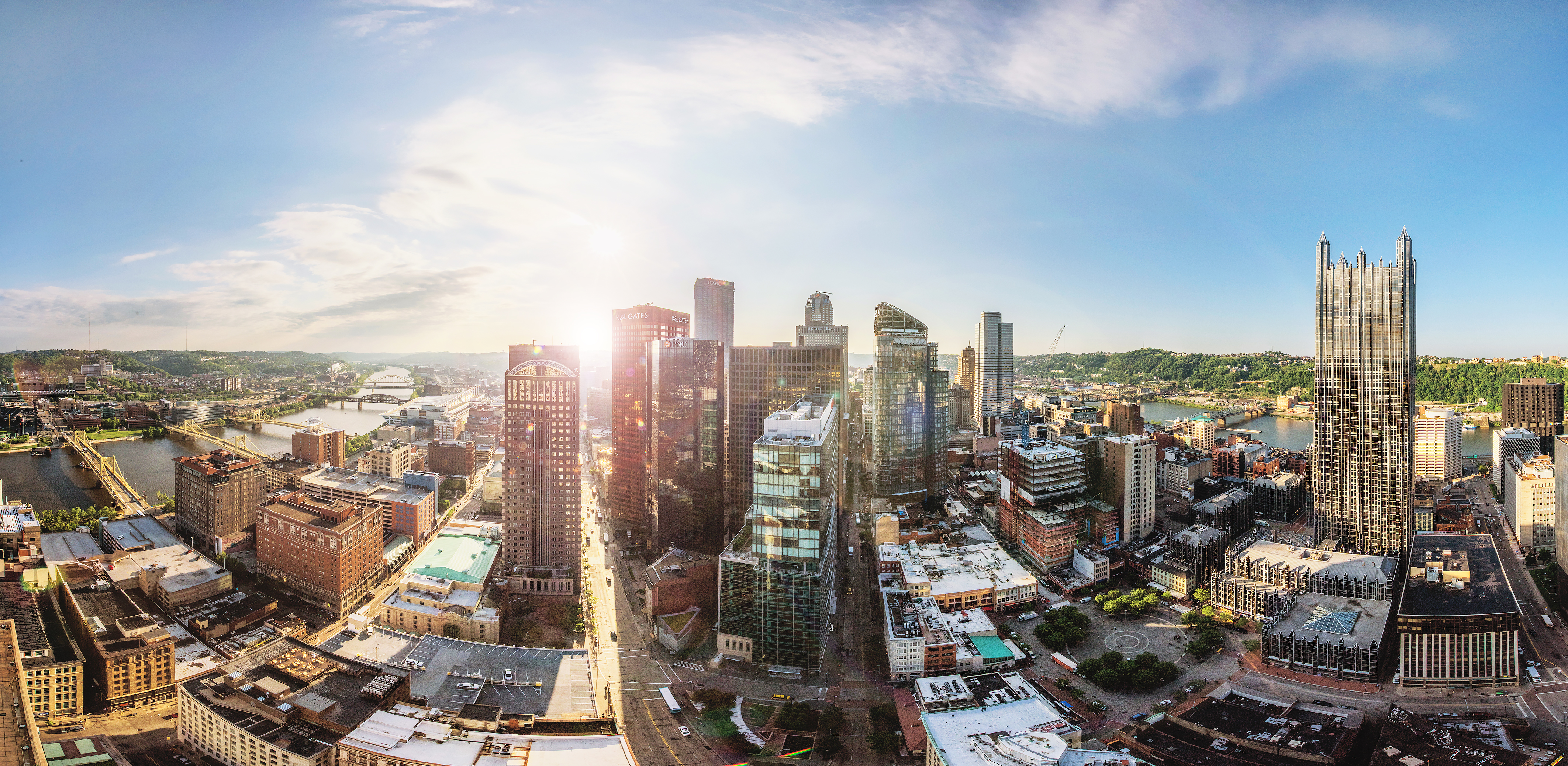 From companies to community members to colleges and universities, Pittsburgh's spirit of innovation drives regional sustainability efforts
For cities like Pittsburgh, every day is a building block toward a more sustainable and prosperous future. Practicing sustainability means managing resources and thinking about the broader environmental and economic implications of our actions and activities. It also means promoting equity.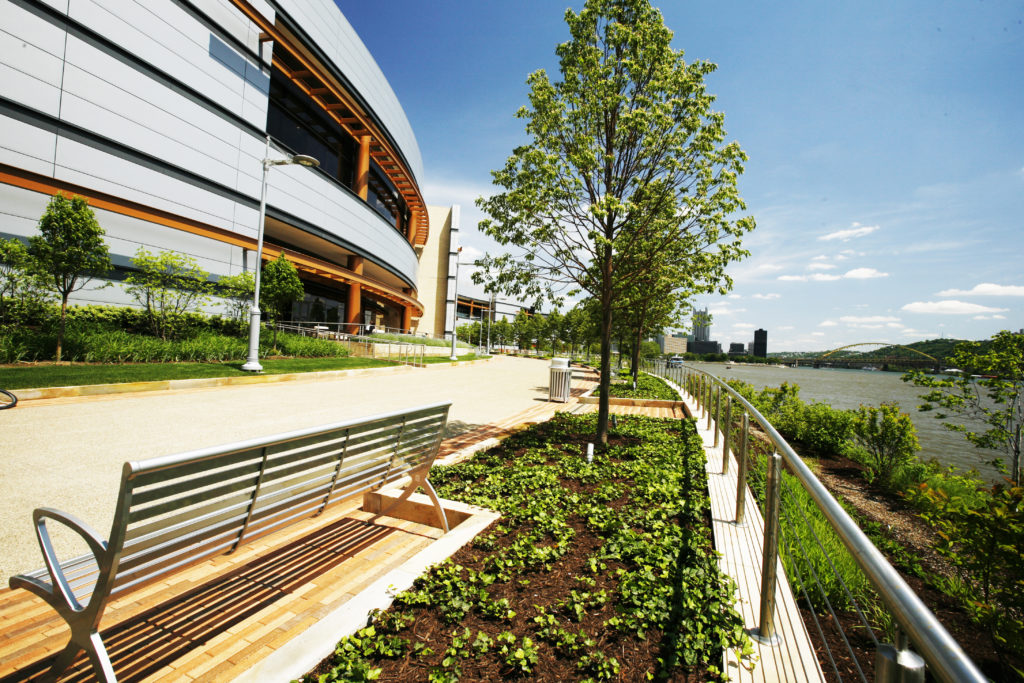 Being sustainable helps to protect our communities, our environment, and the region's shared vision. Therefore, sustainability in Pittsburgh isn't a progressive trend or aspiration. It's a necessity. It's a fixture. And it's needed right now. As we strive to continue building our economy and improving our quality of life, sustainability cannot be ignored.
Pittsburgh's Path Toward Sustainability 
Cities around the world have been finding their own paths toward becoming more sustainable but have also been taking collective action. The 2030 Challenge is an international challenge that 22 cities around the world have engaged with. It calls for a 50 percent reduction in energy use, water use, and transportation emissions by 2030. 
A strategic initiative of Pittsburgh's Green Building Alliance, which empowers people to create environmentally, economically, and socially vibrant places, the Pittsburgh 2030 District supports building owners and managers working toward these reductions. In Pittsburgh, more than 540 buildings, comprising about 85 million square feet of space, have committed to the goals put forth by the challenge. Based on current tracking and results released in May 2019, Pittsburgh is exceeding the 20 percent reduction target for 2020 in terms of energy use and transportation emissions, says Angelica Ciranni, vice president of strategy and innovation at the Green Building Alliance. 
Buildings deemed living buildings produce more energy than they need, Ciranni says. In Pittsburgh, Phipps Conservatory and the Frick Environmental Center are two prominent examples. "We have the same number of living buildings here in Pittsburgh as the other [U.S.] leader, which is Seattle," she says. 
Like many cities in Appalachia, and in the Northeast more broadly, Pittsburgh has its share of aging and historic buildings and infrastructure. Yet many of these structures can still qualify for sustainable upgrades, and it's often possible to preserve the look and aesthetic of an old building while modifying the interior. 
Improvements to buildings' sustainability is critical to the region's overall sustainability efforts. In a 2013 evaluation cited by the City of Pittsburgh, total greenhouse gases emitted in Pittsburgh found that more than 80 percent of emissions came from buildings. While part of that 80 percent comes from residences, commercial and industrial buildings were responsible for 57 percent of emissions, the evaluation showed. 
The planning and construction stages offer some of the best opportunities for thinking sustainably, which is important given Pittsburgh's rapid and continued development. "You can't turn around without seeing construction happening right now," says Natalie Stewart, the Green Building Alliance's communications director.
Before a building finishes construction, it is easier to install or modify mechanical and electrical systems that can improve efficiency and sustainability. Sustainable design is also becoming more and more financially viable. "The business case in terms of the amount of time that it takes to actually achieve the return on investment that will either make it cost neutral or, in fact, to begin saving money, those windows are shrinking for a lot of technologies," Stewart says. 
As far as sustainable design, thinking about a building's envelope, meaning its walls, doors, and roof, is often the first step, Ciranni says. While more sustainable mechanical and lighting systems, for example, may have a 10-year lifespan, structure of a building's envelope can last for 50 years or more. Yet one of the most simple steps to improve sustainability that the Green Building Alliance advises involves measuring, tracking, and adjusting usage of utilities like water and electricity. "At its most simple, the thing that we are telling people to do is to, in operations, measure what you're doing and adjust," Ciranni says.      
Pittsburgh has obstacles to contend with in terms of improving sustainability, however. "Pittsburgh still has its share of challenges to confront on its path toward improving sustainability. The region continues to experience difficulties managing its air quality, for example," Stewart says.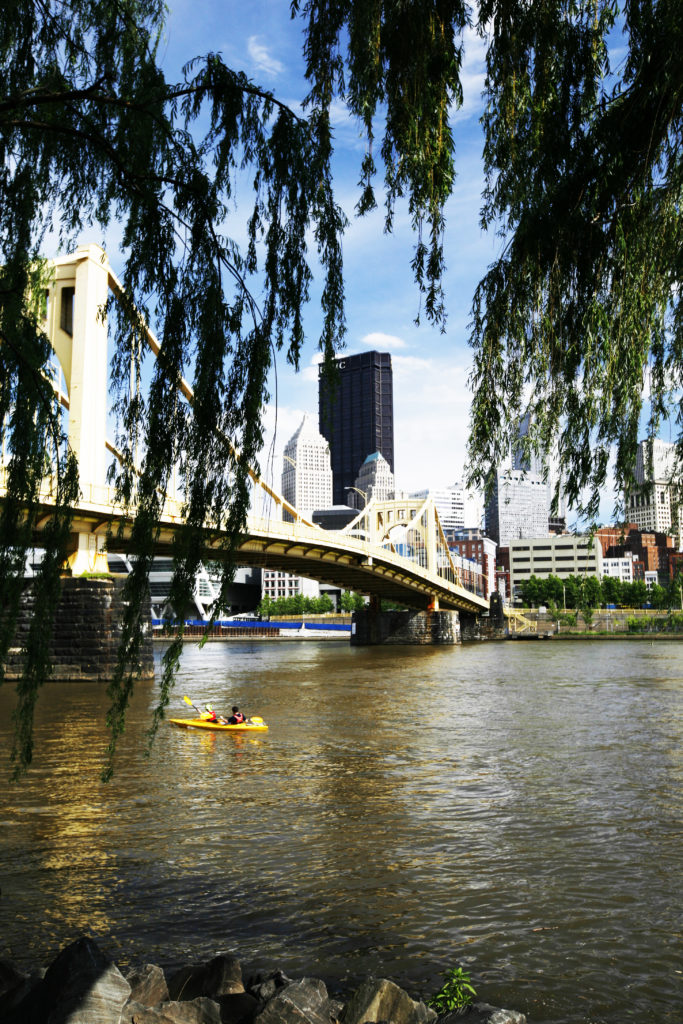 Sustainability On and Off Campus
It's no secret that Pittsburgh has been booming and growing into its role as a technology and innovation hub. In this capacity, the city is well-positioned to develop some of the technological solutions that will drive sustainability, says Robert Sroufe, the Murrin Chair of Global Competitiveness at Duquesne University's Donahue Graduate School of Business. "Federal policy will not lead us out of this, and we shouldn't let politics take over the conversation," he says. "Instead, we should let entrepreneurs and good decision-makers lead the way."
Development of technologies like artificial intelligence, augmented reality, and the Internet of Things is underway at Pittsburgh's growing tech companies and its universities. While there's a place and use for these technologies in nearly every capacity in our imagined tomorrow, combined they may help to embed and automate sustainability. "All these technologies are going to come together to make for a better world and healthier buildings, work environments, and supply chains," Sroufe says. "There's a lot happening with startup companies and entrepreneurs. Venture capital funding is on the rise here," he says.   
For students in Duquesne's MBA Sustainable Business Practices program, the region, and beyond, offers plenty of opportunities to perform real-world work to augment research on best practices toward sustainability, Sroufe says. Students work on sustainability consulting projects with multinational companies, nonprofits, and even with whole countries. They've completed almost 200 consulting projects over the years, Sroufe says, and no two projects have been the same. 
Projects explore the value proposition of more sustainable practices along with environmental impacts and social value created, Sroufe says, along with energy and waste reduction efforts. Others involve greenhouse-gas audits, process improvement initiatives, differentiation for products and services, and new-product development.
Sustainability has been at the forefront of other area universities, including the University of Pittsburgh (Pitt). Since 2003, the Mascaro Center for Sustainable Innovation has been a staple on Pitt's campus helping to drive faculty and student sustainability efforts on campus and research and education programs in sustainability. Since then, Pitt has grown the breadth of its sustainability efforts, launching the Pitt Sustainability Plan and an Office of Sustainability in 2018. "The definition of sustainability is balancing equity, environment, and economics so that current and future generations can thrive, and the Pitt Sustainability Plan plays that out very nicely," says Aurora Sharrard, director of sustainability at Pitt. 
The plan involves improving the stewardship of energy, emissions, and water use; engaging in research, global outreach, and partnerships; and looking at how city and regional connections and equity and access tie into sustainability—among many
other features. 
Some of the most visible sustainability projects include Pitt's plan to purchase hydropower from an Allegheny River hydroelectric plant expected to open in 2022. The plant will supply 25 percent of campus electricity needs and will be integral to the goal of producing or procuring 50 percent of Pitt's electricity from renewable sources by 2030. Additionally, the much-admired team of landscaping goats has visited Pitt's campus for the last couple summers. The goats act as natural, fossil-fuel-free landscapers that munch on overgrowth and clear up greenery at designated spots around the campus.
Other initiatives involve evaluating and upgrading more than two dozen buildings on campus to improve their lighting, heating, ventilation, and other infrastructural qualities that can be made more environmental, Sharrard says, as well as boosting on-campus tree canopy coverage and decreasing lawn areas.   
Pitt's undergraduate Student Office of Sustainability seeks to enhance environmental awareness around campus and to infuse sustainability into the culture, values, and decision-making on campus. More than 20 student organizations are affiliated with the office, including Free the Planet, Plant to Plate, the Fossil Free Pitt Coalition, Panthers for Animal Welfare, and other groups that cover a range of sustainability interests and initiatives. "Using that student creativity as idea generation is a really important thing," Sharrard says. The university is also offering a certificate of sustainability that students in all schools can earn in addition to their degrees.
Sustainability, done right, is meant to be shared. If Pittsburgh is to embrace sustainability for all—and the health, well-being, and economic benefits that it can provide—it requires the distribution of sustainable ideas. Toward this end, Pitt is leveraging its research capacity and its collaborations with nonprofits and with industry to help ensure that sustainability and sustainable ideas move beyond campus borders. "We're trying to advance the longstanding culture of sustainability that supports people making better, more sustainable decisions," Sharrard says. "Sustainability is going to permeate everything that
we do."
Covestro LLC, a leading supplier of high-tech polymer materials whose North American headquarters are in Pittsburgh, is one of the company's partnered with Pitt. The partnership includes working with Pitt's Swanson School of Engineering to advance sustainable materials, Sharrard says.

Company-wide and Community-wide Sustainability
When Covestro launched in the fall of 2015, it was around the same time that the United Nations proclaimed its 17 Sustainable Development Goals as a blueprint to achieve a better and more sustainable future for all. Covestro was an early adopter to sign on its support for these goals, says Rebecca Lucore, head of sustainability and corporate social responsibility at Covestro. While sustainability has been at the forefront of Covestro's mission from the start, challenges, and opportunities, in this space are ongoing. "It's about challenging yourself and pushing yourself and asking how can we make things even more efficient and how can we make things even better," Lucore says. "We take a really holistic approach to sustainability and have embedded it into our business and innovation strategies."
Covestro's approach includes improving and being mindful of energy efficiency, waste reduction, and recycling, among other sustainable practices, across operations. Since petroleum is the feedstock for many of the materials that Covestro makes, the company continually seeks to find ways to take less of it out of the ground, Lucore says. Covestro has used captured carbon in order to reduce the use of petroleum-based materials.
Yet the concept and topic of sustainability stretches beyond environmental efforts and practices. "Sustainability isn't just about the environment," Lucore says. "Sustainability is about keeping a whole community in balance, so equity is a big part of that discussion." 
Toward this end, Covestro has hosted a number of Think 30 forums that provide inclusive think tanks for the Pittsburgh community. The gatherings were "about bringing people of all sectors and generations together to talk about Pittsburgh and what will help make Pittsburgh a more sustainable city. And a big theme that came out of all of those was diversity and inclusion," Lucore says. 
When it comes to tackling the big challenges for our region—sustainability among them—it's important to bring all people into the discussion, including those who will be affected by change, Lucore says. "If we're going to look at the greatest challenges in our region, we have to include at the table in these discussions the people that are affected by those challenges," she says.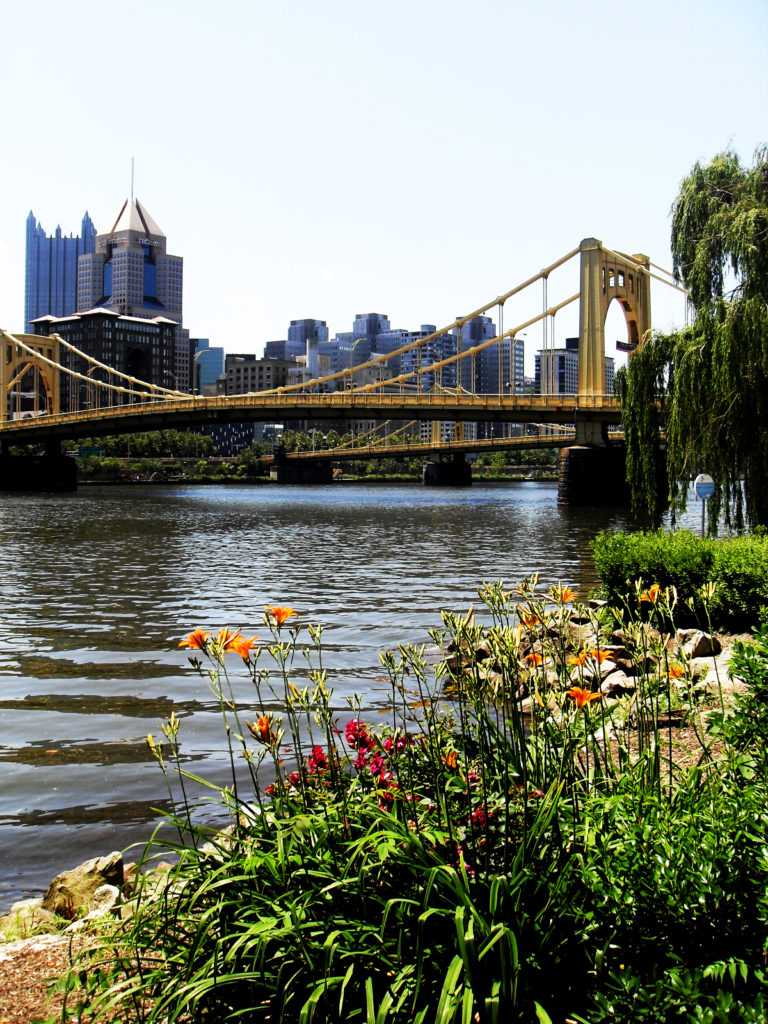 Pittsburgh's businesses have also come together to collectively address sustainability. Covestro chairman and CEO Jerry MacCleary co-chaired the CEOs for Sustainability initiative, a program of the nonprofit Sustainable Pittsburgh. CEOs for Sustainability has looked at how businesses of all sizes in the region can further their sustainability efforts and further understand the link between sustainable business performance and regional quality of life. 
In the same spirit, the Allegheny Conference on Community Development recently convened its Community and Sustainability Committee to develop a sustainability framework for the region. The Allegheny Conference, a longstanding civic leadership organization improving southWestern Pennsylvania's economic future and quality of life, sought to explore and answer how the region can balance a healthy environment and a healthy economy. 
Comprised of members from business, academic, government, nonprofit, and philanthropic backgrounds, the committee drew inspiration from United Nations' Sustainable Development Goals. The group established five principles to address sustainability's relationship to community and individual well-being, resource stewardship, clean energy, innovation and technology, and partnerships that further these principles. 
As a region, Pittsburgh possesses the ability and the acumen to act on these principles—and there's no time to waste. mg