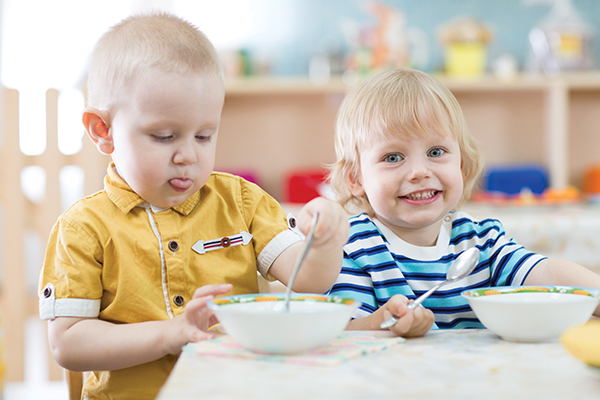 Whichever path you take to secure child-care and pre-school care for your children, rest assured that you have many options to choose from in Pittsburgh. To get started on your search, keep these questions in mind:
About the Organization 
• Is the center licensed by the State of Pennsylvania? Ask to see the center's license.
• Has the National Association for the Education of Young Children (NAEYC) accredited the center?
• What are the costs and payment policy?
• Do the fees cover everything or do hidden charges exist that may crop up later?
About the Staff 
• Has the center run background checks on every staff member?
• What's the staff-turnover rate?
• Do any staff members hold education degrees?
• What is the staff-to-child ratio?
Who is your contact person at the center?• Have staff members received CPR training?
About the Facility • Is the center inspected regularly? When? • Has the center been child proofed?• Are doors and windows kept secured?
• Is the playground fenced in?• What is the age range of children at the center? How many years do the children stay at the center?
About the Children 
• What are the emergency procedures?
• Does a written manual explain the emergency procedures for children's care during an emergency? Who should you contact at the center during an emergency?
• Are children supervised while at the center? Are they supervised at nap time?
• How and when are children fed?
• Do staff members handle diapering and toilet training?
• Do staff members ever take children off site? Where and how?
• When can parents drop in to observe? What are the latest drop-off and pick up times? What are the penalties if parents fail to observe these times?
These questions are intended as a starting guide for you. Please be sure to ask, and get answers to other questions you would like addressed?
Given the many child-care resources in the Greater Pittsburgh area, you're sure to find one or more to suit your specific needs. Here are some private sources.
KinderCare® (www.kindercare.com) offers a number of day-care programs in 12 locations throughout Greater Pittsburgh. The Infant program helps babies grow, gain mobility, and develop intellectual and social skills. The personal attention and interaction between KinderCare childhood-education teachers and infants promote basic intellectual and social skills. Singing, reading, and talking exemplify behaviors that support development during this critical stage.
The Toddler program is based on young children's' learning best through hands-on experience. Each day includes fun activities that excite and develop toddlers and gives them confidence to say their first important words and to make new friends. Discovery Preschool fosters the confidence in children by providing them with activities that help them become problem solvers and lifelong learners. The Pre-kindergarten program prepares kindergartners by teaching them letters and words, math concepts, and valuable social skills.
As children reach school age, Kindercare's comprehensive, full-day kindergarten program helps them explore, communicate and create in a nurturing, small-class setting. Centers offering kindergarten choose from two different curriculum programs that offer reading, language arts, math, science, and physical fitness presented in a fun way to encourage a lifelong love of learning. Programs are aligned with local and state elementary school standards so children will be prepared to confidently enter first grade.
Bradford Child Care Services (http://www.earlyeducationpros.org) is one of the largest, non-profit organizations in the United States dedicated solely since 1982 to early care and education of children with 18 schools in Western Pennsylvania. Operating under the name, Tender Care Learning Centers, this organization offers programs that integrate early education with a loving environment.
The 18 Tender Care Learning Centers are home-inspired and center-based to give children a comfortable place that enhances confidence and freedom in children to grow at their own pace. Parents form an integral part of the services offered, and their involvement is respected in their children's education.
The Tender Care approach establishes in children the foundation of a lifetime love of learning in a safe, nurturing, and educationally supportive environment. Child care and preschool programs designed with children in mind support them emotionally, educationally, and socially.
The Goddard School® for Early Child Development (http://www.goddardschool.com) supports the healthy development of children from six weeks to six years of age at five locations in the Greater Pittsburgh area. The nursery in the Infant Program creates a secure environment for infants, from the sleeping alcove to the rocking chairs where teachers spend time cuddling and talking to the babies to instill trust and provide a healthy early learning environment for movement, exploration, and communication.
In the Goddard School FLEXTM Learning Program, teachers plan daily activities in a cheery childcare environment to encourage toddlers' investigations of the world. Toddlers enjoy a daily balance of activities, music, movement, and outdoor climbing, running, and jumping.
In the Preschool Learning Program, children thrive in an accredited curriculum. Learning centers for math, science, dramatic play, music, creative art, and computers provide opportunities to balance shared and independent learning experiences.
The Pre-K and Junior Kindergarten programs have earned AdvancedED and Middle States accreditation after demonstrating the highest standards in early childhood education. These standards mean that children gain exceptional skills for success in kindergarten.
The Kindergarten Program enables children to gain skills for academic fulfillment and a love of learning. This experience can set the stage for lifelong achievement. In select locations, The Goddard School offers school-age children a nurturing, learning environment with homework help and skills enhancement.
The Goddard School summer camp goes beyond just having fun. This program combines songs, stories, exploration, physical activities, and learning adventures in a safe, nurturing environment.
Bright Horizons Family Solutions® (www.brighthorizons.com) day care offers three levels of care for infants, toddlers, and preschoolers at four locations in Greater Pittsburgh. The Great Places for Babies program provides a welcoming environment where infants thrive and grow. The Growing World of Toddlers program makes available hands-on exploration and social interaction to help toddlers learn about the world in a safe and engaging place. The Preschoolers program concentrates on children's use of language, reasoning, and scientific thinking that enables preschoolers to build a strong, educational foundation.
Feedback from parents is exceedingly positive. Ninety-nine percent of parents with children at Bright Horizons say that their children developed a strong enthusiasm for learning. And 97 percent of parents agree that their children entered school ready to meet the demands of kindergarten or first grade.
Head Start is a pre-school program supported by federal funds through the U.S. Department of Health and Human Services and state funds through the Pennsylvania Department of Education.
This comprehensive, child-development program serves families with children three to five years of age in the Allegheny County/Pittsburgh area. Head Start involves parents in getting their children ready for kindergarten. The program makes available individualized educational services in language development, math, science, and social skills.
Early Head Start is another federally-funded, comprehensive program for pregnant women and families with children from birth to three years of age who live in the Allegheny County/Pittsburgh area.
Additionally, Pre-K Counts is a state-funded, quality, pre-school program for children between the ages of three and five years. Children accepted into this program must be at least three years old before the date identified by the family's school district as the kindergarten cut-off date to enroll.
CHILD CARE INFORMATION 
SERVICES (CCIS) 
Call these numbers for information regarding childcare subsidies, referrals and resources in your area.
Allegheny County 412-261-2273
Beaver County 724-847-0145
Butler County 724-285-9431
Fayette County 724-425-1818
Washington County 724-228-6969
Westmoreland County 724-836-4580
To find out more about Individual Head Start, Early Head Start and Pre-K Counts Programs, log onto ttp://www.alleghenycounty.us/dhs/earlychildhood.aspx. mg