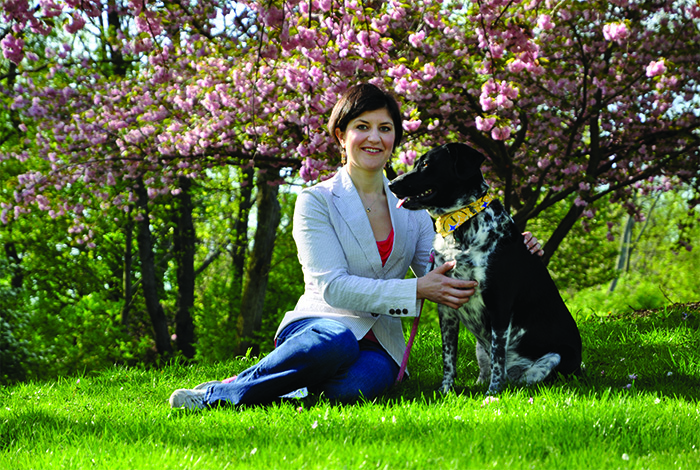 Amiena Mahsoob
Director of Education Programs 
World Affairs Council of Pittsburgh
"Transitioning back to living in the U.S. can be challenging but I knew I would have a support network in Pittsburgh."
After teaching in the suburbs of Pittsburgh for three years, Amiena finally gave in to the itch to explore the world and secured a position with the Japan Exchange and Teaching program at the Fujishima Senior High School in Fukui, Japan.  She knew that would allow her to become part of a community, while teaching conversational English, writing, speech and debate. The only potential drawback was that Amiena didn't speak Japanese. It turns out, that wasn't such a barrier as she and the students met each other halfway, each learning more of the other's language.
That experience is part of what drives her today in her work with the World Affairs Council. As the director of education programs, she designs and organizes nearly 100 global education events annually, including the Student Ambassador Program which connects area middle school students with Pittsburgh's global community through local speakers and events that expose students to other cultures. "We have the opportunity to change people's perspectives and open their minds to other cultures, and middle school is a time when young people are naturally curious." Additionally, she connects local high school students to their peers internationally via videoconference events.
Amiena stays active outside of work, serving on the YWCA Young Leaders board, the PA Council for International Education, as a guest member of Environmental Charter School's board and leader of the Circle of Trust, which supports professional and personal growth for female mid-career leaders. She also completed the Pittsburgh Marathon in 2010 and 2013, and enjoys theatre and casual dining at restaurants such as BRGR in East Liberty, Toast Kitchen and Wine Bar in Shadyside, Siena Downtown, and D's Six Pax and Dogz and Alma-Pan Latin Kitchen in Regent Square.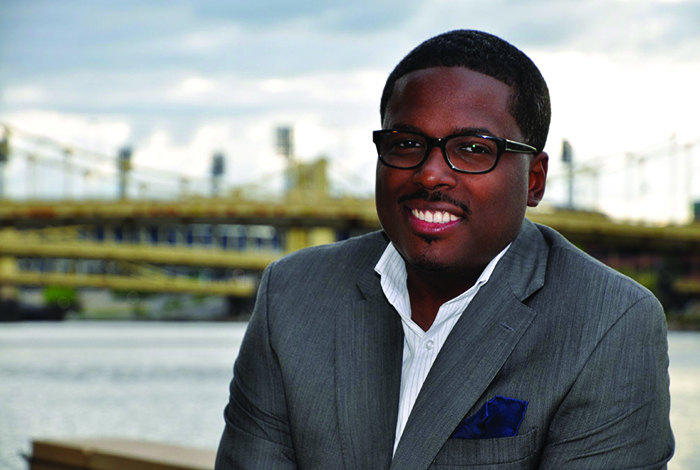 Bryan Brantley
Attorney
McGuireWoods LLP
"Pittsburgh is a small city with a big-city feel. Yet, you never feel like a stranger here."
When Bryan Brantley arrived in Pittsburgh for law school, he was pretty sure he would leave after graduation. By then, however, he'd taken a different view – despite job offers from law firms in other cities. "I saw how the landscape of Pittsburgh was changing. There seemed to be big opportunity here as a city with several corporate headquarters of public companies."
That was 2004. Today, he is an attorney at McGuireWoods LLP, defending major manufacturers in product liability lawsuits. He convinced his love (now his wife, Katrina, also an attorney) to live here too, rather than her first choice of the Richmond, Va./ Washington, D.C. areas where opportunity and family were abundant.
Making their Pittsburgh home in the Deutschtown neighborhood of the North Side gives them easy access to Downtown, and many local restaurants and amenities. "We love walking to James Street, Max's, Legends, Bistro Soul ("good comfort food that's not fried") and to Savoy in the Strip. They also go to PNC Park, often with clients, and to Heinz Field. (When it comes to sports, Bryan's heart may still be in Ohio, but he's close friends with several current and former Steelers.)
Bryan and Katrina are also avid cyclists. They enjoy both road and trails, including those in North Park and along the "Jail Trail," the Eliza Furnace section of the Three Rivers Heritage Trail that passes alongside the Allegheny County Jail Downtown, a bit of irony not lost on these lawyers. 

Jessica Tonti
Team Member

Recognition Administrator
Giant Eagle
"Each neighborhood has its own unique style and you can definitely find one that fits you."
In her position focused on recognizing employees for their good work and making a difference, Jessica Tonti is uniquely aware of how important esprit de corps can be to a company. So she is appreciative of the overall spirit at Giant Eagle. "It's a family-run company and that sense of family is part of the culture.  It shows through on all levels. Co-workers care about you on a personal level here." (Jessica's full disclosure is that her mother and brother also work for Giant Eagle, but she believes the family feel is true regardless.) Jessica finds that to be true about Pittsburghers in general. "People go out of their way for strangers here. When I travel to other cities I don't get that same feeling." Part of that warmth she attributes to the unique and tight-knit neighborhoods, each with its own unique style.
Jessica lives in Shadyside (with its combination of younger residents, cool new and established restaurants and bars, and galleries), but frequents downtown restaurants for happy hours and other events. "I love the lounge at Vallozzi's and their personal pizzas and martinis are amazing." She also recommends Meat and Potatoes for brunch and its five-cheese grilled sandwich, tomato soup and absinthe cocktail.
She shares the region's sports-loving culture and is a self-described "huge Pens fan"  with cats named Crosby and Geno to prove it. She loves getting Pens t-shirts and other memorabilia from family members on her birthday. "The sports mentality here is amazing!"
She is also a big fan of live music in local venues, especially Club Café on the South Side and Mr. Small's in Millvale, and takes advantage of Kayak Pittsburgh's North Shore base. "Kayaking is a really neat way to see the city. The rivers are so beautiful.

Jason Dille
Vice President, Media
Chemistry Communications
"In southwestern PA, I can be on the cutting edge of digital media during the week, and casting my fly rod or rock climbing on the weekends. It's the best of both worlds."
Jason Dille lives life fully, both on and off "the grid." He directs digital media strategies for local and national advertising clients for Chemistry, a downtown marketing and advertising firm, targeting the best opportunities to connect with audiences online. When not working, he can be found connecting with the southwestern Pennsylvania watershed, casting his fly line in local streams in such places as Greene County's Enlow Fork. "There are some great trout streams in lower Washington County and Greene County," Jason says, but his connection with the natural world doesn't end at the water. He and his wife rock climb at Cooper's Rock, a short drive south in West Virginia, and he takes his one-year-old son Hunter hiking there and at McConnell's Mill, a state park, an hour's drive north in Lawrence County. "It's a conscious decision to spend time in the outdoors."
He's also a lifelong hunter, often snagging deer, wild turkey, pheasant and rabbit. Skilled and respectful of the natural world, he cleans, cooks and eats what he harvests.
Between the intensity of his day job, and the calm of the outdoors, Jason's creativity takes flight in other ways. He performs in plays at Canonsburg's Little Lake Theatre, and recently played the role of Doc Porter in the community theater's production of Crimes of the Heart. He's also a former mascot for the Washington Wild Things, a Frontier League baseball team based in Washington County, a role that was part entertaining hijinks and part crowd control.
Jason's also an avid DIY'er, having recently remodeled a bathroom and constructed a bar and an island in his family's kitchen.
At home in Canonsburg, Jason and his family enjoy the small-town atmosphere, with events like the annual Fourth of July parade high on their list of favorites. The parade is second only to Philadelphia's in size, drawing more than 70,000 spectators. "It's one of the best in the country," Jason says, citing the combination of veterans and local school participants and the zealous local residents who line chairs up along the parade route days in advance to ensure a front-row view. (Residents at one time reserved their spots with chairs two weeks or more ahead of the holiday, but a new ordinance limits them to two days.) All of that adds to the charm he says. "It gives you a good feeling that an event like this still draws the whole community in."

Don Charlton
Founder and Chief Product Officer
Jazz (formerly The Resumator)
"If you're a startup and can build a little momentum, you're going to have an entire city trying to help you."
Don Charlton grew up about an hour south of Pittsburgh, in Uniontown, Fayette County, with a "dirty little secret." Despite his love for art and drawing, he'd been sneaking into the library every morning to computer program.
Had it not been for the watchful eye of a high school guidance counselor, who told him about a field in which he could marry his two passions, he might have quit being an artist. Instead, he headed to the Rochester Institute of Technology to study graphic design and embarked on a career as an interactive designer and developer at some of Pittsburgh's most notable design firms.
After making the leap to start his own business — and learning some hard lessons from his first failed venture — Don began building what would become Jazz (formerly The Resumator). He recognized a market that was underserved by existing products. Applicant tracking systems – the software businesses use to recruit and hire – at the time were big, expensive and cumbersome to use. Employees at many small and medium sized businesses were tasked with hiring, in addition to their regular duties, and they were often using inefficient email, spreadsheets and home-grown systems to try and do so.
Validated by his own experience as the "deputized hiring manager" in the firms at which he had worked, he focused on building something that would make everything — from posting jobs to wading through hundreds of resumes to selecting the employee to hire — easy, effective and efficient for anyone from a designer to an HR manager. "I thought, 'Let me see if I can use the skills that I have to solve that problem – especially for people like me, who don't have recruiting experience.' "
The effort has gone far beyond his initial aim. In 2009, he earned a place in an intensive, 20-week program run by startup accelerator AlphaLab, availing himself of the training, mentoring and seed capital to launch what would become Jazz, which now has offices in Pittsburgh's Strip District, as well as in San Francisco and just outside of Boston.
Used by more than 4,000 companies spanning all industries, 50 states and 70+ countries, Jazz provides integrated, easy-to-use recruiting tools and social media features to make it easy to source a bigger pool of better talent for every job, quickly and accurately screen every applicant, conduct effective interviews and feel confident in every hire — all while giving the user reports that help them know how they're doing in the process. It is prized by companies with and without big HR departments that need to ramp up staffing quickly. Customers include Major League Baseball, Warby Parker, Burning Man, Bitly, Mashable, MailChimp and R/GA, as well as the 2012 presidential campaigns of both Mitt Romney and Barack Obama.
Pittsburgh has made sense for Jazz – and Don – on both professional and personal levels. As an entrepreneur, he has access to talented graduates of the region's many universities and the support of its thriving startup community. Recently, Don helped to unveil the "Innovate in PA Tax Credit," a program to help fund small-business incubators in the commonwealth.
"We don't feel like just one of many companies, like we'd be in Silicon Valley or New York," he says. "In Pittsburgh, we really feel that the entire city is behind us, helping us succeed."