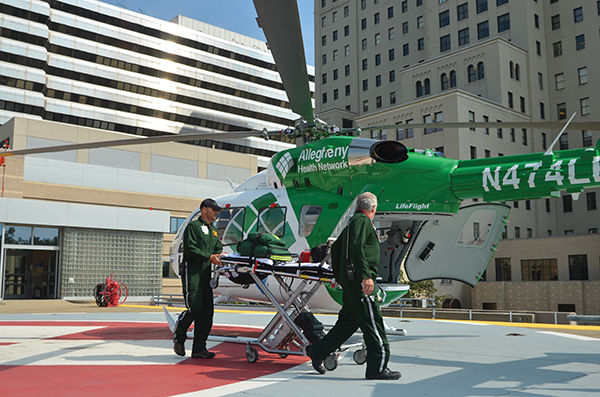 It's a well-known fact that the 2.4 million people in our region have access to world-class health care. Whatever the need, residents know they can find the care they require thanks to the health-care systems that make their home in the Greater Pittsburgh Region. The large amount of Medicare and Medicaid dollars coming into the region has helped to fuel the growth of the region's health-care and social services sector, now the region's largest employer.
Our health care industry serves as one of the largest sources of jobs, spurs regional wealth in our area, and is the foundation for the regional, biotechnology industry. Because the jobs in health care are relatively well-paid, this sector contributes more than 12 percent of the region's employment-generated income. That's the third highest percentage among the top 40 regions in the United States.
UPMC (University of Pittsburgh Medical Center) is an integrated, global nonprofit health enterprise. With 60,000 employees system wide, the organization has grown to become the health care provider of choice in Western Pennsylvania. Ranking No. 13 in the prestigious U.S. News & World Report annual Honor Roll of America's Best Hospitals, UPMC provides life-changing medicine with world- class doctors, researchers, specialists, and hospitals all across the Pittsburgh region.
Through its network of more than 20 hospitals and 500 doctors' offices and outpatient sites, UPMC provides care to the most vulnerable citizens. Internationally, UPMC has established a research center in Kazakhstan and a trans- plant center in Italy delivering clinical expertise to people around the world.
UPMC is committed to creating a healthy com- munity that benefits everyone – not just those individuals who pass through its doors. With more than $888 million in annual community benefits, UPMC's community contributions amount to nearly $2.4 million each day and improve the health of the region.
For more than 30 years, UPMC has focused its resources on addressing the needs of patients and enhancing their quality of life. The results of these efforts are seen throughout the region in healthier communities and stronger local economies.
Allegheny Health Network (ahn.org) is a dynamic, patient-centered and physician-
led academic healthcare system based in Pittsburgh, Pennsylvania that provides high quality comprehensive services to patients throughout Western Pennsylvania and the adja- cent multi-state region of Ohio, West Virginia, New York and Maryland.
Part of Highmark Health, Allegheny Health Network composes eight hospitals; more than 200 additional healthcare sites – including comprehensive Health + Wellness Pavilions; a research institute; more than 2,800 employed and affiliated physicians (412.Doctors); a group purchasing organization; and a complete spectrum of home and community based healthcare services. The Network's hospitals include one quaternary academic medical center, Allegheny General Hospital in Pittsburgh, and seven tertiary/community hospitals that provide an array of general and advanced medical services, including Allegheny Valley Hospital, Natrona Heights, PA; Canonsburg Hospital, Canonsburg, PA; Forbes Hospital, Monroeville, PA; Jefferson Hospital, Jefferson Hills, PA; Saint Vincent Hospital, Erie PA; West Penn Hospital, Pittsburgh; and Westfield Memorial Hospital, Westfield, NY.
Each year, the hospitals of Allegheny Health Network together admit nearly 100,000 patients, log 300,000 emergency room visits and deliver 6,500 babies; and its physi- cians perform more than 100,000 surgical procedures.
Anchored by nationally and internationally recognized clinical and research programs in the areas of bone and joint care/sports medicine, cardiovascular disease, neurosurgery and neurology, women's health, cancer, emergency medicine, bariatric and metabolic disease, Allegheny Health Network provides a complete spectrum of advanced diagnostic, medical and surgical care across all medical specialties, including primary care, trauma and burn care, general surgery, diabetes, autoimmune dis- eases, critical care, digestive diseases, men's health/urology, lung and esophageal diseases and rehabilitation services.
The Network is also a leading center for advanced heart, liver, kidney and pancreas transplantation. According to Comparion Medical Analytics' 2016 CareChex hospital quality ratings, Allegheny Health Network ranks #1 in Pennsylvania and #8 nationally for over- all organ transplantation quality.
Allegheny Health Network's Cancer Institute provides advanced, multi-disciplinary care
for the treatment of all cancers, including brain, breast, colon and rectal, head and neck, lung, liver, ovarian, cervical, prostate and blood/hematologic cancers. The program reaches patients at more than 50 clinic locations throughout Western PA and employs more than 150 oncologists. The Institute is also home to one
of Pennsylvania's largest bone marrow and cell transplant programs and has a formal affil- iation with the Johns Hopkins Kimmel Comprehensive Cancer Center for clinical collabora- tions, medical education and a broad range of cancer research initiatives.
Allegheny Health Network's sports medicine program is the official medical provider of the
Pittsburgh Pirates professional baseball team, the Pittsburgh Riverhounds soccer team, Robert Morris University, Gannon University and 19 Pittsburgh area high schools. The Network also is one of just a handful in the country designated as a national US Olympic Regional Medical Center.
The hospitals of Allegheny Health Network have earned many accolades for superior quality and service excellence, including recognition from respected independent analysts and regulatory bodies such as The Joint Commission, Comparion Medical Analytics, US News & World Report, Consumer Reports and Healthgrades. According to the Comparion Medical Analytics' 2016 CareChex hospital quality ratings, Allegheny Health Network places in the top 10% nationally for cancer care quality, in the top 5% nationally for cardiac care, in the top 10% nationally and #1 in the region for stroke care, #1 in Western PA for trauma care quality and #1 in Western PA for women's health care.
Allegheny Health Network also plays a pivotal role in the training of future generations
of healthcare professionals by offering 46 graduate medical programs, three medical school affiliations and two nursing schools. The Network's hospitals serve as clinical campuses for the medical schools of Drexel University, Temple University and the Lake Erie College of Osteopathic Medicine (LECOM). Nearly 250 students are enrolled each year in nursing programs at the West Penn Hospital School of Nursing and the Citizens School of Nursing in Natrona Heights, and more than 500 medical residents and fellows receive advanced training on staff at the Network's hospitals.
Physicians and scientists at Allegheny Health Network are often on the cutting edge of advanced treatments and new technologies. Innovative medical research across all of the Network's programs is a critical component of the organization's mission. The Network's Research Institute coordinates private and federally funded interdisciplinary programs designed to better understand, treat and pre- vent disease, and the Network's hospitals are frequently involved in clinical trials of breast, prostate and bowel cancer, burn and traumatic injuries, gene therapy, cardiovascular disease, leukemia and lymphoma, autoimmune dis- eases, neurological diseases, and more. The Network is currently home to more than 300 active clinical research trials.
Since it's beginning in 1906, Ohio Valley General Hospital has nurtured a commitment to provide the community with a personalized approach to quality health care. This dedication has established the foundation for the Hospital to grow and meet the community's health care needs with expanded services, new programs, and advanced technology and education.
Ohio Valley General Hospital ranks among the very best in the country, according to the Joint Commission on Accreditation of Health Care Organizations. Ohio Valley has the area's best and brightest medical minds, with nearly 200 physicians in 26 medical specialties and a full range of advanced diagnostic tools and treatments. It's clear that one of the best hospitals in the city isn't in the city, it's right here, at Ohio Valley General.
A hospital that has served the people of Pittsburgh's western suburbs and airport area for nearly 100 years makes patient satisfac- tion their main priority and has also been consistently awarded Avatar International's Exceeding Patient Expectation Award.
Ohio Valley General Hospital is a 138-bed, not-for-profit hospital, located in Kennedy Township, near the intersection of I-79 and Route 60.
St. Clair Hospital in Upper St. Clair is an acute-care facilities that provides advanced, high-quality health care to more than 400,000 residents of southwestern Pennsylvania. With 525 physicians and more than 2,000 employees, St. Clair Hospital is the largest employer in Pittsburgh's South Hills and is the only Pittsburgh-area hospital to be named one of the 100
Best Places to Work in Pennsylvania for six consecutive years.
St. Clair offers virtually every healthcare service residents may need throughout
their lives, and continually enhances its services and technologies to meet the community's health needs. The hospital's array of inpatient and outpatient services is nothing short of comprehensive and includes advanced cardiovascular services; specialized care for women, children and infants; diabetes treatment; oncology services; emergency care; general surgery services; behavioral health services; and pulmonary care.
Physicians at St. Clair Hospital use the most sophisticated imaging and diagnostic equipment available to assure that patients receive the fastest and most accurate readings, to determine their conditions, and to plot a course of treatment. From PET Scanning to CT Scanning to Nuclear Medicine and Ultrasound, the hospital's Medical Imaging Services offers the most advanced technologies to save lives and provide superior medical care.
Complementing the services at its main campus in Mt. Lebanon, the hospital offers healthcare services at three outpatient centers, including a diagnostic center located in Bethel Park. A new medical office building and outpatient center is now under development for Peters Township.
St. Clair Hospital is home to the region's largest Emergency Department visited by nearly 60,000 patients each year. To accom- modate the growing needs of the community in this regard, the hospital recently completed a $13.5-million expansion of the department to increase capacity to 80,000 visitors per year. The 30,000-square-foot department features state-of-the-art monitoring and imaging equipment.
From diagnosis and treatment to rehabilitation and wellness, St. Clair Hospital offers a full range of cardiac-care services. Its highly skilled professionals have helped the hospital to achieve industry-leading treatment times for heart attack victims arriving at its Emergency Department and have achieved better outcomes than some of the most recognized hospitals in the United States.
The American College of Surgeons Commission on Cancer has accredited the Cancer Care Center at St. Clair Hospital as a Comprehensive Community Cancer Center with Commendation, the highest rating a community hospital can achieve. Since its inception, St. Clair Hospital's cancer program has demonstrated impressive survival rates. The relative five-year survival rate for patients diagnosed with invasive cancer — for six of the most common cancers– exceeds national and state averages.
To complement its inpatient services, a highly skilled team of board-certified physicians, registered nurses, physical therapists, technologists and technicians provide compassionate, personalized care for a wide range of outpatient medical services. The Women and Children Services provides comprehensive health care for women of all ages and children from birth through adolescence. Women and Children Services comprise the Family Birth Center, the Lactation Center, Gynecology, the Pediatric Unit, including 24-hour Pediatrician coverage, and an extensive community, health-education department.
Outside Allegheny County
In Beaver County, the Heritage Valley Health System comprises the Heritage Valley
Beaver Hospital in Beaver, the Heritage Valley Sewickley Hospital and the Staunton Clinic in Sewickley, the Heritage Valley Health System's Family Practice in Beaver Falls, the Heritage Valley ConvenientCare in Beaver, the Heritage Valley Health Center and the Heritage Valley Surgery Center in Moon, and the Heritage Valley Women's Health Center in Aliquippa.
The Heritage Valley Health System stands out among health-care systems because of the strength and stability of its for life care for its community. The decision making of Heritage Valley centers on, and measures, its achievements based on the impact its services have on neighbors, families, and friends.
For example, the system's Self-Requesting Mammography empowers patients to schedule mammography screenings without a physician's order. This enables patients to be tested when it's convenient for them, encourages more patients to be tested, and boosts the likelihood of early detection.
Heritage Valley has introduced Mini-Maze, a minimally invasive heart procedure offered by only a few other providers in our region. Mini- Maze corrects atrial fibrillation in an estimated 85 percent of patients who undergo the pro- cedure and enables them to return to normal activity more quickly with less reported pain and reduces hospital stays.
Heritage Valley's Cardio Thoracic Program introduces a minimally invasive, cardiac procedure to treat thoracic aortic aneurisms (TAA). Guided by advanced-imaging technology, surgeons insert a vascular stent graft through two, small groin incisions, thereby reducing recovery time to just 24 to 48 hours instead of the 10 to 14 days it used to take with the conventional method.
In fact, Highmark Blue Cross and Blue Shield has recertified Heritage Valley as a "Blue Distinction Center for Cardiac Care" because of the hospital's excellence and considering the overall volume for certain procedures, cardiac team experience, and sub-specialty certifications.
Equally as important, Heritage Valley has reduced the incidence of hospital-acquired infections  by 50 percent. In the past year alone, such infections dropped by 20 percent. What's more, the Hospital and Health System Association of Pennsylvania (HAP) recognized the hospital for its aggressive training program to improve intravenous drug procedures and to reduce the leaking of certain drugs out of a vein and into surrounding tissue. Leakages of this sort damage tis- sue, muscles, tendons, and bone.
Butler Health System, a community-health system, provides healthcare services in locations throughout Western Pennsylvania. Its doctors, nurses, and other healthcare professionals are personally invested in the community and focus on providing individualized care for every patient treated there. The Butler Health System sees itself as neighbors taking care of neighbors for the benefit of the whole community.
To serve the community's needs, BHS conducts annual Community Health Assessment surveys, the results of which help determine ways to improve the com- munity's health through new services and education programs.
The centerpiece of the Butler Health System is Butler Memorial Hospital, founded in Butler County, Pennsylvania in 1898. The hospital currently has 1,700 employees who provide a variety of services to help individuals and families manage and maintain their health.
The Heart & Vascular Center of Butler Memorial Hospital was named the top Cardiovascular Surgery Program in the State of Pennsylvania and among the top 5 percent in the nation. At the same time, the center received the top rating of all cardiovascular surgery programs in the state of Pennsylvania by HealthGrades, the nation's leading healthcare quality assessment company. Butler Memorial has received 5-star ratings in cardiac bypass surgery for several years by HealthGrades, but this is the first time the hospital received the "Best in the State" designation.
Elsewhere, the Washington Hospital Health System in Washington, Pennsylvania pro- vides sophisticated health care services — including open-heart surgery and spine surgery — that are available to people through- out Washington and Greene Counties.
For the last 30 years, the hospital has been the largest employer in Washington County and employs about 1,900 people. If you take into account those employed in the hospital's affiliate organizations and physician practices, that total approaches 2,300.
"We are a significant economic engine for Washington County and our employees, most of whom live within a ten- to- 20-mile radius of the hospital," says Gary B. Weinstein, President and CEO. "We have a payroll of more than $100 million, and that money goes back into the community. And we buy supplies in this area, which adds to our economic impact."
He adds that the hospital brings in dollars from the federal government and the state of Pennsylvania. "About 70 percent of our patients are covered by Medicare or Medicaid. Again, that's money coming in from the federal or state governments that supports this area.
Weinstein sees the mission of the hospital more broadly than taking care of patients in beds, but rather as promoting the overall health of the community. "We are a full-service community-health system, as compared to a specialty hospital or a smaller hospital," he says. "We offer a breadth of services, not just medical-surgical, but obstetric and psychiatric, in-patient rehab, emergency, and a full list of outpatient services. And our Washington Physician's Services Organization employs in excess of 50 physicians in more than 18 practices throughout Washington and Greene Counties."
As a non-profit institution, Washington Hospital provides a number of services subsidized by philanthropy or by the services themselves. Its Teen Outreach Program helps young people in the community avoid unwanted pregnancies by dealing with young men, single parents, and by focusing on teens, their health, and the health of their children. All of which enables young people in the community to avoid unwanted pregnancies.
Additionally, the hospital makes available other programs for the community that don't pay for themselves, such as diabetes and mammography screenings for people who lack health insurance.
Washington Hospital provides a variety of affiliated services such as the Wilfred R. Cameron Wellness Center, a medically-based fitness and wellness center open seven days a week from 5 a.m. to 10 p.m. with abbreviated hours on the weekend. The center includes a variety of pools such as a lap pool and a warm-water-therapy pool. Members use the center to maintain their fitness and to help them recover from illness.
The hospital is also affiliated with the Greenbriar Treatment Center, one of the top chemical-dependency centers in Western Pennsylvania. Greenbriar includes a residential program, two half-way houses, and seven outpatient centers located throughout Washington, Westmoreland, and Allegheny Counties.
Excela Health, based in Greensburg, Pa., is the regional leader in delivering high quality, cost-effective health care to more than 350,000 residents of Westmoreland, northern Fayette and southern Indiana counties. Established in 2004, Excela Health provides care across the spectrum from prevention and wellness to emergency care, acute care, outpatient care, rehabilitation, home care, hospice and medical supplies/equipment in a range of locations including our three hospitals; Outpatient Rehabilitation Centers; QuikDraw and QuikDraw Plus sites for blood work and imaging; medical group practices; Laurel Surgical Center for outpatient surgery; Excela Square at Norwin, a "one-stop" center for blood work, imaging, outpatient surgery, rehabilitation, primary care and specialty care; Family Medicine Residency program, and the Excela School of Anesthesia. All care and consideration, however, is in tune with our mission of "Improving the health and well-being of every life we touch".
Well-established in our region, our hospitals collectively have been caring for patients for more than 300 years. And, we take the role of corporate citizen seriously, partnering with community organizations to spread the word about various health issues, giving our time and talents to neighborhood causes, and supporting the efforts of area health-related groups and others whose mission meshes with our own.
As community needs evolve, we continue to respond by reviewing access to services, how we deliver care, and what kind of care is needed. Some of the ways we have accomplished this include:
• The addition of Digital Breast Tomosynthesis, also known as 3D mammography, to the growing list of women's services at Excela Square at Norwin, Frick, Latrobe and Westmoreland hospitals.
• The opening of the Excela Advanced Pain Center located at Excela Square at Norwin, North Huntingdon.
• The addition of Excela WORKS Occupational Medicine, a new service offered at Excela Square at Norwin, North Huntingdon.
• The establishment of the Excela Advanced Lung Center, where lung cancers can be identified earlier when they are more treatable using a low dose CT scan, which has proven to be an effective diagnostic tool in the fight against cancer.
• Full implementation of the ExcelaHealth.Me patient portal offering patients served by members of the Excela Health Medical Group (EHMG) the ability to access their medical history, lab/test results, diagnoses and conditions, medications, the ability to schedule appointments and more.
• The addition of a second da Vinci Robotic Surgical System, a minimally invasive technique that features less pain, scarring and blood loss as well as shorter recovery time for patients.
• Our continuing joint venture between Excela Health and UPMC Cancer Centers known as the Arnold Palmer Cancer Center with the newest location at Excela Square at Norwin, North Huntingdon.
• The continuing growth of our medical group for primary and specialty care.
To learn more about Excela Health, visit our web site, www.excelahealth.org or contact our Call Center toll free, 1-877-771-1234.
DID YOU KNOW …
• Excela Health Westmoreland Hospital ranked among the nation's best hospitals by Consumer Reports in print and online (consumerreports.org/health). Consumer Reports partnered with the Society of Thoracic Surgeons (STS) to publish the first ever ratings of hospitals providing heart surgery based on their performance in the area of heart bypass (CABG) and valve replacement. It is the "gold standard" for evaluation of cardiac surgery programs.
• The Accreditation for Cardiovascular Excellence (ACE) program again continues its accreditation to Excela Health's cardiac catheterization laboratory and angioplasty/stenting program. ACE accreditation recognizes the commitment of clinicians and staff to quality assurance, peer review, and the use of evidence-based guidelines. Excela Health is the first health system in Pennsylvania and only the fifth in the nation to receive it.
• The Bariatric Surgery Center has been designated a MBSAQIP Accredited Center – Comprehensive. MBSAQIP is a joint program of the American College of Surgeons and the American Society for Metabolic and Bariatric Surgery, working to advance safe, high quality care for bariatric surgical patients through the accreditation of bariatric surgical centers.
• Highmark Blue Cross Blue Shield continues to recognize Excela Health Westmoreland Hospital as one of the first in the nation to receive a Blue Distinction Center PlusSM designation in the area of cardiac care as part of the Blue Distinction Center for Specialty Care® program. Excela Health also received the Blue Distinction Plus designation for its Family Additions Maternity Center, joint replacement program, called JointWorks, and its bariatric surgery program.
Excela Health continued its recognition as a Healthiest 100 Workplace two years running. This honor is based on continued recognition as one of the "Healthiest Employers of Western Pennsylvania" which in 2015, marked the fifth consecutive year. The Pittsburgh Business Times, a local business and industry publication, partnered with Indianapolis-based Healthiest Employer LLC to find the healthiest workplaces in Western Pennsylvania.
Health Insurance
The largest health insurance provider in the region, HIGHMARK BLUE CROSS BLUE SHIELD serves approximately 3.3 million members in western, north central and northeastern Pennsylvania through the company's health care benefits business. The company provides a broad range of individual health insurance products and Medicare supplemental programs. Highmark also contributes millions of dollars to help keep quality health care programs affordable and to support community-based programs to improve people's health.
Recognizing the significant shift happening in the health care landscape, Highmark was at the forefront of developing a personalized way for people to shop for health insurance. In 2009, Highmark launched Highmark Direct, a first of its kind health insurance retail location in Pennsylvania. After starting with two stores in 2009, the Highmark Direct footprint has grown to 13 stores across the state, including four locations in southwestern Pennsylvania. The Pittsburgh-area stores are in North Fayette, Monroeville, the North Hills and the South Hills. In 2015, Highmark Direct stores saw more than 100,000 total visits as people had experiences with the Affordable Care Act and federal health insurance marketplace. In the midst of consumer uncertainty and confusion, Highmark Direct provided face-to-face interactions to help people make sense of health care and health insurance.
As people take a more active role in choosing their health insurance and managing their health care, Highmark knows it is important to provide them the appropriate tools and information to help them make well-informed decisions. The Highmark Direct retail stores are the most visible aspect of Highmark's commitment to customers. The stores provide a resource of health insurance information for individuals, seniors and small businesses. Staff members at the Highmark Direct stores are trained to walk people through Highmark's insurance products and services so customers can determine the best coverage options for themselves and their families.
For the purchase of something as important as health insurance – which can be confusing for almost anybody – people like being able to have personal interaction as they go through the process of learning about and buying coverage. Seniors are able to visit the stores for informational seminars, where they can learn more about their Medicare coverage as well as supplemental insurance needs. And even people who are already Highmark members can gather important information about how they can better manage their health through Highmark's wellness programs.
The Highmark Direct stores provide in-person consultations with insurance experts who can discuss options and provide assistance in applying for and purchasing coverage. This kind of personal consultation can be invaluable for people buying health insurance for the first time or who do not have employer-sponsored health coverage, such as those who are self-employed or between jobs.
While the enrollment period for individuals to get health insurance coverage for 2016 has ended, and the enrollment period for 2017 coverage does not begin until November, there are a variety of circumstances in which people can still acquire health insurance throughout the year. Certain life-changing events make people eligible to apply for coverage during special enrollment periods. This includes people who: are new to the area, newly married, have added a dependent (through birth or adoption), have turned 26 and are no longer covered on their parents' policy, or have lost a job and no longer have employee-sponsored coverage. If you think you may qualify to purchase health insurance during a special enrollment period, Highmark Direct is a perfect place to turn for answers. Store staff can help to determine if your circumstances qualify you for the special enrollment period. If you do qualify, the store can help you determine a plan that is appropriate for your needs.
In addition to selling health insurance plans, Highmark Direct also offers ancillary products such as dental insurance and critical illness and accident insurance.
To make an appointment, or to locate the closest Highmark Direct store to you, visit www.highmarkdirect.com. To learn more about Highmark and its initiatives, visit www. highmark.com.
At UPMC Insurance Services Division, we seek to offer the highest quality and value to our members and our community. As part of the UPMC family, we work closely with world-class hospitals, physicians, and researchers at UPMC, and with community provider-partners across our service area, to deliver award-winning health care products, programs, and services. And we seek to do all this with a personal touch, helping individual members and their families enjoy the best possible health and quality of life.
We continually analyze and improve our products, programs, and services based on our customers' needs and the most current research. This enables us to bring to the marketplace innovative health care offerings along with the advantages customers want from a health plan: quality, choice, access, service, and value. Our commitment is to provide these advantages to every customer.
UPMC, our parent company, is an integrated global health enterprise. In 2012, UPMC was the only medical center in Western Pennsylvania to be named to the U.S. News & World Report Honor Roll of America's Best Hospitals. UPMC ranked 10th in a national field of nearly 5,000 eligible hospitals.
All of our health plans are highly ranked nationally. We maintain "Excellent" NCQA accreditation for our Commercial HMO/ POS, Commercial PPO, Medicaid, Medicare Advantage, and Medicare PPO plans.
Our award-winning wellness and disease management programs are developed by UPMC experts in the fields of exercise, nutrition, and chronic care, and incorporate the latest research findings, best-practice preventive care, and disease management protocols.
Our provider network includes the world-class tertiary and specialty hospitals of UPMC, as well as quality community hospitals, physician practices, and many other types of facilities. Our network has more than 125 hospitals and 15,000 clinicians, including some 11,500 physicians.
To find out more about UPMC Health Plan, visit www.upmchealthplan.com.
Aetna offers Health Maintenance Organization (HMO), High Deductible Preferred Provider Organization (PPO), Preferred Provider Organization (PPO), Preferred Provider Organization Value (PPO), and Preventive and Hospital Care.
The HMO is a network of doctors, hospitals, health care providers and pharmacies that offers medical treatment at a reduced cost to members. This type of coverage is often some of the most affordable health insurance a person can buy in Pennsylvania. Some health-insurance shoppers want a plan with a higher deductible that allows them to pay a lower monthly premium or to pair a deductible plan from Aetna because the plan qualifies to be paired with a tax-advantaged Health Savings Account (HSA).
Health-insurance shoppers who enroll in an Aetna PPO plan or PPO Plan Value enjoy access to a network of preferred providers that includes family doctors, hospitals, and specialists. They need not select a primary care physician (PCP) and need no referrals to see the providers in the network. Unlike HMO insurance networks, PPO plans from Aetna include two levels of coverage. Participants have one set of benefits for care received from providers within the network, and another for care received outside the network. A PPO plan pays for more of insureds' health-care bills when they receive care within the preferred network.
Aetna's Preventive and Hospital Plan is a limited insurance plan that offers affordable, monthly, plan premiums. Well-suited to people who use only basic health care services, this plan allows the freedom to go directly to almost any recognized health-care professionals, including specialists, for covered expenses. Typically, insureds have a choice of annual deductible levels that allow them to have greater control over out-of-pocket expenses. Although this type of plan also increases affordability by offering a narrower scope of benefits than other major medical plans, these plans should not be confused with the type of catastrophic or bare bones health insurance available elsewhere.
United Health One offers copay plans that give insureds the security of a predictable, fixed payment for each medical-care office visit, and high-deductible health plans that can save money and help protect against the cost of a catastrophic injury or long hospital stays. The company's health savings account plans (HSA) provide tax-advantages, with competitive interest rates on HSA accounts. And Short Term MedicalSM Plans offer gap coverage for in-between times, such as when someone is a new college grad in between employment or waiting for new employer sponsored benefits to begin. United's dental plans and vision plans can be added to one's personal, health insurance plan or purchased by themselves.
And UH continuity is a new, innovative benefit that insureds add to their personal health insurance. This coverage allows them to turn off coverage when they have group insurance and turn coverage back on when they need it at a later time.
HealthAmerica has served Pennsylvania for over 35 Years. Listed among the country's top 20 health plans in the U.S.News/NCQA America's Best Health Insurance Plans 2009-10 list, HealthAmerica has provided health-benefit solutions to employers across Pennsylvania. The company offers a broad range of traditional and consumer-directed health-insurance products, including managed care, self-funded, Medicare, indemnity, nongroup, and pharmacy plans.
HealthAmerica has corporate offices in Pittsburgh and Harrisburg, Pennsylvania, and serves 11,000 businesses and more than 500,000 members in Pennsylvania and Ohio. The company offers progressive medical management, innovative wellness programs, and statewide and national provider networks.
HealthAmerica's HMO, POS, and Medicare Advantage plans have ranked among the top 50, best health plans in the U.S. News/ NCQA "America's Best Health Plans" list every year since 2005. These plans currently have "Excellent" accreditation by the National Committee for Quality Assurance.
Plan Members get access to information and resources that help them make the most of their plans. By registering for My Online Services™ members manage spending accounts and claims, research doctors and hospital quality information, and send and receive secure messages from HealthAmerica's customer service.
Providers enroll in directprovider.com for access to member eligibility and benefits, claims, remittance advice, authorizations, a resource library, provider news, and secure messaging.
Employers administer their companies' health plans through Online Account Management™ that offers secure, password-protected service features. A dedicated Net Support Team stands by via a toll-free phone number to assist with HealthAmerica's online services.
Brokers enjoy a wide spectrum of products designed to meet the changing needs of their customers. Brokers get quotes online, download forms, and more. And new and expanding brokers can learn about becoming appointed and selling HealthAmerica's newer products, such as Medicare and individual plans. mg