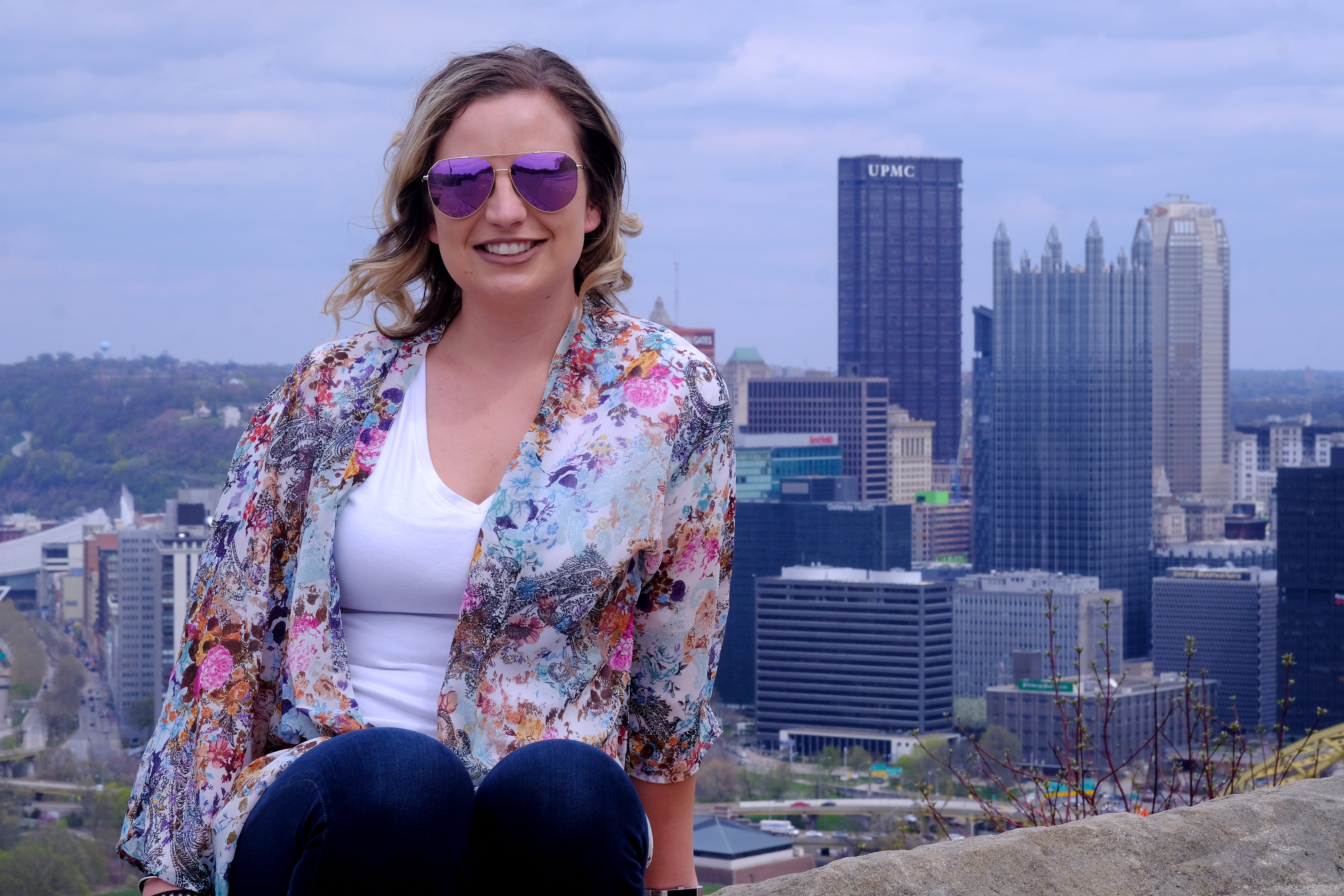 Amanda Thompson
Technical Sales Representative
LANXESS
"I think people are surprised by Pittsburgh's charm. We really are on the rise and people are taking notice."
After graduating from Ohio University, Amanda Thompson decided she wanted to challenge herself with a new city and moved to Pittsburgh to take her first job out of school. Though you can still spot her wearing a bright orange Browns jersey on Sundays, she has found her niche here and is proud to call Pittsburgh home.
You moved here for a job, what makes LANXESS unique?
LANXESS' company culture is really focused on being welcoming and flexible. We have a Commercial Trainee Program that allows trainees to do six-month rotations through different business units. Particularly for recent grads with little job experience, it's hugely beneficial for the company and the staff to make a well-informed decision about what role is the best fit and their future in the company.
What's it like being a young professional new to Pittsburgh?
At first it was scary! The only person I knew in Pittsburgh was my brother, so a lot of my first year here was spent getting to know the city. I joined PUMP's Pittsburgh Sports League to play softball and kickball, and that's where I met friends and ended up really feeling like I belonged. LANXESS also made sure I was connected with the city, and joining Pittsburgh Young Professionals helped grow my professional network.
What advice do you have for young people considering a move to Pittsburgh?
The hardest part is putting yourself out there. Pittsburgh has so much to offer; you just have to get out there and look for it. If it's going to a game, exploring new neighborhoods or paddling down the rivers, Pittsburgh will always have something interesting to do. When I first moved here I had to explore the city on my own, and it was a little daunting. But by getting to know Pittsburgh, I got to know myself better, as well.
What are some of your favorite places in Pittsburgh?
I live in Mount Washington, so one of my favorite places is Bigham Tavern. It's a great local hang out with phenomenal food. Another great part of Mount Washington is Grandview Avenue. I run down it every day, because I just can't get enough of that city view. Also, while I draw the line at rooting for the Steelers, I do love PNC Park. It's one of the most beautiful stadiums in the country.
"I think people are surprised by Pittsburgh's charm. I have friends from Cleveland visit often, and no one has a bad word to say about the city. I think our sports rivalry has jaded us over the years, but we're really on the rise and people are taking notice."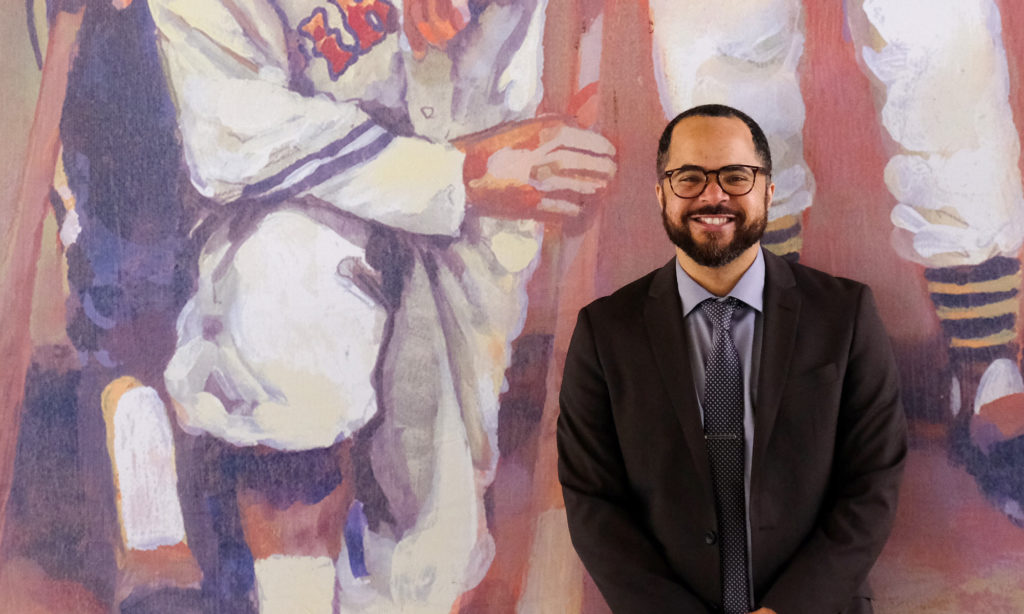 Julius Boatwright
Founder & CEO
Steel Smiling
"Once you live in Pittsburgh and start connecting with folks, you feel the steel city mentality, and it's hard not to embody that mindset."
With his megawatt smile and his warm demeanor, it's only fitting that Julius Boatwright is the mental health entrepreneur behind Steel Smiling. This Pittsburgh-based startup is focused on bridging the gap between community members and mental health support through education, advocacy and awareness. Steel Smiling's mantra is one we can all use:
Your mental health is a priority.
Your happiness is a priority.
Your self-care is a priority.
Your existence is a priority.
Why Pittsburgh and why mental health?
I grew up an hour outside of Pittsburgh and after relocating to Vegas for a couple years, I realized that everything I knew and loved about life was in Western PA. So, I came back in 2008 to attend grad school for social work. A few years following graduation, I wanted to become more involved with mental health and started working as a community-based therapist with Pressley Ridge. I learned about family dynamics and it felt like a space where I was being called to make a difference.  
Why is transparency important when talking about mental health?
One of my best friends from college died by suicide and I've dealt with symptoms of anxiety and depression since I was a teenager. From my personal experiences and working in the behavioral health system, I recognized that we must intentionally focus on prevention. Also, there needs to be consistent conversations about mental health in our society at-large. After spending time with families in their most vulnerable moments, I wanted to highlight what type of support could help to prevent crises and connect people with the appropriate resources; that ultimately led to the birth of Steel Smiling.
Entrepreneurship is challenging, how did you get started and how did you focus your scope?
I got in my car after a family session and something told me that I needed to be doing more. I was in the Hill District and decided to approach the first black person I saw to talk with them about mental health. There was no anticipated goal; I just felt like it needed to be done. I nervously approached two women, shared my story and they invited me into their home to talk. From there, it was an organic relationship-building process.
Storytelling is where we began. We decided to focus on our black communities by sharing photographic stories that encouraged human interaction everyone could understand. We want to proactively help people strengthen their comfort level and capacity to create natural supports while connecting them with accessible resources in their community.
What advice do you have for entrepreneurs?
I've launched entrepreneurial ventures before alone and realized the hard way that "if you build it, they will come" doesn't always work. My best advice is to genuinely engage with people throughout the entire process and welcome input on what's valuable for your neighbors in the community. Your foundation, relationships, and outcomes will be stronger as a result of it.
Outside of work, where are you in and around Pittsburgh?
Pitt will always be a nostalgic place. I met my wife in grad school, we got married on campus, and the university introduced me to community organizing and social work. I also recently joined Lead Now Pittsburgh, a cohort of non-profit leaders focused on self-care, personal well-being and organizational sustainability. Our sessions have helped me to be more aware of intentionally practicing mindfulness and meditation. I'm trying to take advantage of our great outdoor spaces – even if it's chilly – in an effort to close my laptop and stop thinking about work for a moment.
On Steel Smiling and Pittsburgh:
"Our city's history and strength are important for the community to feel connected. We're as strong as steel, but sometimes we need support. No matter what we experience, we're going to keep smiling and persevere together."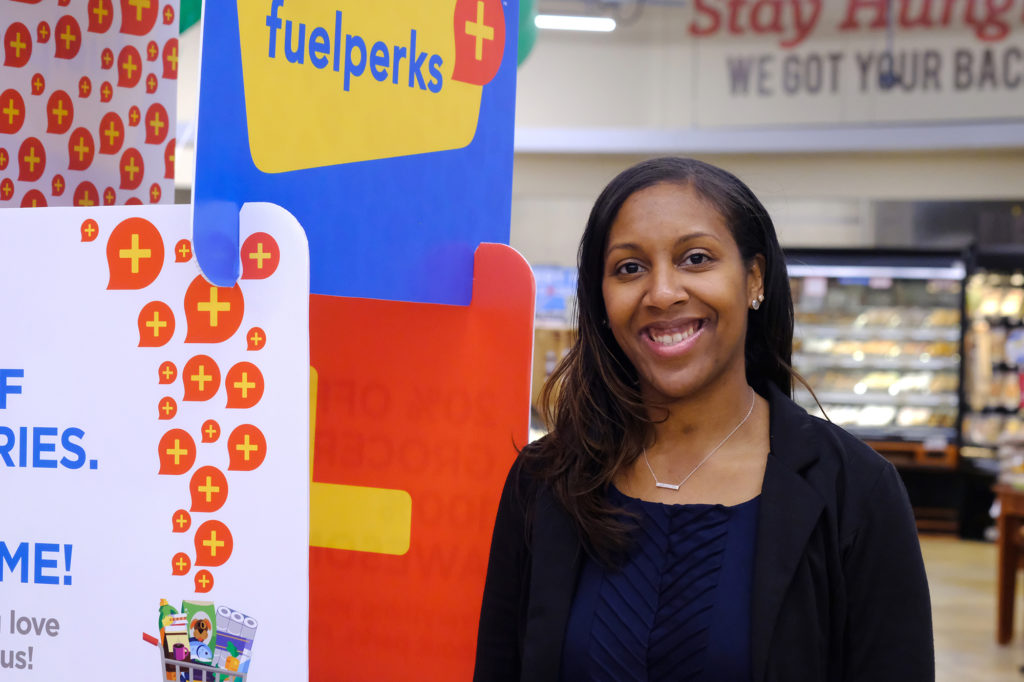 Renee Richardson
Pharmacist
Community Partnerships, Giant Eagle
"Our strong regional identity means that you don't have to be in downtown Pittsburgh to feel the comradery and connection."
Renee Richardson takes her community responsibilities seriously, both personally and professionally, and it keeps her busy! She's a mom to three, the fundraising coordinator for her local youth football league, a leader in multiple pharmacist associations and actively engaged with her church. As the Pharmacist, Community Partnerships for Giant Eagle, her day job is also serving the greater Pittsburgh community.
You grew up in southwestern PA, what kept you here?
I went to Duquesne University for pharmacy, my husband is from Wilkinsburg, and we wanted to be close to family. Pittsburgh itself was an easy sell for us.  It's a major city, but it's not overwhelming. It feels like home and I love that we have great sports teams and we bleed black and gold. You don't have to be in the city center to feel the comradery and connection that bands the region together.
Giant Eagle is a homegrown Pittsburgh company, how did you get connected and how do they embrace the local community?
I started at Giant Eagle as a pharmacy technician back in college and held various positions with them over the past 14 years. Now, I work with community partners from senior centers near our pharmacy locations, up through bigger partners like The Delta Foundation and the American Heart Association. I focus primarily on community partner interaction and it's been a rewarding way for me personally, and for Giant Eagle, to engage with the community in a different type of way.  We're small and nimble enough to make changes, but big enough to have a profound impact on the patient community we serve. Also, being located in Pittsburgh means we have two major pharmacy schools in our backyard – Duquesne and Pitt –and they are a huge asset to Giant Eagle's talent pipeline.
You've spent your entire career with Giant Eagle, what should potential employees know about the company?
The culture here at Giant Eagle is so inviting. They actively seek diverse ideas and input when they are implementing concepts in the store and they believe in investing in their employees by helping you be your best self. People stay because they're given opportunities for personal and professional development—staff who started as baggers are now managing departments in the corporate office. It's a local, homegrown company feel even though we're now in multiple states and you can feel their connection to the Pittsburgh community.
What are some of your favorite spots around Pittsburgh?
In the summer, my family and I love to go to Kennywood and Sandcastle. The spray parks are also a great option because they're free; we like Deer Lakes Park and Round Hill Park. For a night out, my husband and I like to go Downtown or the Southside, Mario's or Primanti Brothers has a great happy hour. Somma Pizza in Plum is also a great spot and they have poker nights and different events.
"Pittsburgh is a city for all ages and, if you keep your eyes open and are willing to explore, there are always fun things to do."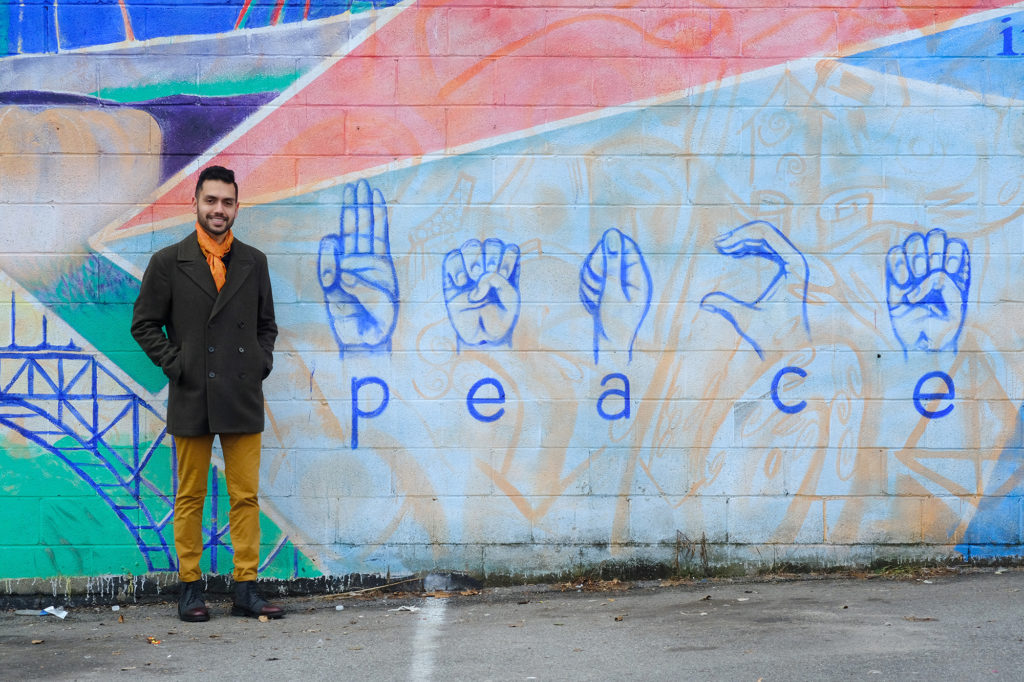 Brian D'Souza
Software Engineer
Cisco Systems Inc.
"I feel comfortable in Pittsburgh and it has empowered me to want to make an impact. The sky is the limit."
Brian D'Souza is an international citizen. Born and raised in Bahrain, he moved to India when he was eight and eventually made his way to Pittsburgh for graduate school. After interning at CISCO during grad school, he took a full-time opportunity as a software developer after graduation and spends his free time in Pittsburgh cooking cuisines from all over the world and exploring what the city has to offer.
You came to Pittsburgh for school, what kept you here?
Pittsburgh is my first home city in the U.S. – it's where I worked through the culture shock of a new place. I liked it, so the familiarity and the opportunity is what kept me here. Pittsburgh might feel like a big city, but it really is like a small town. Particularly for the foreign-born population, they're very well-connected and welcoming – they want to be inclusive and find their place here.
What makes your professional experience in Pittsburgh unique?
I work at a major technology company, but Pittsburgh has a very different culture than Silicon Valley and other major tech hubs because of its unique, small team-based approach. In my office, I was a bit of an anomaly as an immigrant, but I think it's been a mutually beneficial learning experience for me and my coworkers. I've learned from them as experienced professionals and they've seen the value that a fresh perspective can bring and how my background is an important asset to the organization.
What advice would you give to someone wanting to make it in tech?
The top skill for technology jobs is communication. It doesn't matter if you're a tech person or not, working across cultures (both personal and professional) is a hugely important part of my job. I work remotely often – most of my team is in Romania, Chicago, Austin, Raleigh, and India. Communication is a vital part of making our team work and making sure the product fits the client needs. I understand coding and cybersecurity, but it's also important to keep the client in mind to be certain the product is functional and user-friendly.
What are some of the best spots around Pittsburgh?
This is going to focus almost exclusively around food, but it's what I love! There are so many good places, but Salem's in the Strip District is by far my favorite. I can buy my Turkish coffee, lamb, and Lebanese and Indian spices all in the same spot. Dobra in Squirrel Hill is the only place that makes chai the way that I do – the way it should be made! High tea at The Frick Café is a unique Pittsburgh offering, and fun for me considering how important tea is for us in India. Mixtape, is a great place for conversation, board games, and good drinks, and it's a women owned business with ethical pay practices.  In my own neighborhood, Lawrenceville, Blue Moon is a great gay bar and one of the most inclusive queer spaces in the city, which is an important asset for the LGBT community here.
While I love to cook myself, Udipi Café in Monroeville is one of my favorite restaurants. My hometown in India is in the Udupi District, so you can imagine how excited I was to find a restaurant that serves South Indian regional food in Pittsburgh! I highly recommend a visit for the dosas (lentil and rice crepes).
This city is so interconnected and welcoming –Pittsburgh might feel like a big place, but it really is like a small town. Get out and explore.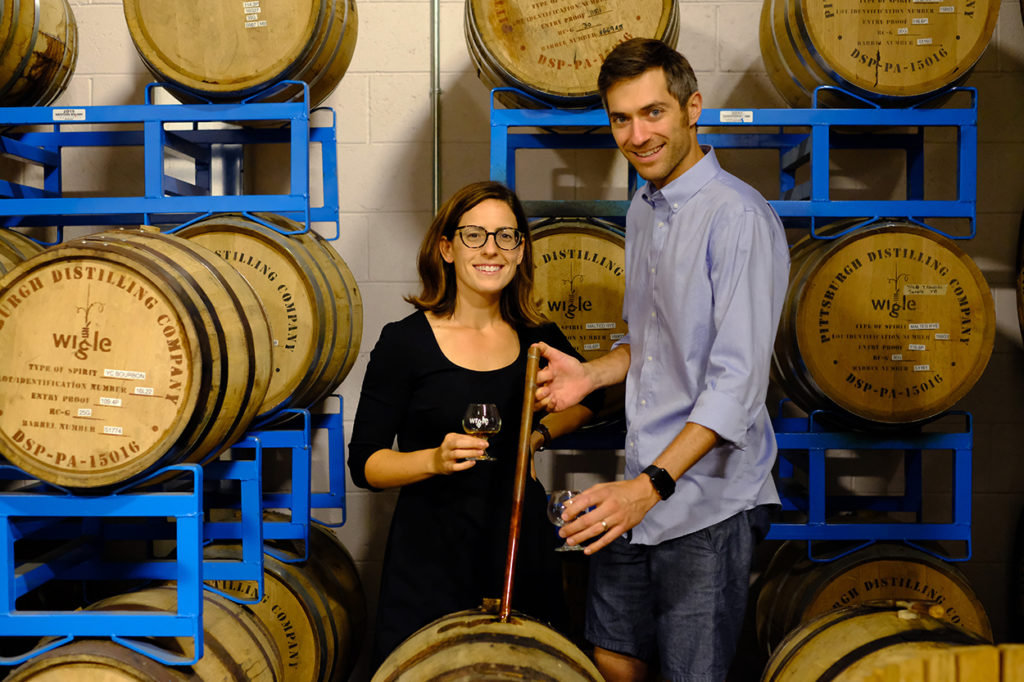 Meredith & Alex Grelli
Founders & Owners
Wigle Whiskey
"The people of Pittsburgh appreciate makers and the craft that comes with it. We feel very lucky to be so embraced by our community and to be a small part of this region's vibrant whiskey history."
Pittsburgh's whiskey roots run deep. The stage for the infamous Whiskey Rebellion in the late 18th century and the birthplace of American whiskey, most people don't realize that whiskey was the main economy before Pittsburgh became a steel town. Meredith Meyer-Grelli and her husband, Alex Grelli, always knew they wanted to pursue a business venture with alcohol and after a trip to Canada and a weekend of drinking ice wine with Meredith's parents, it was settled: they were going to help revive the regional whiskey identity and open a distillery to celebrate Pittsburgh's past and innovate its whiskey future.
Their story didn't start in Pittsburgh, however, they met attending the University of Chicago where Meredith studied urban geography and Alex studied political science and went on to get a law degree. While he was studying how state laws impact craft distilleries, Meredith attended Le Cordon Bleu in Paris to sharpen her cooking chops.
Though she's the North Hills native, it was Alex who convinced her that Pittsburgh was the right spot to start something and they moved to the city in 2008. After holding a few different roles at Reed Smith and Heinz, it was the fateful trip in early 2010 that jumpstarted their whiskey adventure. "Ice Wine in Canada is how we got here!" Meredith laughed. "We started wondering what Pittsburgh's version of that was and digging into the history of our region and we knew immediately that we wanted to start a distillery."
They knew they wanted to be in the Strip District because it's a manufacturing hub, a major thoroughfare for food and drink and so widely visited – it was important to them to be in a visible space. Shortly thereafter they had a space, they had a custom still from Germany, and all the while, they weren't legally allowed to create and sell directly to customers based on PA law. "The whole time we were planning the distillery, taking classes and reading everything we could about distilling, and eventually putting whiskey in barrels, we just said 'we've gotta keep moving forward and hope this works out.'" Thankfully in March of 2012, the law was pushed through and that's when they opened to the public.
The Wigle brand and culture is 'relentless curiosity and spirit of exploration.' "When we started, there weren't many craft distilleries so we didn't have places to learn and conferences to attend. It made it more challenging, but it allowed us to really make the process our own. It's fairly easy to tell a Wigle product in a blind tasting because of our method," Alex noted.
So what makes Pittsburgh unique for this business venture?

 
"We wanted to create a business that was deeply embedded in the community and feeds back into the social and economic ecosystem that we're a part of." From a supply chain perspective, the bounty of agriculture in Western PA is a phenomenal local asset and Wigle is now the largest consumer of organic grain in the state. The manufacturing legacy of the region has also been instrumental in setting up the supply chain from start to finish and they believe, contributes to the local support for the brand: "I think there's a psychology to a city that's been at the top and fallen. We're always going to fight above our weight because we've got something to prove. There's a pride in Pittsburgh that you don't find everywhere and when people see locals making goods that are reflective of their community they get behind it in force."
When Meredith and Alex aren't busy creating the latest Pittsburgh beverage sensation, they are busy spending time with their daughter Effie. They love their Point Breeze neighborhood and appreciate the very 1930s feel it has of young families and people who have lived there for 60 years and know the history. They spend a lot of time in Frick Park and enjoy the cultural amenities that are so accessible from their home. As for food favorites? Their dining choices are mostly driven by their 7-year-old and her love of carbs, which makes The Porch in Oakland, Park Bruges in Highland Park, and Silk Elephant in Squirrel Hill family favorites.
Recently nominated for a James Beard Award, written up in food magazines and the New York Times, among other outlets, the couple remains humble. "We allow ourselves to bask in the attention for an hour and then get back to work. We know if we're going to succeed we have to succeed at home, so we focus on Pittsburgh and creating great products and experiences for our local communities."