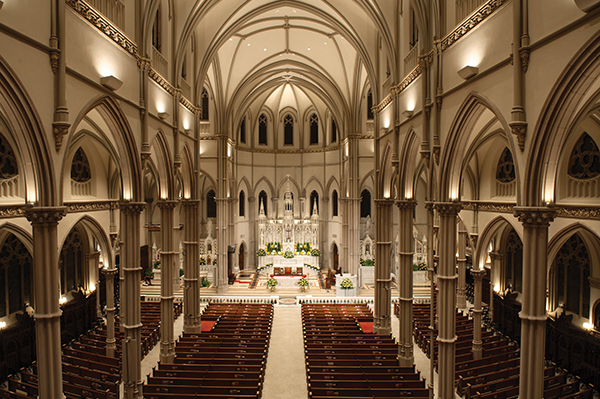 If you're new to Pittsburgh, you'll be happy to know that whatever your religious affiliation, you're sure to find a place of worship here to nurture your spirituality.
About 65 percent of the city's population considers itself religious and affiliates with a religion. In fact, Pittsburgh residents avail themselves of more than 1,000 places of worship—ranging from Roman Catholic, Jewish, and Protestant, to Hindu, Muslim, and Buddhist.
Religion has thrived here since the city's founding in 1758. The French lived at the Forks of the Ohio in prerevolutionary times–the area we know today as Pittsburgh. They constructed the Church of the Assumption of the Virgin Mary. After the British conquest and the renaming of Fort Pitt, the Brits held Anglican services in the church.
Over time, many Protestant denominations flocked to Pittsburgh. By 1782, German immigrant farmers and merchants and their families were settling in Pittsburgh. In 1787, the Penn family donated land to accommodate the Presbyterians, Episcopalians, and German Evangelicals who settled here. Today, this land is known as Sixth Avenue and Smithfield Street (Downtown Pittsburgh).
At 620 Smithfield Street, you'll find the Smithfield United Church of Christ, known by some as the Smithfield Church. Designed by Henry Hornbostel in 1927, its steeple is one of a kind. The building houses a gymnasium, two bowling alleys, a stage, dressing rooms, kitchen, Sunday School chapel, classrooms, and offices.
This church used to be known as the German Evangelical Protestant Church. Its congregation is descended from one of Pittsburgh's oldest, organized religious bodies formed in 1782 by Reverend Johann Wilhelm Weber. This congregation formed the first organized church in Allegheny County and the earliest German congregation west of the Allegheny Mountains.
Back then, the church was non-denominational, and welcomed Lutherans, reformed members, and people not affiliated with any group. The church valued freedom of religion and diversity of opinion.
By the mid-19th century, the number of Roman Catholics in Pittsburgh grew to the point where the church formed the first diocese here to meet their religious needs. Much later, the turn of the 20th century witnessed the construction of St. Paul Cathedral in Oakland and St. Anthony's Chapel in Pittsburgh's Troy Hill section.
Pilgrims from around the world have since visited St. Anthony's to pay respect to the collection of 5,000-plus relics housed there.
Two other Catholic Churches stand out. St. Michael the Archangel Church, just six miles south of Pittsburgh was founded by German immigrants in the mid-19th century. Parishioners perform "Veronica's Veil" as they have for 70 years to retell the story of the passion, death, and resurrection of Jesus. The Calvary United Methodist Church on the North Side of Pittsburgh, built late in the 1800's, is renowned for its gothic architecture, stonework, and stained-glass windows.
For years, St. Nicholas Croatian Church in Millvale, the oldest such church in the United States, has served Croatians who immigrated to Pittsburgh and their descendants. Immigrants from Eastern Europe built numerous Orthodox Churches throughout Greater Pittsburgh. —from Carpatho-Russsian Orthodox to Ukrainian Orthodox.
Welcome to Pittsburgh 
Pittsburgh is known as a city of religious diversity. Accordingly, numerous faiths have enjoyed a long history here. Few Jews lived in Pittsburgh before the mid 19th century, but their numbers grew as evidenced by the temples and synagogues throughout the area.
One of the most outstanding synagogues in the city is Rodef Shalom on Fifth Avenue. For more than 150 years, Rodef Shalom, a Reform Jewish congregation, has dedicated its ministry to melding the traditions of Jewish faith with modern life. Through its rabbinic staff, organizations, community events, and religious services, Rodef Shalom enlightens and edifies its participants, as it hews to the ideals of progressive Jewish thought.
In the Squirrel Hill section of Pittsburgh, you'll find a large Jewish population who support synagogues, temples, and kosher food stores in the area.
In another vein, the Sri Venkateswara Temple in Penn Hills forms the center of religious life for Hindu worshipers in the Pittsburgh area. Modeled after the sacred Tirupati Venkateswara Temple in Andhra Pradesh, India, this temple attracts Indians from throughout the United States and the world at large.
You may be interested to know that Pittsburghers translate their faiths into cooperative, social action through such organizations as the Interfaith Hospitality Network (IHN) of the South Hills. Founded in 1993, this interdenominational program links local congregations to offer round-the-clock shelter, meals, and social services to homeless families in the southwestern Pennsylvania area.
IHN's trained volunteers welcome homeless families to their churches and offer a caring, interactive environment. Network guests often form friendships with congregation members. Many guests have discovered community resources, employment leads, and housing opportunities through interactions with these volunteers.
Religion, preservation of churches, and social care go together in Pittsburgh. mg
RELIGIOUS ORGANIZATIONS
Baptist Association of South Western Pennsylvania (Southern Baptist) 5305 Perrysville Rd. Pittsburgh, PA 15229 412-931-6040 www.baswp.com Pittsburgh Baptist Association (American Baptist) 159 N. Bellefield Ave.
Pittsburgh, PA 15213
412-687-3940
Catholic Diocese
of Pittsburgh
111 Boulevard of
the Allies
Pittsburgh, PA 15222
412-456-3000
www.diopitt.org
(Allegheny, Beaver, Butler, Fayette and Washington Counties)
Catholic Diocese
of Greensburg
723 E. Pittsburgh St.
Greensburg, PA 15601
724-837-0901
www.dioceseofgreensburg.org
(Westmoreland County)
Episcopal Diocese
of Pittsburgh
900 Oliver Building
535 Smithfield St. Pittsburgh, PA 15222 412-281-6131 www.pitanglican.org Greater Pittsburgh
Cluster of Unitarian Universalist Congregations 
605 Morewood Ave. Pittsburgh, PA 15213 412-621-8008 www.first-unitarian-pgh.org
Greek Orthodox Diocese 
of Pittsburgh
5201 Ellsworth Ave.
Pittsburgh, PA 15232
412-621-5529
Hindu SV Temple
1230 McCully Rd.
Penn Hills, PA 15235
412-373-3380
www.svtemple.org
United Jewish Federation
of Pittsburgh
234 McKee Place
Pittsburgh, PA 15213
412-681-8000
www.ujf.org
Lutheran Synod
9625 Perry Hwy.
Pittsburgh, PA 15237
412-367-8222
www.southwesternpasynod.org
United Methodist Center of Western Pennsylvania
1204 Freedom Rd.
Cranberry Township,
PA 16066
724-776-2300
www.wpaumc.org
Muslim Community Center Of Greater Pittsburgh
www.mccgp.org
Beaver-Butler Presbytery
P.O. Box 279
Zelienople, PA 16063
724-452-7515
www.beaverbutler.org
(Beaver and Butler Counties)
Pittsburgh Presbytery
901 Allegheny Ave.
Pittsburgh, PA 15233
412-323-1400
www.pghpresbytery.org
(Allegheny County)
Redstone Presbytery
1004 Mt. Pleasant Rd.
Greensburg, PA 15601
724-837-6737
www.redstone.org
(Fayette and Westmoreland Counties)
Washington Presbytery
P.O. Box 146
89 Lively Rd.
Eighty Four, PA 15330
724-222-1500
www.washpresby.presbychurch.org
(Washington County)