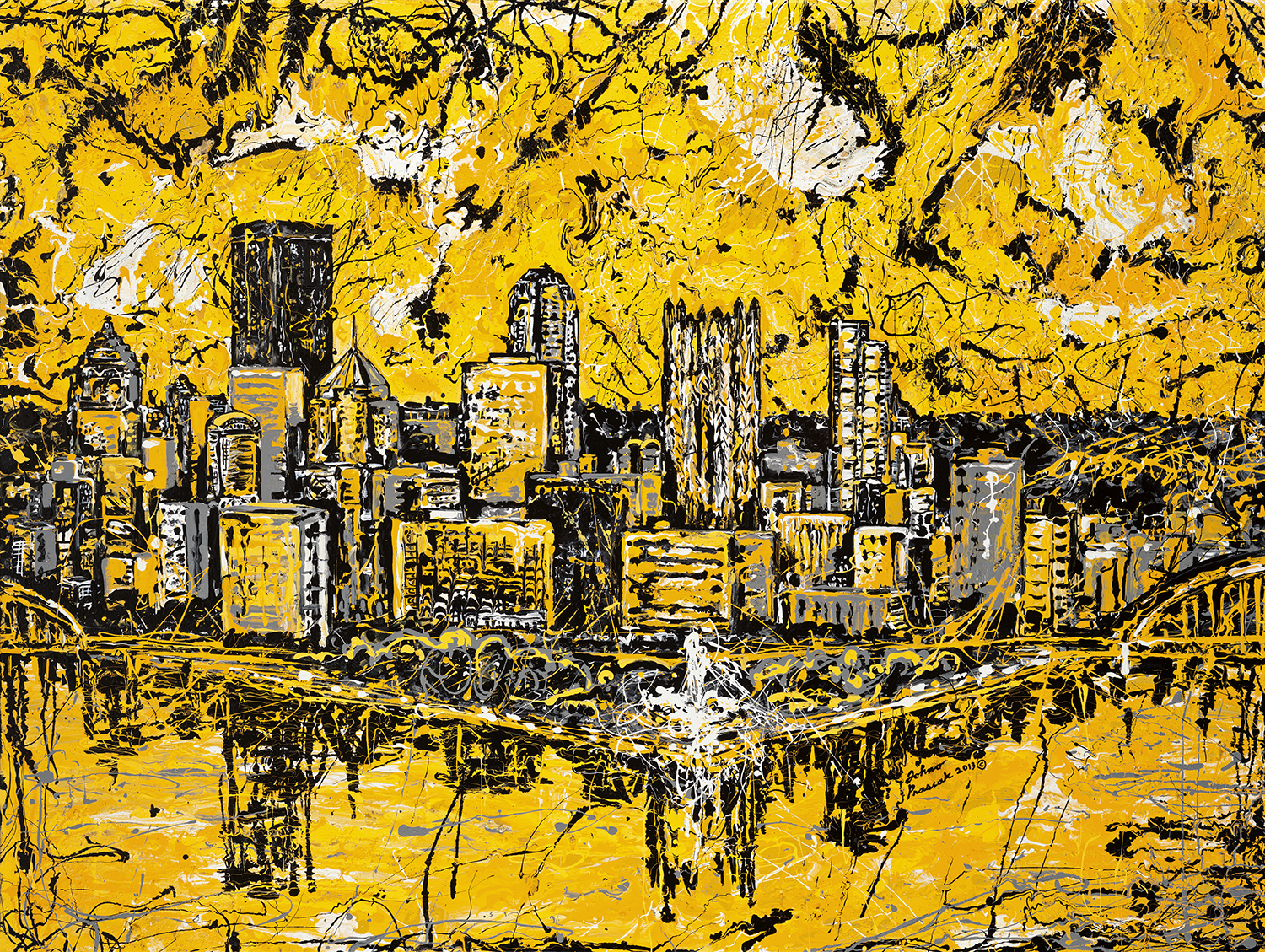 Relocating to Pittsburgh: Painting a New Picture
Stand atop its famed Mount Washington and newcomers quickly realize that the Pittsburgh region has long since replaced the sepia-toned image of a rust-belt town of yore, reinventing itself as a breathtaking portrait of culture, arts and innovation.
Once lined with mills and warehouses, a different composition now makes up the city's famed three rivers and rolling hills. Technology hubs, research labs and state-of-the art skyscrapers share space with riverfront trails that meander past two new sports stadiums and through burgeoning entertainment and
food scenes.. .
Revitalization has been breathing new life into the city's 90 neighborhoods, each with its own character. "It surprises newcomers that our unique neighborhoods still showcase their ethnic origins," says Susan Sadowski, President of Relocation Horizons, Inc., a division of Howard Hanna Real Estate Company.  There is indeed a patchwork that reflects how the city was first settled. Italian in Bloomfield and Morningside, German in East Allegheny and Mt. Washington, and Hispanic/Latino in Beechview or Brookline, for example. "The diversity of the neighborhoods is making it easier for us to match their home to lifestyle,"
she adds. 
From hip and trendy to quiet and secluded, Pittsburgh's diverse districts provide something for everyone. Squirrel Hill and Shadyside are urban mainstays, while Lawrenceville, the North Side, and East Liberty continue to see growth. "We are seeing a lot of revitalization in urban areas of the city, including Lawrenceville, East Liberty, Bloomfield and the North Side. With the ability to walk to shops, restaurants, breweries and even world-class healthcare, these locations are becoming increasingly popular for home buyers," says Tracy Young, Director of Relocation at Berkshire Hathaway HomeServices The Preferred Realty.
For those looking for more room to move, the region's expansive suburbs strike a perfect balance between green space and new development. "Outside the city, new construction remains strong in the northern suburbs of Cranberry Township, Adams Township and Mars, and the southern suburbs of Peters Township, Bridgeville and Upper St. Clair," Young notes, pointing out that top-tier school systems and ever-growing commercial developments contribute to the popularity of these suburbs. Sadowski adds that Beaver County and South Fayette are also seeing significant growth. 
Every neighborhood, whether in the city or the suburbs, has nuances that buyers should be aware of when choosing where to relocate.  So Young recognizes the importance of providing extensive tours so transferees get a true sense of the area. "We listen to the client's specific wants and needs and then introduce them to neighborhoods that meet those needs so they can experience them for themselves," she explains. 
Newcomers are bound to feel welcome, no matter where they land. "We are a big city with a small town feel," Young reflects. "Pittsburgh has everything you could ever need – shopping, restaurants, attractions, incredible sports teams – with an unparalleled sense of community that you typically only find in small towns. But what makes it a great place to live, in my opinion, is the people."
Top of the List
For locals, it's no surprise Pittsburgh is among 2019's Top 10 of the country's 100 most livable cities, according to Livability.com. In fact, ever since 1985, when Pittsburgh was first proclaimed by Rand McNally as America's "Most Livable City," Pittsburghers are now shocked if it doesn't rank high in this category. Today, Pittsburgh scores high on rankings that range from best metro area for STEM professionals, most kid-friendly city, best cities for foodies, or the best city for active lifestyles. 
Forbes.com recently listed Pittsburgh among the top cities that give the most bang for your buck. That's because Pittsburgh is an affordable city that offers the amenities of a megalopolis, but with added stability. The site calculates median home price at $151,000, 39 percent below the national median. What's more, the cost of living is six percent below the national average. The affordable cost of living has always been a draw for people moving into the region," says Sadowski.
Affordability is particularly attractive to graduates moving out of dorm rooms armed with freshly minted college degrees. Despite a strong job market, college grads launching a career find that a good job offer lands them in a pricey housing market. While they might earn more in hubs like New York and San Francisco, fewer people can afford to buy a house or an apartment. "There is such a vast difference between what you can get here and what you can get in Silicon Valley, for example," suggests Linda Topoleski, VP of Workforce Operations & Programs for the Allegheny Conference on Community Development. 
She says Pittsburgh companies are highlighting cost of living to attract young employees, and that message is being heard loud and clear. According to a study by LendingTree, millennials make up 49 percent of all home mortgage requests in the Pittsburgh region, second only to Boston. These young homebuyers are at the forefront of a growing nationwide trend of young buyers returning to the housing market. 
"Beyond housing, cost of living is about what you have left in your wallet after you pay your mortgage or your landlord. Say you want to travel. You can afford to do so," adds Topoleski, who knows that type of affordability is important not just to millennials but at any stage of life.
Fun for Fans & Foodies
About Pittsburgh president, Dana Fortun concurs that a one-size-fits all report about cost of living doesn't tell the whole story. "Everyone who relocates here is an individual with a unique lifestyle." She says her organization's 90 percent success rate in helping companies attract the talent isn't just because of her organization's expertise. "It's because of the city itself and all it has to offer. There is something for everyone." 
Indeed, there is, be it baseball or ballet, singing or skiing, parks or performances.
"I don't think people expect it to be so 'cool,'" Young admits.  "Despite the national attention Pittsburgh gets, visitors still tend to believe it's an old, dusty rust-belt city. Once they see the trendy, five-star restaurants, lively arts and culture scene, beautiful parks and an abundance of things to do, they quickly change their minds. Add to that Pittsburgh's housing affordability and clients never want to leave!"
Home to the venerable Carnegie Museums of Pittsburgh, the city also offers world-class niche collections ranging from The Andy Warhol Museum to The Clemente Museum, the largest exhibited collection of Roberto Clemente baseball artifacts, works of art, photographs and memorabilia.
From art museums, to theater and dance companies, Pittsburgh has no shortage of culture to explore. In the heart of Downtown, the 14-block Cultural District encompasses seven world-class theaters, eight public parks and art installations and a dozen art galleries. It also boasts over 90 retail shops, 50 dining establishments that are part of the city's burgeoning food scene.
Since Zagat named Pittsburgh the best food city in 2015, the city continues to climb the culinary charts. This year, the BBC called Pittsburgh "the one destination foodies shouldn't miss in 2019," and The Washington Post noted that Pittsburgh has "cuisine worth writing home about."
With access to affordable, fresh and local ingredients, chef-driven cuisine is flourishing in the region as well. In fact, seven restaurants and chefs in Pittsburgh are semifinalists for the 2019 James Beard Awards-– the Oscars of the culinary world. Nominated restaurants like Bar Marco, Bitter Ends Luncheonette and Tako join mainstays like Primanti Brothers and Mad Mex, ending the era when Pittsburghers and visitors complained there were few choices for a great meal. 
And thanks to Pittsburgh's diverse landscape, it's just as easy to find a great way to work off all those extra calories. With miles of trails to trek, mountains to climb, and rivers to row, The Steel City ranks as the 16th fittest major U.S. city, according to the 2019 American Fitness Index released by the American College of Sports Medicine and the Anthem Foundation.
An abundance of green space is found inside the metro-area: The Three Rivers Heritage Trail's 24-mile riverfront system; 2,000 acres of parkland; and 800 acres of open space for the public to enjoy. Add to that, the surrounding regions are home to countless county and state parks, ski resorts, golf courses, lakes and streams. 
And for those who prefer spectator sports, it doesn't get any better than the City of Champions – so named during the late 1970s for the seven titles won in nine years and again during the late 2000s for three titles in four years. With three major professional sports franchises, the Pirates, Steelers, and Penguins, plus the universities competing in the highest level of collegiate athletics in the United States, in both football and basketball – that knick name will likely stick around for a while.
Food, Sports, Arts & Smarts
With more than 60 colleges and universities, including research and development leaders Carnegie-Mellon University and the University of Pittsburgh, the city also earns praise for its smart population. For years, Pittsburgh saw a big outflow of talent, which is typical for a city with a large number of university grads and a small number of job openings, but Pittsburgh's been countering that trend. "In the past, the vast majority of graduates were going to the west coast," says Topoleski. "But universities are now retaining 50 percent of students." 
In addition to Pittsburgh's top-tier education institutions, Pittsburgh's secondary schools – both private and public – are highly regarded and an important factor to those relocating with younger children. "School districts are always a driving factor when helping people decide where to live," Young says. "Fortunately, Pittsburgh has several top-rated, nationally recognized school districts and a plethora of school guides and resources."
Fortun adds that unlike in other regions, families here can find top schools that are close to Downtown. "There isn't just one good school district. There are a lot of options – many of which are within a 35-minute commute Downtown –  versus cities like Chicago, Minneapolis, and Atlanta where people move to the suburbs for a good school but have an hour commute to their job."
Connecting People to Opportunity
Highly ranked schools or low cost of living means little to those relocating to Pittsburgh if job opportunities aren't here. The good news is, with its diversified economy and consistent demand in healthcare as well as its service sectors, the growth continues a positive jobs trend, according to the Annual Pittsburgh Region Business Investment Scorecard. In fact, it calculates that more than 7,660 new jobs were created in five key business sectors last year – advanced manufacturing, healthcare, energy, finance and business services, and information technology.
Google, Apple, Bosch, Facebook, Nokia, Autodesk, and IBM are among 1,600 technology firms generating $20.7 billion in annual Pittsburgh payrolls. The area has served as the long-time federal agency headquarters for cyber defense, software engineering, robotics, energy research and the nuclear navy. Pittsburgh has also gained momentum as a center for autonomous vehicles, with Uber and Ford both setting up operations there to tap talent at Carnegie Mellon.
"Opportunities abound for new graduates, workers ready to step into leadership roles, and those looking to learn new skills and try something new," says Topoleski. In fact, over the next ten years, the Pittsburgh Region will require 34,000 new workers each year as older generations retire and new jobs are created.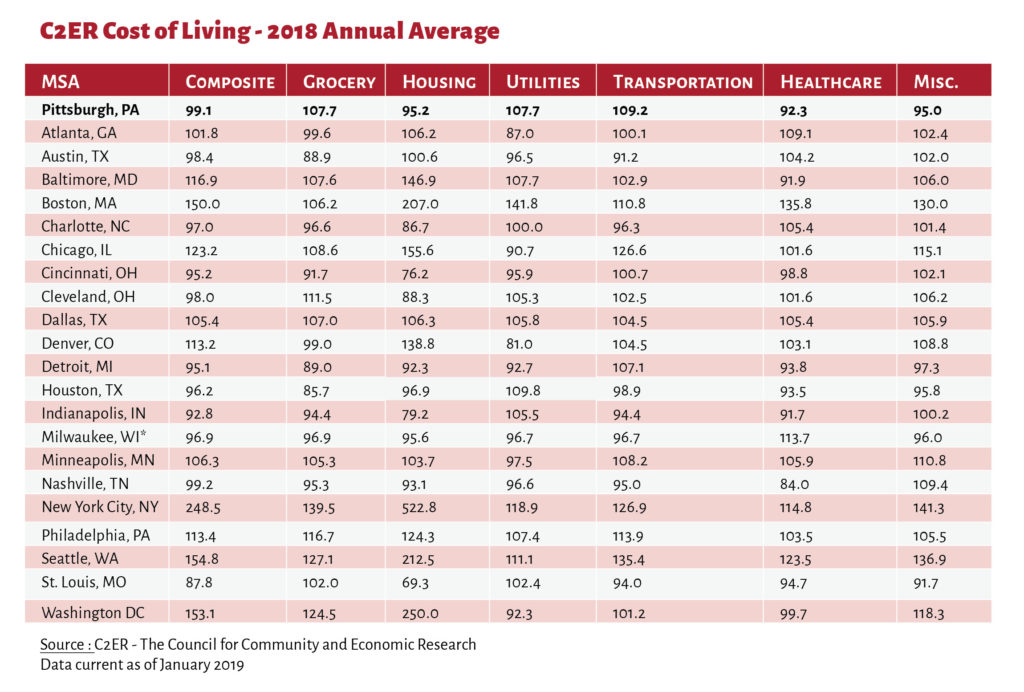 To help young and mid-career workers take advantage of these regional opportunities today and for years to come, the Allegheny Conference commissioned research that led to the Inflection Point report. It found that within 10 years, the region's workforce will look dramatically different than it does today as a result of a wave of Baby Boomer retirements, occupational transitions and economic growth.
"The future of work in the region represents an enormous challenge for employers, but it's also an unprecedented opportunity for existing workers and our up-and-coming workforce found in K-12 and post-secondary education," said Bill Demchak, Chairman, President and CEO of The PNC Financial Services Group, Inc. Demchak is also chair of the Allegheny Conference. "The region's workforce will be undergoing a dramatic transformation – one that has already begun. Technology is a big driver of this change, and it's redefining the skills needed to be successful on the job. Every employer and worker must keep pace with this rapid change to remain competitive. We are at a critical moment for the future of our region."
The report found that agile, energetic workers willing to embrace technology and learn new skills will be well-positioned to command good jobs and salaries in high-demand occupational clusters such as Information Technology, Business and Finance, Engineering, Science and Production and Healthcare.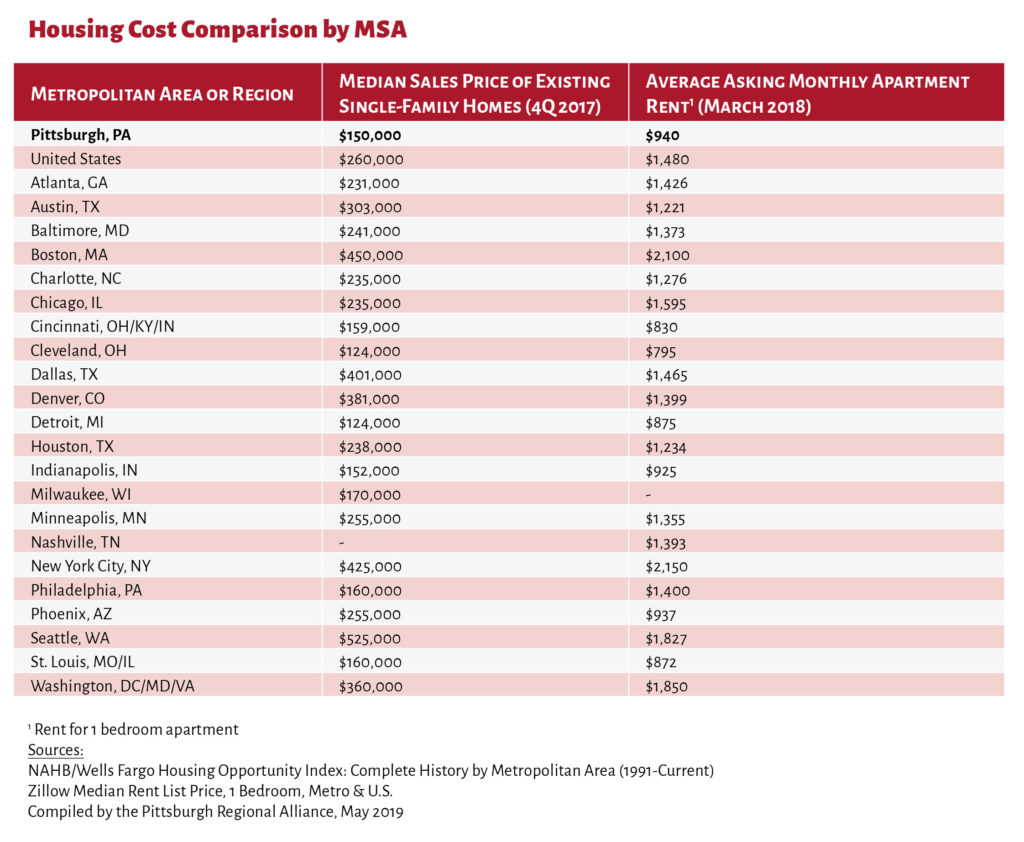 Topoleski says that this is an opportunity not just for the person relocating, but also the trailing spouses and family members. "There is a thickness of opportunity here now, that makes relocating here much more appealing," she explains. The Conference is working with companies and universities to connect people to those opportunities. "The universities are very engaged in workforce strategies. We have a robust response from the higher education community where they have started to change their majors, some of the curriculum in their majors and their approach based on what they know employers now demand in terms of work skills." She sites, for example, a psychology major who takes data science courses. "We are brokering relationships between universities and employers so that students are prepared when they get out of school in four years."
Sadowski credits the Allegheny Conference's efforts to promote Pittsburgh with keeping Howard Hanna's relocation division busy. "Add to that, the new startup companies and growth from companies like Google and UPMC, along with banks and other corporations that are investing in new talent and bringing people to Pittsburgh."
Fortun points out that it's not just the willingness of companies, universities and organizations to collaborate, but the willingness of individuals to help their friends and neighbors. "If we are working with someone in the banking industry and their spouse happens to be a litigation attorney, then we most likely know someone in that industry and pick up the phone and make a call. Pittsburgh people make time. It's who we are."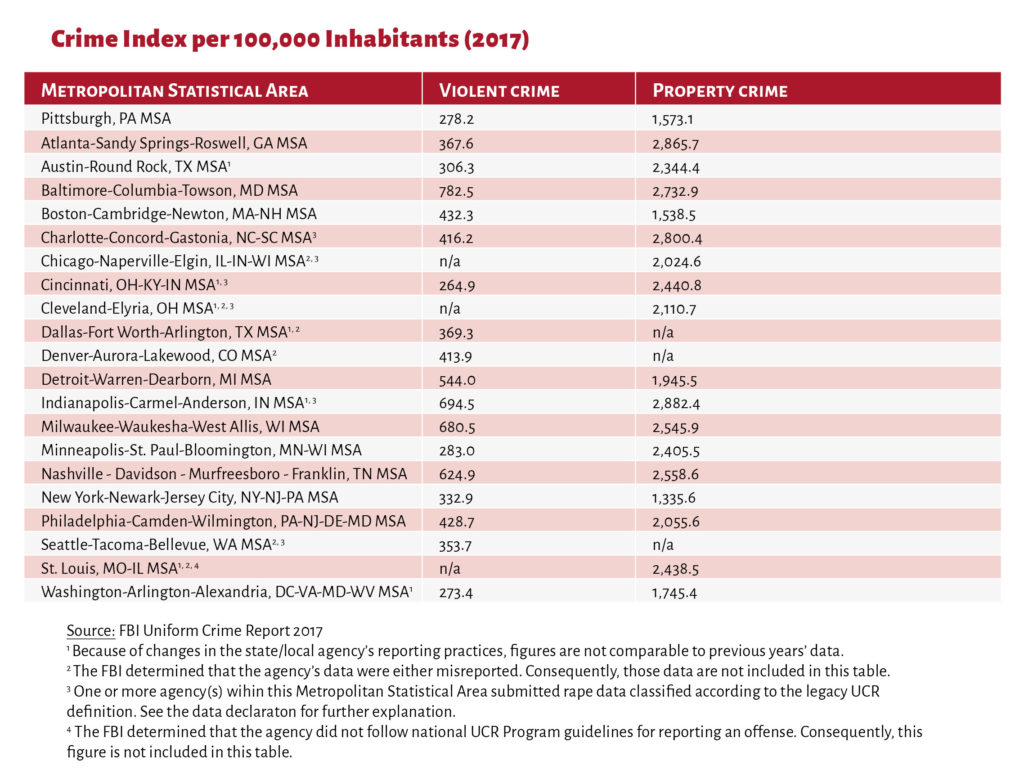 When people ask Fortun how Pittsburgh has continued to succeed, despite the odds, her response is always the same. "It's the people. It's the collaboration between the corporate, private and public sectors who put their heads together in the seventies, and who worked together again during the recession in 2008," she says. "Everyone did their part and did it proudly. We pull together. That's what we do. That's who we are. Even though we are moving forward and changing and progressing, that base will be forever embedded in Pittsburgh." 
Over the years, Pittsburgh has indeed reinvented itself and evolved into what Young calls a modern mecca. "With world-class healthcare, a robust arts and cultural district, award-winning restaurants and top-ranking school districts, it's no wonder why people want to relocate to Pittsburgh." mg