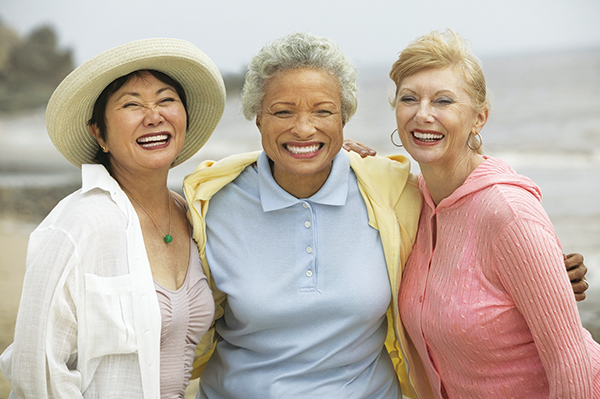 First off, let's do away with the idea that aging has anything to do with apathy, complacency, and settling for a life of boredom, isolation, and quietude. The most common misconception is that 55+ communities are similar to assisted living or independent living communities. Nothing could be further from the truth.
America has always been a country that prides itself on independence. Our values have been built upon the philosophy of hard work, taking calculated risks, and breaking away from the pack in order to lead. But what happens when the unavoidable nature of aging kicks in? We soon realize that a strong social support system and an active, enjoyable lifestyle are equally important for a well-rounded living experience. This is why 55+ communities aren't only serving the practical property needs of middle-aged Americans, but their wellness, social, and experiential needs as well.
According to a recent AARP article, 55+ living has nothing to do with professional retirement at all, and it is a myth that residents in such communities spend their days playing shuffleboard and quietly doing crossword puzzles. Older Americans espouse the prospect of remaining physically active, cerebrally engaged, and socially connected. In other words, they believe in fun, and they are taking advantage of a living format that provides them with the time and opportunities to do exactly that.
At Traditions of America (TOA) communities, more than half of their residents work full or part-time. The allure of a 55+ community for a non-retiree is that there is more time to devote to one's professional pursuits and career when there is no longer the need to rake leaves, shovel snow, or find a roofer. Since so many of these residential communities promote wellness and an "active" approach to living, it stands to reason that they offer amenities that preclude the need to go elsewhere in search of sport or leisure. This too is an attractive option to someone who works full days and has little time left over to battle traffic and parking in the search for a gym or a masseuse. When a sports facility or spa is yards away from one's front door, there is less excuse making and much more action.
St. Barnabas Retirement Communities in Gibsonia and Valencia believe that on-campus facilities are what make modern-day retirement communities appealing to more and more prospects. St. Barnabas has gone to great lengths in building a reputation for their on-site facilities that are state-of-the-art and quite unique. An indoor mall, multiple restaurants, credit unions, ATM's, salons, auditoriums, gift shops, stores, a wood shop, billiards, putting greens, bocce ball courts, fishing ponds, walking trails, and an indoor conservatory pool are anything but banal on-site attractions. Such facilities definitely do not conjure ideas of inactive, complacent living, which may be why more and more people in their early senior years are attracted.
There are also professional and financial advantages for "younger" residents, especially when still in the workforce. Many 55+ communities are located near major highways and transportation corridors, making access to Downtown and the airport easier, quicker, and more straightforward. Also, buying a "retirement" home earlier in life allows one to accumulate more equity in what could be your last owned property. It's a consideration that is best made when not under the pressure of immediate need.
The Simple Life
"If you're working, traveling, and very busy, maintenance free is the way to go," says John Deklewa of Deklewa Builders in Bridgeville, PA. Though not all who are looking for 55+ housing will choose to move into an age-restricted community, there is something to be said for taking the first step towards making life easier, and that would be downsizing and one-level living. "Pittsburgh has a large older population, so buying a home with a first floor master bedroom is a huge draw, as is the fact that by living on a single level, it's so much easier to clean and maintain your home." Deklewa believes that it's not only those in the 55+ category that find maintenance free neighborhoods and plans alluring.
It's a matter of practicality: if a family is looking to downsize and take responsibility off the agenda, single-level living in a low maintenance community (townhomes, condos, etc.) is useful. Think of all of the time spent traversing stairways alone. Though single-level living is ubiquitous in states like Florida, Pittsburgh's topography makes it more difficult to find land flat enough to accommodate a moderately-sized single-level foundation. Frost and weather-related issues are unique unto our region as well, and we've grown accustomed to basements. This adds to the limited number of single-level residences and housing plans in the area, but it also stands as testament that there are builders who are receiving demand for such structures, and who are aiming to satisfy those needs for consumers, "young" and "old" alike. Determining a Community That is Right for You If a buyer prefers something more involved than single-level, low maintenance living, then an age-restricted retirement community should be considered. Get to know the different options, however. Terms like "assisted living" or "retirement community" are often used interchangeably, but they all stand for distinctly different living formats. To determine what kind of community is right for a homeowner's needs, one must be careful to acknowledge these differences and to be aware of what each offer.
Retirement communities reference home plans that are restricted to homeowners 55 years of age and older. This can be a single-family home, condominium, duplex, townhome, or any other housing structure that also employs on-site amenities for its residents' enjoyment (e.g. spas, gyms, clubhouses, outdoor pools, etc.). A maintenance fee is usually collected to maintain the grounds and the facilities. Retirement communities are not health-related communities, and do not offer medical assistance or care.
In many 55+ communities, specific architectural standards are upheld, which protects market value and prevents aesthetic unsightliness. When living in a 55+ community, there is economy of scale as well. These communities are able to contract for landscaping and snow removal services at a lower cost than an individual homeowner might purchase on his own. Residents enjoy luxurious amenities—heated swimming pools, saunas, whirlpool spas, fitness centers, Pilates studios, etc.—at a fraction of the price they would pay for a club membership.
Continuing Care Retirement Communities (CCRC) offer a spectrum of living options that include medical care if needed. Assisted living and independent living fall within this category. Individuals can take advantage of meal plan options, linen service, and medical care. A resident can enter at the independent living level, but graduate to higher levels of assistance if needed, (i.e. a skilled nursing facility on site).
Friendship Village in the South Hills believes that CCRCs give people a chance to move to a community they can comfortably remain in as they age. Moving once, and only once, is a huge draw to those who want to eschew the hassle of packing up and transporting their lives when they need more aggressive medical care or supervision. Financially, Friendship Village makes sense for those looking to receive a return on their investment. They offer a return of capital plans that protect an asset while simultaneously protecting the estate from the high costs of nursing care. Residents here can choose from a 90% return or a 50% return plan, and that asset is returned to them via their estate, or if they move.
Different communities will have different payment options, so if a potential resident fears being locked into a long-term contract, there are some CCRCs that offer alternatives. UPMC's Senior Communities, such as the complete CCRC at Cumberland Woods Village, offer month-to-month contracts if an individual is uncomfortable with making a front-loaded investment for his retirement housing. In general, administration understands that plans may change, so they've devised contracts that cater to this common concern. Regardless, the benefits seem to outweigh the contractual fears and residents are happy to have a broader plan in place for the future.
Power in Numbers
It has been proven that a strong social network contributes to a healthier and longer life. Friends are more than a means of entertainment or diversion: they can reduce the risk of dementia, keep your brain functioning strategically and nimbly, contribute to a sense of well-being and serenity, positively affect your exercise routine, and be the greatest source of healing during times of mental, emotional, or physical pain or anguish. Some research has found that spending time with friends can add as much as 10 years to an individual's lifespan. Gone is the notion of sedentary, solitary individuals rocking away on a porch and longingly recalling their halcyon days of youth. 55+ communities and CCRCs emphasize living a life that combats depression and isolation.
Longwood at Oakmont finds that people are shocked at the level of activity and interaction amongst residents. The biggest surprise for people comes when they observe how much is going on: socialization, life-long learning, and engaged and interactive living on a regular basis.
Perhaps the biggest advantage that homeowners find from living in a 55+ community is the extremely strong social aspect. Residents generally have more direct contact with their neighbors than they would if living in a traditional single-family home. Because the home, activity centers, and most of the facilities used on a daily basis are within the boundaries of the community, it is likely that the repeated encounters with peers lead to very deep, long-term friendships.
Age Is Truly a State of Mind
Many of us have grown up with the mindset that by 60, we've paid our dues, done our part, and must make way for the "new" generation. Luckily, this doesn't have to be the case. With people now living longer than they ever have in history, making the move to a 55+ community or CCRC isn't a concession, rather it's choosing to make the most out of one's current life stage. That's anything but apathetic and compromising.
By delegating some daily responsibility to professionals if we so choose, a plethora of opportunities are presented to get out and live more than a person in their 30's could. It's this level of convenience that retirement communities strive to uphold.
Much of the success residents find living in these communities relies on their ability to add perspective to the situation. Most of us living on the outside aren't familiar with the programming and social activity that occurs within these neighborhoods, so we have drawn conclusions that are often incorrect. To take the best of what life and a community can offer an individual at every stage in their life is at the core of finding sustaining happiness. Age is truly a state of mind.
The Intangibles
Residents at Friendship Village and Traditions of America agree that leaving their current amenities is a non-option because the format has become an integral part of their daily existence. "I get security, companionship, stimulation, and all of my needs met," one resident proclaims. "There is so much to do and a variety of things to choose from—I am much busier." Since Friendship Village is a CCRC, future medical care needs are virtually pre-planned, and nursing care is immediately available.
Both communities are agreeable to their respective residents for different reasons, but the common denominator is the relief of responsibility. There is much to be said for walking away from the drudgery of home maintenance to make free time for pleasure and pastimes that are difficult to pursue when working long work weeks and raising a family. Some people believe that moving to a community is somehow giving in to the idea of aging; however, the lifestyle only serves to enhance one's enjoyment of living and to maintain, or create, a true sense of well-being. mg
Helpful Hints for Selecting a Retirement Community
1. Make a list of what you might be looking for in a retirement community. This may change as you move forward, but it's a good start.
2. Write out the questions about the retirement communities you're interested in.
3. Use the Internet – even if you need someone to help you — or the phone book to select three to five retirement homes that appeal to you.
4. Request an information package from each facility you plan to visit, and acquaint yourself with the information on each facility.
5. Take a tour of the facilities that interest you. Take note of the place, especially your all-important first impressions. Is the place well maintained and inviting? How do the residents look? Do they look well cared for? What sounds do you hear or odors you detect? How do staff members treat residents?
6. Have a relative or friend accompany you on your tours. Such a person may pick up on items you might tend to overlook.
7. Pay attention to how the welcoming staff members treat you. Are they courteous? Unhurried? Do they maintain good eye contact with you? Offer you a beverage?
8. Make sure you understand all the details of living at the retirement facilities you visit, including the ins and outs of the financial arrangements.
It's All in the Planning
Because moving to a retirement community involves critical decision-making, you owe it to yourself to plan for this transition with the utmost care.
AREA AGENCIES ON AGING
Allegheny County Area Agency on Aging
441 Smithfield St., Pittsburgh, PA 15222
412-350-4234 or 800-344-4319
www.aging.state.pa.us/aging
Beaver County Area Agency on Aging
1020 8th Ave., Beaver, PA 15010
724-728-7707
www.aging.state.pa.us/aging
Butler County Area Agency on Aging
111 Sunnyview Circle, Suite 101
Butler, PA 16001
724-282-3008
www.aging.state.pa.us/aging
Southwestern Area Agency on Aging
(including Fayette and Washington Counties)
Mon Valley Community Health Center
Eastgate 8, Monessen, PA 15062
724-684-9000 or 800-342-8980
www.aging.state.pa.us/aging
Westmoreland County Area Agency on Aging
200 S. Main St., Greensburg, PA 15601
724-830-4444 or 800-442-8000
www.aging.state.pa.us/aging