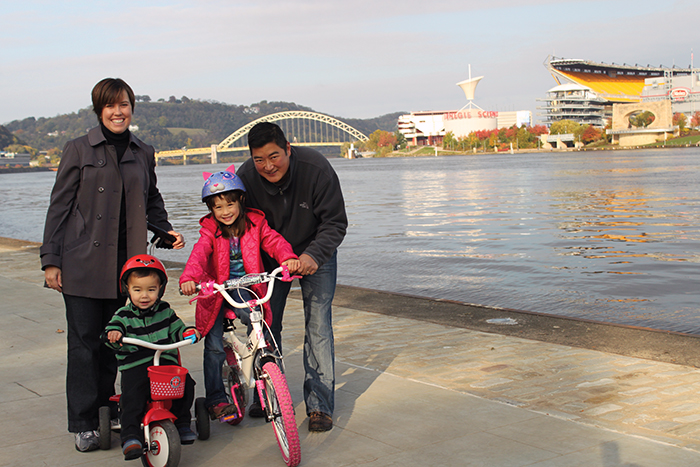 Greater Pittsburgh's Four Seasons
We change — our expectations, our pace, even our clothes — along with the weather. And although we can, quite literally, set our watches to this seasonable timetable, there is still much wonder and surprise to be found. A 70-degree December day, an April blizzard — these blips on the radar screen serve as gentle (and not so gentle) reminders. They remind us that the seasons do not necessarily surrender their reign without a fight. And they remind us that our attempts to measure the weather in terms of barometric pressure readings and wind chill factors are somewhat misguided. For in the everyday world, it's the fight, the passion, that gives this ongoing drama its colors, smells, textures — its meaning.
So complain as we will (and we will) about the weather, we're lucky. Here in Southwestern Pennsylvania, we have the opportunity to watch each of the four seasons reveal its secrets. And thanks to our terrain and our collective spirit, we often do more than watch. We celebrate. Festivals, carnivals and other rites of passage dominate the landscape. No season is left unsung.
Winter
There is a certain stillness to winter. Sounds are muted by the snow, and the once vibrant colors of autumn have long fallen quiet. It's a time to reflect, or a time to drink hot toddies and stop thinking at all. As nature would have it, some people are born to hibernate during the winter months, others to embrace the elements. Southwestern PA is home to both.
With places like the Laurel Highlands (that's where Seven Springs Mountain Resort, Hidden Valley Four Seasons Resort and Nemacolin Woodlands Resort & Spa are located) in our backyard, fans of this season don't have to go to extremes to find snow-covered slopes and a cavalcade of charming vistas. Skiing (downhill and cross-country), snowboarding, hiking and a myriad of outdoor activities are readily available and accessible in every one of our six counties. For chills and thrills, check out Moraine, Ohiopyle and Raccoon Creek State Parks.
As far as the rest of us are concerned, winter offers the perfect excuse to never venture beyond the call of our indoor plumbing. (Of course, if the Steelers are on the road to the Super Bowl, all bets are off.)
Winter also has the good fortune of coinciding with the holidays. Joyful fare like the Mendelssohn Choir's rendering of Handel's Messiah and the Pittsburgh Ballet Theatre's rendition of the "Nutcracker," as well as Linden Hall's Holidays at the Mansion give us cheer during these cold days. As a result, we feel a warmth that has little to do with the thermostat, and everything to do with the season.
Spring
No matter the intensity of the winter preceding it, spring always arrives as a welcome respite. And that's because all things become possible again. We can see the promise in the smallest bud, hear it in the song of a lone robin. We can even hold onto it when the Pirates take to the field on Opening Day and our visions of a World Series title are reborn.
Spring is for dreamers and gardeners, or maybe the two are synonymous. After all, a gardener's best work always casts its first blooms in his or her imaginings. But if your garden grows more than its share of weeds, maybe a pilgrimage to the region's many flower shows will offer the right motivation.
Spring is for dieters and weekend warriors. Remember how satisfying those months of winter hibernation were? Guess what? That extra layer of fat you insisted was keeping you warm is now keeping you from fitting into those shorts. Fortunately, Southwestern Pennsylvania's rolling hills encourage even the most winter weary to get out and run, jog or walk back into shape.
Spring is for believers — and for those who want to believe. That's why golf was invented. Tiger Woods wannabes can hone their skills on the nearly 100 public courses lining the countryside. And for those who prefer a rod and reel to a golf club, Southwestern Pennsylvania has no shortage of fishing holes for trout season.
Spring is for lovers and first loves. It's the perfect season to give our hearts away knowing that sometimes they'll come back to us broken, but other times they'll soar.
Summer
As ethereal as spring is, summer is grounded in earthly delights: the Raging Rapids' splash ending at Kennywood, a roadside farmers' market, a blanket for two in the middle of Washington County's Mingo Creek Park.
Summer brings out the wanderlust in most of us. There must be something about daylight savings time that inspires us to spend nearly every waking hour swimming, water skiing, biking, in-line skating, hiking and camping. It doesn't matter what; it just matters where. And where is outside.
Summer is a destination-oriented season. But getting there is still half the fun, especially in Southwestern Pennsylvania. State, county and city parks; lakes and rivers; and other wide-open spaces are generously scattered about our six-county region. And then there are parks of a different kind.
At Kennywood, Idlewild and Sandcastle, amusements such as roller coasters and water slides rule. But just when you thought it was safe to seek out an air-conditioned theater for one of the season's blockbusters, along comes the Big Butler Fair, the Westmoreland Arts & Heritage Festival, the Beaver County Air Show, the Three Rivers Regatta and a host of concerts at the First Niagara Pavilion at Star Lake. The possibilities don't stop there. A tour of Frank Lloyd Wright's Fallingwater or Kentuck Knob or a PONY League baseball game are just a short drive away. Who says there's no cure for the summertime blues?
Autumn
If there's one season Southwestern Pennsylvania can rightfully call its own, this is it.
The uninitiated need only take a drive in any direction, and chances are they'll soon stop to catch their breath. The leaves burst onto the scene like fireworks. It's an explosion of colors few places in the world can match. But Southwestern PA has other fall claims to fame. In these parts, back to school also means back to the bleachers. Fans of high school and college football (the Steelers are in a league of their own) gather every weekend to pay homage to their favorite hometown team under the glow of the stadium lights. It's practically a religion.
And although Halloween may have started as a religious experience, it has since entered the real world of commercial undertakings. Halloween is big business for kids, and kids at heart. After escorting our children to neighborhood parades, trick-or-treating outings and haunted houses, we adults then dress to kill — and win prizes at various night spots around the area.
Halloween activities, however, are not confined to after-hours prowling. In fact, daylight is the best time to take the family pumpkin picking. Open-to-the-public farms can be found throughout the Greater Pittsburgh area.
But soon the frost on the pumpkin will turn to snow — and the cycle will start again. In Southwestern Pennsylvania, we greet each of the four seasons like a long-lost friend.
Looking for something to do on the weekend? You'll find everything from modern art galleries to folk dancing and county fairs to parks and museums. How about a Snow Shovel Riding Contest or T. Rex vs. T. Rex?
Click below for our list of sites and attractions in the Greater Pittsburgh area.