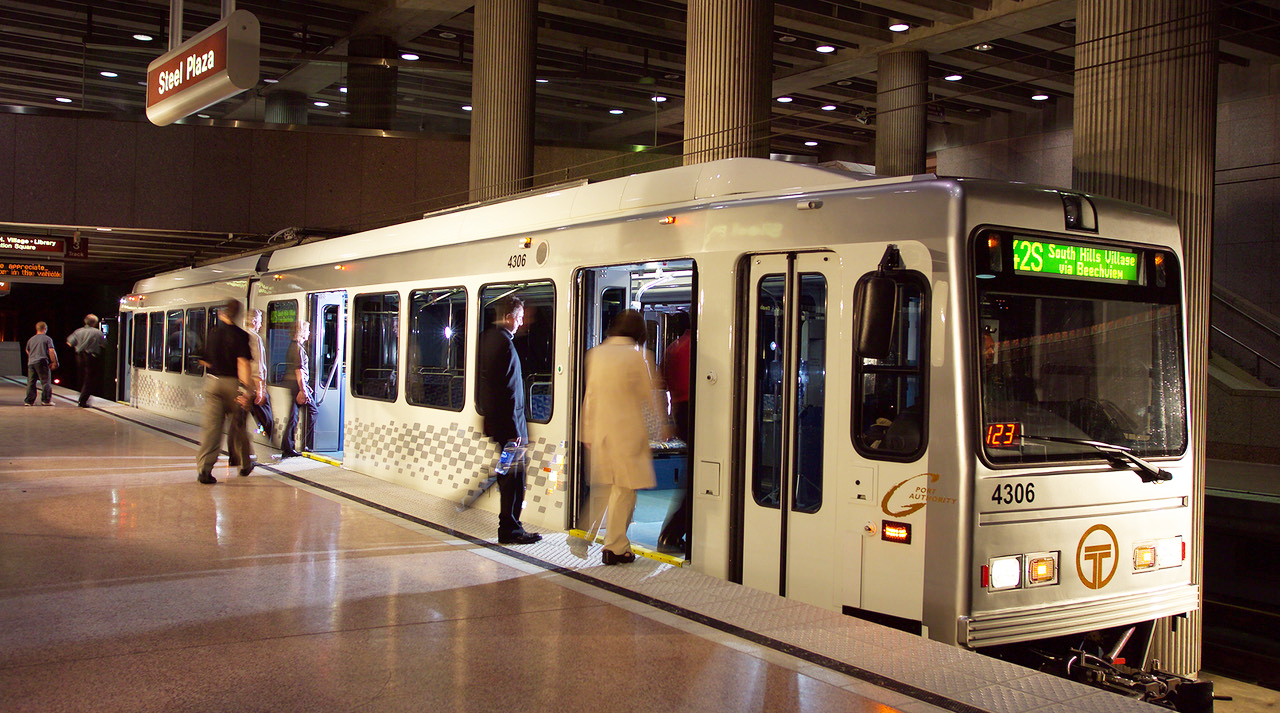 SouthWestern Pennsylvania On the Move
Those of us living and working in SouthWestern Pennsylvania are presumably a satisfied lot. Our collective pride in the region may be reflected in such accolades ranging from Wallet Hub's "#1 Best Football Cities for Fans" to Bankrate.com ranking Pittsburgh as a best place in the U.S. to retire given the low cost of living, low crime rate, and high quality health care options. Further, the region is home to a plethora of established corporations such as Kraft Heinz, Dick's Sporting Goods and PNC Financial Services as well as emerging energy, high tech and other industries such as Google and Amazon seeking to take root here.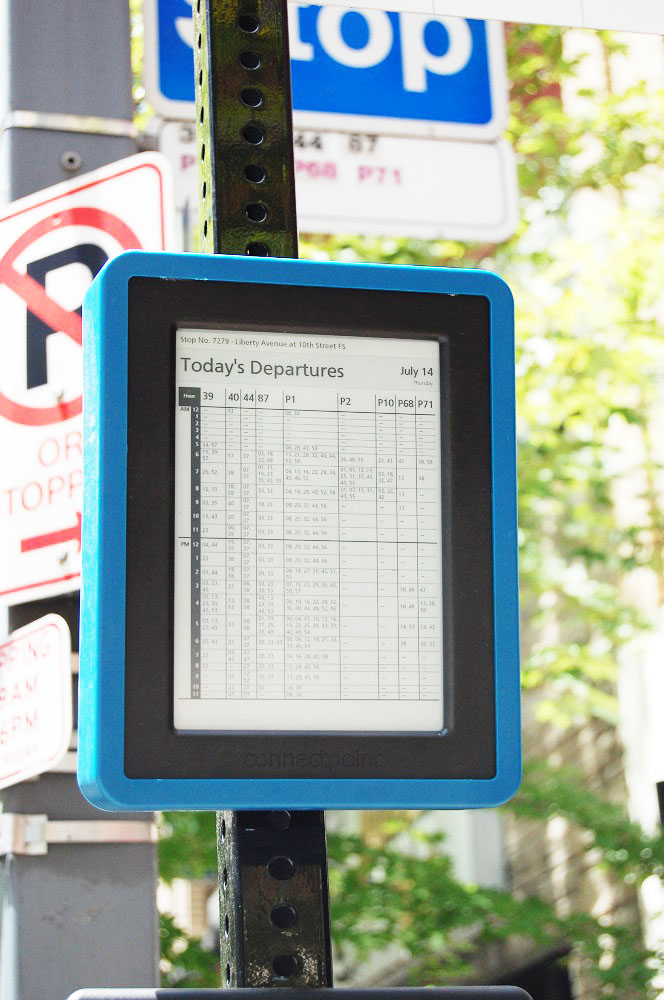 Replete with job opportunities, cultural assets and celebrated educational institutions at all levels, the region also boasts lush landscapes running in varied compass directions from Point State Park at the confluence of the Allegheny, Monongahela, and Ohio Rivers into the Laurel Highlands, Moraine State Park and the Mingo Creek County Park, among many other pastoral settings.  Amenities, such as biking/hiking trails, navigable waterways and what is being called "transformational technology" approaches to transportation, aid in accessing these many aspects of life while enhancing its quality in the 'Burgh and beyond.  So, given the sheer size of our 10-county Pittsburgh region (Allegheny, Armstrong, Beaver, Butler, Fayette, Greene, Indiana, Lawrence, Washington and Westmoreland counties) ‒ some 7,112 square miles of urban, suburban, and rural territory ‒ how do we stay connected to keep the region vibrant, relevant and attractive to those living here, to millennials and others considering the area for work, play and general quality of life 
Planning for Accessibility Today… and the Future
An inspirational writer once said "A plan is the transport medium which conveys a person from the station of dreams to the destination of success.  Goals are the transport fees."  Cities and regions across the nation have long dreamt of ways to improve services connecting populations with meaningful work and leisure activities, along with finding means for business and industry to offer accessible services and/or transport goods and commodities to various convenient locations.  Those dreams took the form of well thought-out plans.  One such plan is the "Smart City" approach.  
An executive summary published in "Deloitte Insights", a destination for thought leadership, posits that smart cities engage a number of constituents including government, business and industry, civic leaders, resident, and visitors "in an intelligent, connected ecosystem.  The goal: better city services and a higher quality of life."  Among the seven top smart cities reported by the Allconnect Resource Center (June 2018), each addressed issues surrounding transportation and initiated or studied shared-use mobility; on-demand, door-to-door public transportation; autonomous and electric vehicles; and advanced traffic management systems, among others, with the end result of "improving transportation to improve job access."  
A "TR News" article (March-April 2019) titled Critical Issues in Transportation 2019 by Katherine F. Turnbull, Executive Associate Director, Texas A&M Transportation Institute, College Station, and past chair of the Transportation Research Board Executive Committee, noted that while urban areas serve as "economic engines" across the country, of equal importance is addressing the same needs in megaregions (those comprising large networks of metropolitan regions that share topography, infrastructure systems, economic linkages, history and more that can share challenges such as high speed rail planning, etc.) and rural areas.  And while needs may differ, all areas offer support for the "economy and quality of life in the U.S.  Like their urban counterparts, rural residents need mobility and safe travel options."  
Echoing that thinking, the Allegheny Conference on Community Development, in 2015, convened groups of stakeholders around the region for earnest discussions about the vision for mobility in southWestern Pennsylvania. Those gathering were under the umbrella of the Regional Transportation Alliance (RTA) of SouthWestern Pennsylvania, a public-private partnership organized by the Conference. In March 2017, the RTA presented the insights it gathered from a survey distributed to more than 800 groups.  Nearly half of the responses centered on public transportation, underscoring its importance.  "The issue of access is top of mind for people," said Katelyn Haas-Conrad, a Senior Policy Analyst at the Allegheny Conference.  "Transportation and access are priority issues for the region's existing workforce, as well as for the new talent that's being attracted here for the professional and personal opportunities that the region has to offer.  People need and want to get to jobs, education, recreation and more with ease and efficiency, and via whatever mode of transportation works best for them.  It's critical that the region has transportation infrastructure, systems and options that work for people now – and into the future. 
"Changes in (transit) consumer desires and habits need real attention with real solutions," said Katharine Kelleman, CEO, Port Authority, explaining that the three-mile stretch between Downtown Pittsburgh and Oakland is the busiest in the Port Authority's system.  "The buses that travel between the two destinations often get delayed in traffic, making service not as reliable as it should be," she said.  "The Bus Rapid Transit will not only make the trip to/from Oakland and Downtown more reliable, it will help boost economic development in the Uptown area and better connect residents of the East End and beyond."  
She added that most of the 60-foot articulated buses used on the BRT routes will be battery-electric vehicles and stations within key corridors will have shelters, benches and other amenities.  Additionally, all new BRT stations will be ADA accessible with ramps to accommodate riders who use wheelchairs.
In addition to the BRT project, Port Authority has undertaken a host of other customer service enhancements, including opening a new Downtown Service Center on Smithfield Street, launching a new website, and providing multiple ways to communicate with Customer Service through digital channels. The Service Center features a Customer Service window where representatives can help with trip planning and other information to assist customers in easily navigating the system; the new website features enhanced trip tools, houses information in one central location with greater ease of use, and works on any device; and a new digital communications team provides real-time updates on Twitter (@PGHTransitAlert) as well as Customer Service support (@PGHTransitCare)and answers rider questions via the Live Chat feature on PortAuthority.org. Additionally, customers with cell phones can text their stop ID to 41411 for real-time bus information, and starting in early 2020, Port Authority riders can utilize a new mobile fare application to pay fares.  
 "First and foremost, we are looking to provide the best service we possibly can," Kelleman said.  "We've learned from our customers that their trip should be a reliable, efficient and cost effective way to get where they need to go."  
With that thought in mind, Port Authority is working on a long-range plan.  "Allegheny County has changed greatly in the past decade, but our routes have not," she noted.  "We want to make sure that we're serving the people of our region and we're able to get them to the places they want to go."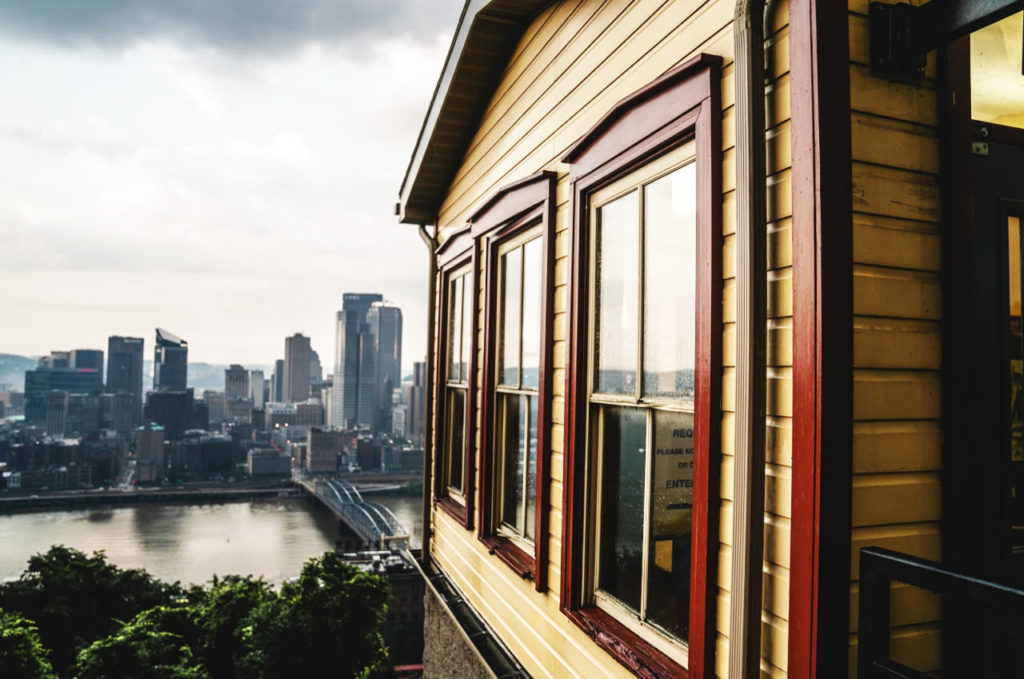 Solutions Abound
Hugh Ferriss, an American architect, illustrator, and poet who explored the psychological condition of modern urban life wrote, "As avenues and streets of a city are nothing less than its arteries and veins, we may well ask what doctor would venture to promise bodily health if he knew that the blood circulation was steadily growing more congested."  So, too, have others asked when time is spent waiting at traffic lights, on major highways, in tunnels, or for rides.  According to various sources, Pittsburgh holds the dubious distinction of ranking in the top 10 most congested areas in the country, so, how can we reverse this trend?  Fortunately, real solutions are flushing our traffic congestion along with considerable alternatives in their infancy.  "With the sun setting on the statewide transportation initiative, we need to figure out how to fund transportation in the region and what makes the most sense," said Allegheny County Executive Rich Fitzgerald.  "Moving forward, we need to consider roads and bridges, bike and pedestrian paths, and special needs mobility, all of which truly affect quality of life."  One of the most significant steps has been the Bus Rapid Transit (BRT) connecting two of the largest employment centers in Allegheny County.  "It's about getting people out of cars and into a better transit system," he continued.  
The objectives of this project, shepherded by Port Authority CEO Kelleman, include bus-only lanes, revamped stations, and bike/pedestrian facilities to increase varied transit options and decrease roadway congestion.  Fitzgerald also noted that further development of bike paths is in the works not only for recreational use but for biking to work and school.  Perhaps not surprising is that Pittsburgh is becoming one of the fastest growing bike communities.  "We can see work places providing facilities for bike parking and places to change clothes for work," he added. 
BikePGH, established in 2002, espouses making Pittsburgh streets safe and accessible for those who bike and walk.  Their vision, in part, sees Pittsburgh's future as one built on "a diverse transportation network that safely connects all people to their destinations" further noting that "transportation choice is essential to a high quality
of life."  
"Biking addresses several issues in our area," said Eric Boerer, Advocacy Director for BikePGH.  "First and foremost, it helps assure that transportation, and Pittsburgh itself, remains affordable and offers people a reliable means of getting to a job."  He also cited the environmental boon of reducing pollution through the use of bicycles.  He cited a Make My Trip Count survey, spearheaded by the Green Building Alliance in conjunction with other groups including BikePGH, which showed that 15 percent of respondents living within the City of Pittsburgh indicated that they ride a bike for transportation.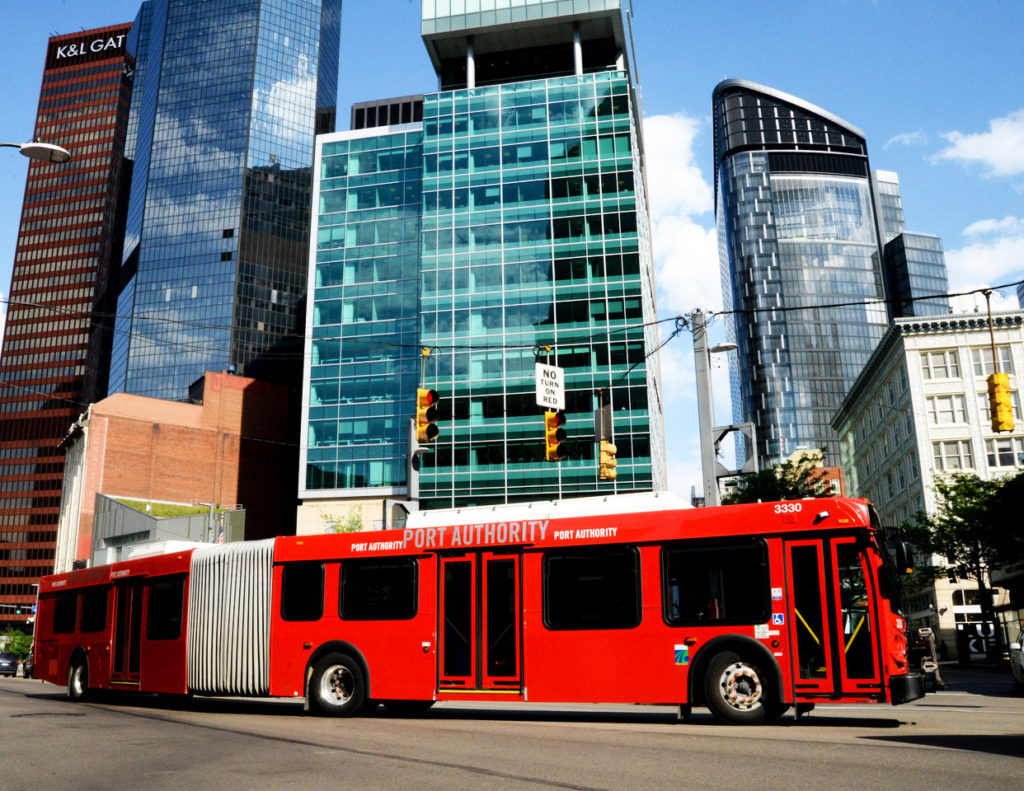 Buses are also playing a role on moving Butler County residents from far flung towns and municipalities to job hubs in its southern tier.  "One of the biggest issues is attracting and keeping a workforce," said Leslie Osche, one of three Butler County Commissioners.  "Transportation and transportation alternatives ‒ to get people to work efficiently and effectively ‒ is a priority on all fronts." As the fastest growing county in SouthWestern Pennsylvania, "the need for a transportation infrastructure for incoming growth coupled with the need for transportation options and alternatives is imperative," added Commissioner Kevin Boozel.  With an unemployment rate of 3.2 percent, Commissioner Kim Geyer added that people are seeing more regionally.  "There are many job opportunities here, with better than average pay, but some cannot afford to live in areas such as Cranberry.  We need to marry all of Butler County into these job areas with better transportation."  To address that issue, the Butler Transit Authority, working under the auspices of the county to move across multiple municipalities easier, have devised "express routes" which began in Spring 2019.  Starting as a pilot project, the Route 68 Express to a Route 528 Park and Ride from Butler to Pittsburgh via Route 79 offers two runs each day.  The second option is an express ride from Butler to Pittsburgh via Route 8.  The CNG buses, more environmentally friendly and less costly than conventional fuel vehicles, feature Wi-Fi, reclining seats and other amenities.  The challenge now lies with a limited stop at Route 528 given that there are no other means of transport at other potential stops.  "We have been working on a micro-transit service, utilizing new software to institute first- and last- mile connectors," Osche said.  "It must be user-friendly to the consumer and useful for the provider."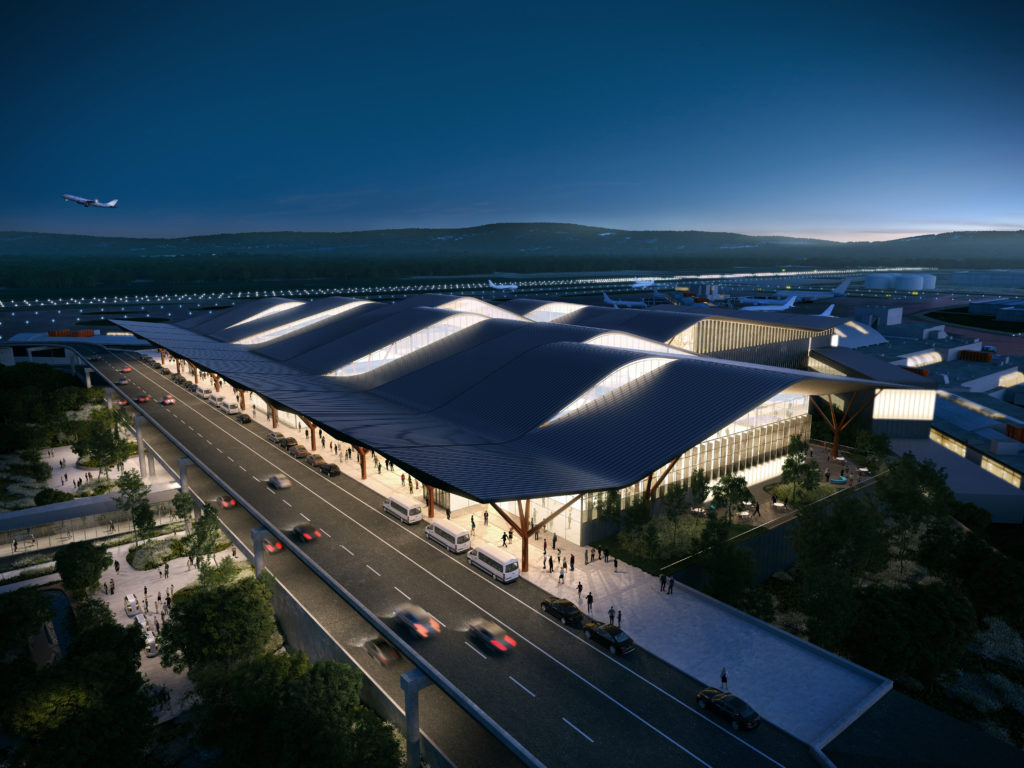 All design renderings of the Terminal Modernization Program at Pittsburgh International Aiprort are courtesy of Gensler + HDR in association with luis vidal + architects.
To the east, the Westmoreland County Transit Authority (WCTA) has turned an eye toward accommodating the needs of all riders, including seniors and those with disabilities, while recognizing the technological desires of the broader population.  "The WCTA recently launched a mobile ticketing app that allows riders to purchase tickets directly from their smart phones," said Gina Cerilli, Westmoreland County Commissioner.  "Riders can also purchase a Smart Card that can be used interchangeably on other local transit agency buses.  Our GO Westmoreland paratransit riders now have the ability to schedule their trips on line.  Smarter mobility can help us move people in the most efficient manner."  With the purchase of 16 new CNG-fueled transit buses, the WCTA also opened a new Park-And-Ride facility in New Stanton and have undertaken a capital project to redesign and improve the current Park-And-Ride in North Huntingdon Township. In a recently updated, comprehensive plan, one of the main county objectives identified was transportation choices, given the need for connection across the county's 1,036 square miles.  With the assistance of the SouthWestern Pennsylvania Commission and Michael Baker, Inc., the WCTA completed a Transit Development Plan (TDP) and strategic business plan.  According to Alan Blahovec, Executive Director, WCTA, the recommendations and strategies in the TDP and the county's comprehensive plan will focus on better, more frequent service in the county's key areas while still maintaining regional connectors to Greensburg and Pittsburgh.  "We want to find ways to expand access to our shared ride (GO Westmoreland) service by making fares affordable to those who do not qualify for one of the subsidized programs," he said.  "We want GO Westmoreland to provide better access to employment centers, medical and recreational facilities, human services, and shopping areas throughout the county.  We also seek to explore ways to work with the county's colleges, universities and technical schools to provide better access to their facilities and for their students."  He continued that within the next year, they will be part of a statewide Fixed-Route Intelligent Transportation System project, allowing for real-time information on their fixed route system.  Cerilli added, "Enhanced accessibility allows the residents of Westmoreland County to lead full, productive lives.  It enables people to have greater access to goods and services as well as employment opportunities."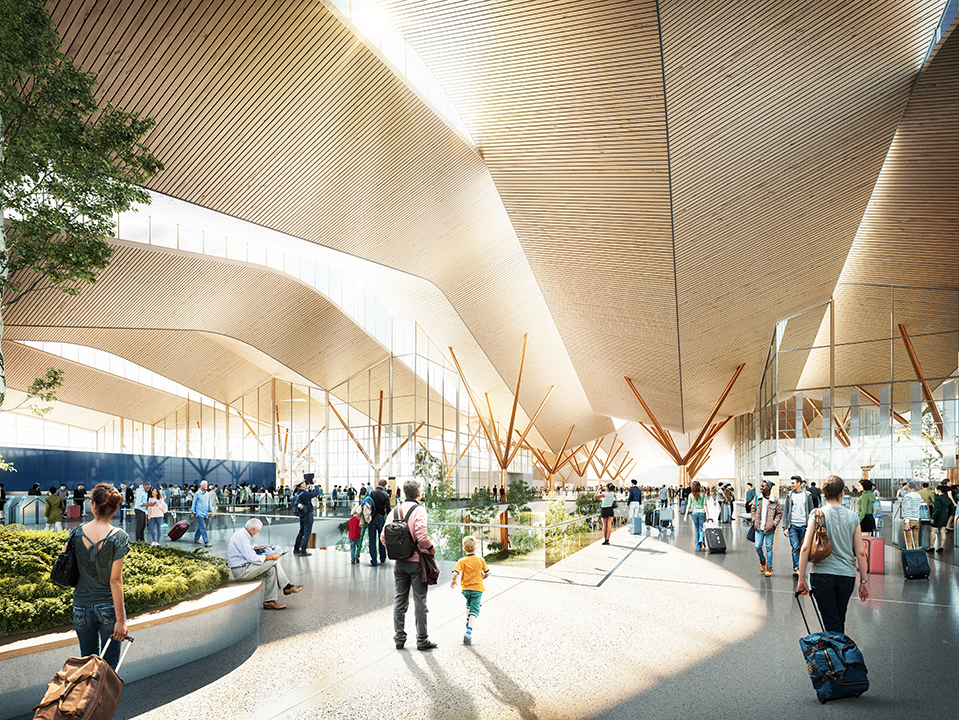 West of Pittsburgh, Beaver County has also jumped on the technology turnpike also with recent enhancements such as text messaging and ticket vending machines; new bus shelters and benches; Real Time Customer Information on its web site, and mobile ticketing slated for late 2019 or early 2020, among others.  "The Beaver County Transit Authority (BCTA) has implemented a number of service changes in September," said Mary Jo Morandini, General Manager, BCTA.  "These changes will improve system connectivity and on-time performance, providing easy access and convenience for a wide range of passengers."  The BCTA provides county-wide, accessible shared ride transportation not only for the general public, but also for the disabled and a number of human service agency clients comprising the DART ridership.  "BCTA administers the Medical Assistance Transportation Program and a significant number of those eligible clients utilize BCTA's fixed route and shared ride services for medical appointments," she added.  "The Pennsylvania Lottery Program subsidizes most of the fare for senior citizens over age 65."  BCTA operates Express Services on Route 65 from the northern part of Beaver County and uses the PAAC West Busway for an Express Route on I-376.  Morandini also sees further advanced technologies on the horizon including signal prioritization, among others.
By Air, By Land or By Water
Whether it's recreational or business travel, navigating an airport can be a harrowing experience in terms of its size and maneuverability.  To accommodate its growing number of travelers, Pittsburgh International Airport has undertaken a long anticipated, $1.1 billion initiative to modernize facilities, enhance the passenger experience, meet changing industry needs, and become more environmentally sustainable while providing value to the greater regional community.  "Built in 1993 for a major airline, that airline's departure left us with an oversized and under-utilized facility," explained Alyson Walls, Manager, Communications, Allegheny County Airport Authority.  "Our goal is to construct a new landside terminal next to the airside terminal, thereby eliminating the need for the half mile train ride, which also shortens the walking distance."  Begun with an update to the airport's master plan in 2013, an FAA requirement, the project was devised through results of analysis and forecasting, and stakeholders' meetings with the Airport Authority board, airline and community leaders with construction to begin this summer and completion anticipated in 2023.  "We also engaged Community Program Advisory and Best Practice working groups to better understand issues of accessibility, ground transport and parking, technology and much more," she remarked.  "We are reaching out to the community and passengers through one-on-one interviews, online surveys, and the program web site, www.PITtransformed.com, to identify what features are most important in the new facility."  In addition to the major construction component, smaller projects abound.  This past July, Presley's Place, a sensory room for children and adults with autism and other needs, was unveiled.  "Prior to or after a flight, an individual may experience distress," Walls added.  "We are creating accessible spaces for all types of travelers."  New technology is planned in the building while modern concession programs feature more local foods so travelers can get a true taste of the region.  Local art is prominently displayed and local artists and musicians continue to be tapped for their talents in creating aesthetic appeal.  "We want visitors coming to this region to get a real sense of the area the minute they land.  We are making improvements from the curb to the gate, reducing baggage delivery times and working to implement greater technologies to provide a quality experience." According to Walls, the overarching theme for the airport construction, however, lies in the following: responding to changes in Pittsburgh and air flight along with the needs of families and business travelers alike.  "With the objectives of shortening passenger walk and wait time, enhancing security, delivering intuitive wayfinding, and creating new roadways into the airport terminal, we are seeking to improve every traveler's access and experience."  County Executive Rich Fitzgerald also sees the airport project as a boon to the region.  "We are continuing to look at ways to connect to the airport.  Many companies are building on spec knowing that the amount of growth in the Allegheny-Washington-Beaver County corridor offers viable transportation for materials and employees among other benefits."  Case in point ‒ the nearly $7 billion Royal Dutch Chemical Plant along the Ohio River at the intersection of Route 376, one of the largest and most expensive projects ever built along a tributary.  
Working with Carnegie Mellon University, the Greater Pittsburgh Chamber of Commerce, the Allegheny Conference on Community Development, the SouthWestern Pennsylvania Commission, and the area's largest employers, Allegheny County continues to attend to traffic congestion through the use of Surtrac, part of the Traffic 21 project.  Developed at the Robotics Institute of CMU, Surtrac is a system of smart traffic lights that adapt to changes in traffic in real time.  "The program started through the East Liberty corridor where traffic signals gauge traffic flow to maximize efficiencies," Fitzgerald noted.  "The project continues to expand, cutting emissions significantly while saving time."  Smart technology is also being used in Pittsburgh's cultural district to move traffic in and out of events more efficiently.  Commissioner Boozel sees a changing culture in Butler County, where a younger generation is moving in/staying but who may or may not want to drive a vehicle.  "They are looking for a unique experience and they want to engage their technology.  That 'experience' may take the form of on-demand travel with Uber or Lyft, which is gaining traction here. Others are looking at pedestrian options and bike trails."  Osche added that many municipalities are actively looking to enhance these trails such as the Butler/Freeport trail connectors to Cranberry, Marshall and Adams Townships and other locales through multi-modality grants, given its 163 miles of trails, 19 of which are designated bike routes, and 93 miles of navigable streams boasting canoe and kayak launches in Renfrew, Harmony, Zelienople and Forward Township. All three commissioners agree that not only do these options mitigate air quality and traffic concerns, but set the stage for a more active, healthier population.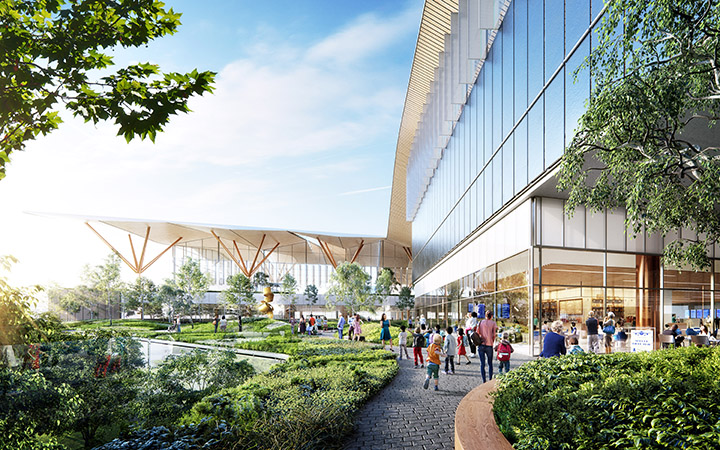 Westmoreland County Commissioner Cerilli emphasized that transportation has become a main focus for Westmoreland County, with people looking for options beyond single occupancy vehicles.  "Millennials say they would rather give up their cars than their smart phones.  The digital movement is here and Westmoreland County is embracing it."  She continued that more transportation options will help to improve travel efficiency and more efficient travel can revitalize business districts.  "Our Reimagining Westmoreland comprehensive plan outlines seven transportation strategies that we feel are vital to the success of our region," she said.  "If we take the steps necessary to ensure that these objectives can be achieved appropriately, our transportation landscape and our residents will benefit immensely."  Westmoreland County Chamber of Commerce President and CEO Chad Amond sees another challenge being the long commute to Downtown Pittsburgh from the eastern and southern sections of the county.  "We are advocating for 'slip ramps' onto the Pennsylvania Turnpike that can shorten travel time," he said.  We are looking at a slip ramp off Route 130 in Penn Township to serve that growing population.  We are also working with the Laurel Valley Transportation Project for a ramp on Route 981 between Mount Pleasant in the south and the Arnold Palmer Regional Airport, Latrobe, in the east." He stated that the estimated time for a freight hauler between the two is currently upward to 40 minutes while the slip ramp would reduce that time to about 18 minutes, an efficiency, energy and environmental plus.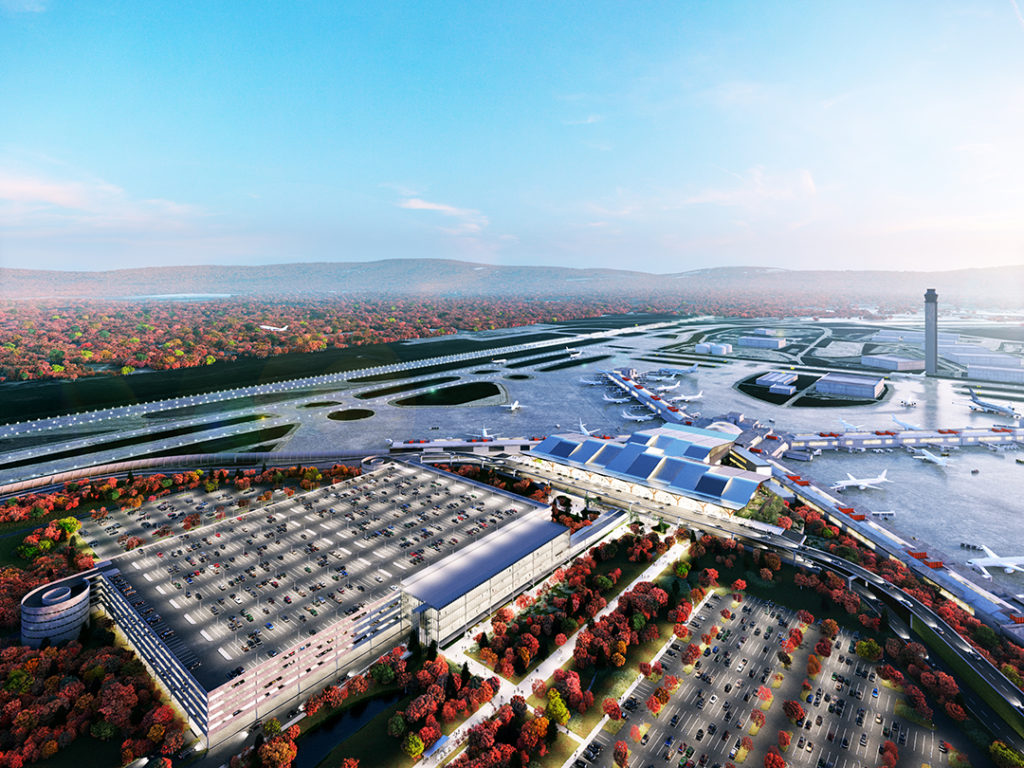 Transportation Futurescape
Those across the region continue to cast an eye toward future transportation and access to services, jobs, schools and all that complements the quality of life in our region.  Currently, a review is underway for the Pittsburgh to Philadelphia Hyperloop with a $2 million contract awarded by the Pennsylvania Turnpike Commission for the study.  This futuristic "pipeline" fueled by electric propulsion moving the train via low pressure, underground tubes, in theory, cuts this trip to about 30 minutes.  Likewise, two concurrent studies ‒ on feasibility and environmental impact ‒ are also underway for a Hyperloop connecting Pittsburgh to Columbus and Chicago, reducing these travel times to an estimated 30 to 45 minutes.  In a February 18, 2018, Pittsburgh Post-Gazette article, this project was one of 10 across the world to move forward by California-based Virgin Hyperloop One and is being refined to "define and identify initial implementation and alignment; identify station locations; estimate transportation demand and economic benefits, and develop a business plan, implementation strategy and stakeholder and public engagement strategy."  Recently, Volkswagen pledged $2.6 billion dollars ($1 billion in cash, a value of $1.6 billion in a 200-person autonomous intelligent driving company) and Ford has committed $1 billion to Argo Al, a robocar firm in Pittsburgh, for the development of self-driving and electric vehicles.  
It digs deep into those needs such as navigable steps, wheelchair access, and options for the disabled or those with behavioral health issues.  "The most expensive thing we can do, is to do nothing: to not move forward and not make inroads into our transportation systems," Fitzgerald concluded.  "We've got to make sure we improve and increase all types of transportation services and routes." mg