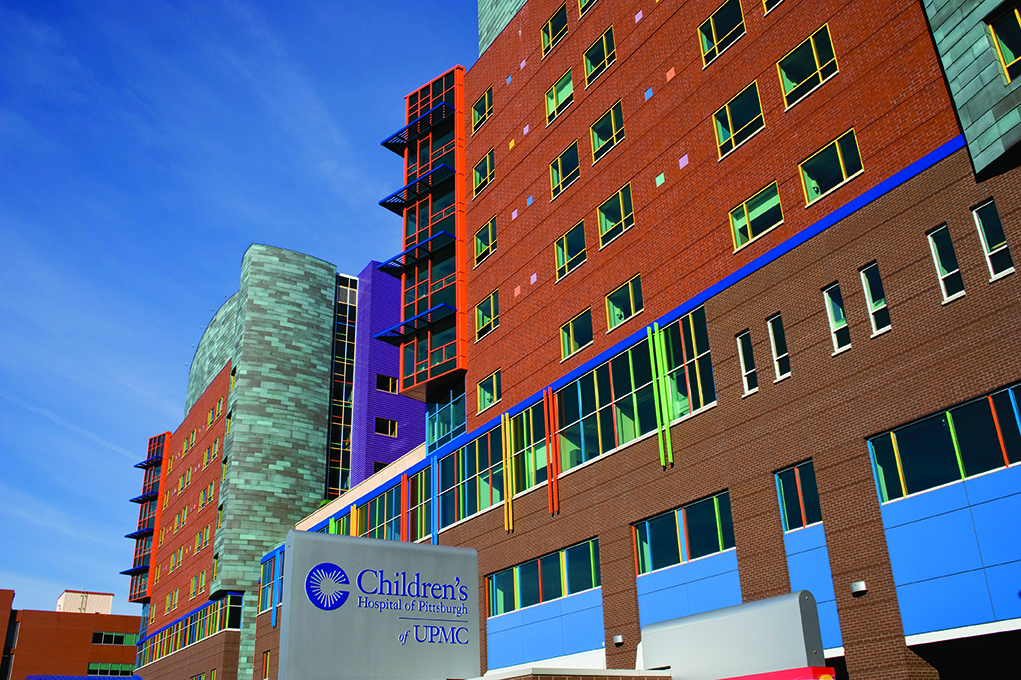 Despite the lingering effects of Covid 19 and the onset of the flu season, the Pittsburgh region's healthcare providers have marched forward on multiple fronts to provide cutting-edge care and caring to their varied populations.  
Perhaps surprising to some is the fact that these institutions have continued to initiate, adopt and/or develop new technologies, protocols and programs in the face of multiple challenges brought about by the pandemic and done so with a keen eye to the future. Further, the breadth, depth and scope of these medical advances position the region as a healthcare destination not only within Pennsylvania, but nationwide and internationally as well. Rounding out this medical triumverant, however, may be the most vital component of healthcare–its people–whose spirit, dedication and resilience fuel the engine of technology, trust and healing. Or, as American sociologist, writer and Harvard professor Daniel Bell explained, "Technology, like art, is a soaring exercise of the human imagination."
While Covid 19 has been the dominant healthcare story throughout 2020 into 2021, important technologic advances also have come to the forefront in the areas of virtual reality, data analysis, genetics, heart and stroke research, and cancer breakthroughs, to name a few. So too, has healthcare delivery taken on a new and even greater meaning with advanced telemedicine, social media and mobile app partnerships, among others. In short, "While it's clearly THE (Covid 19) defining public health, cultural, economic–even political–event of the year, the pandemic shouldn't obscure the fact that 2020 was also a time of great medical innovation," posited Brian Mastroiani for healthline.com (Dec. 30, 2020) in "5 Medical Innovations You Probably Didn't Notice Happened in 2020." The Healthcare Council of Western Pennsylvania (Healthcare Council) observed that more and more healthcare organizations and communities throughout Western Pennsylvania are adopting outreach methods, with some of that growth related to connection with community members during Covid. "We have seen a tremendous growth in healthcare organizations using community outreach to bridge the gap for individuals and families with needs related to their health and well-being," said Nick Vizzoca, President, Healthcare Council. "Healthcare organizations are using Community Health Workers [a growing local, regional and state network focused on working together to address individual and community health] to connect community members with needs to those groups that can fill those needs, including access to food, housing, transportation to healthcare providers, access to mental health services and more related to social determinants of heath." With all the above said, the desire to advance technology, offer new programs, and devise new ways of providing care was certainly not lost on our region's healthcare providers.
The Allegheny Health Network (AHN) moved full steam ahead over the past 18 months, opening five new hospitals, including its $313 million, 160-bed Wexford Hospital, five state-of-the-art community cancer centers, a $90 million AHN Cancer Institute research hub at Allegheny General Hospital.  In 2021 alone, AHN opened its new genomics lab where advanced biologic agents to treat cancer and other diseases are being developed; launched new, virtual ICU (intensive care unit) capabilities at several community hospitals allowing for the addition of more than 60 ICU beds to meet elevated needs, and pioneered a new street medical program to provide care for the region's homeless population.  This past May, the AHN Cancer Institute became just one of six U.S. health systems, and the first in Western Pennsylvania, to begin treating cancer patients with the Elektra Unity MR-Linac, a first-of-its-kind technology combining Magnetic Resonance Imaging (MRI) and linear accelerator radiotherapy in one interactive machine that eradicates malignant tumors more accurately and safely.  A living donor liver transplant program was also launched by AHN in 2021, along with a lung transplantation program established through its unique clinical collaboration with Johns Hopkins Medicine.  Other regional firsts for AHN this past year was its robotic-assisted breast and bowel reconstruction capability for cancer patients and its use of a groundbreaking surgical GPS navigation system to advance the treatment of complex aortic aneurysms.  Spanning its geographic footprint in the state's western corridor, AHN also added new programs and technologies at numerous community hospitals in 2021, such as the state-of-the-art Interventional Radiology Suite at Saint Vincent Hospital in Erie, a new transcatheter aortic valve replacement (TAVR) program at Jefferson Hospital, a new behavioral health program at Grove City Hospital, and a brain injury rehab center at Allegheny Valley Hospital.  Under development and slated to open in 2022 is AHN's state-of-the-art Melanoma and Skin Cancer Center at West Penn Hospital, a new 70,000 square foot Health + Wellness Pavilion in North Fayette and the AHN Health and Sports Complex in Montour.    With Covid came distinct challenges that spurred innovative solutions across the health system.  "One of the biggest such technological advances, for instance, was the rapid adoption of virtual medicine and video visits, which helped us provide care to thousands safely every day," observed Donald Whiting, MD, AHN Chief Medical Officer.  "This continues to be a key, preferred access point for our network's patients."  Supply chain disruptions, too, led to the development of new technologies or the adaptation of existing ones.  Case in point: AHN introduced a novel sterilization technique for N95 protective masks, allowing for their reuse.  Further into the pandemic, AHN worked with MSA Safety to test and utilize industrial-grade, reusable P100 respirator masks in clinical settings.  AHN was one of the first health systems in the country to bring these advanced concepts to life to provide the highest level of protection to its caregivers.  AHN annually supports and partners with many other charitable organizations to sponsor health and wellness events, free health screenings and more to marginalized, underserved populations through its numerous Clinical Institutes and its Center for Inclusion Health.  In 2020, AHN contributed nearly $180 million in IRS-defined community benefits, including charity and uncompensated care, as well as more than $30 million for pandemic response activities benefitting the community.  Partnering with Highmark Health, AHN was the first in the region to launch a mobile Covid testing program to provide optimal access; the first to share PPE supplies with EMS, schools and community organizations, and the first to launch large-scale community mass vaccination clinics, delivering more than 400,000 doses so far to people in Western Pennsylvania. "Every step of the way, our focus has been on doing what's best for the community, providing the highest  levels of care to all who need it, and helping to bring the pandemic to an end," concluded Dr. Whiting.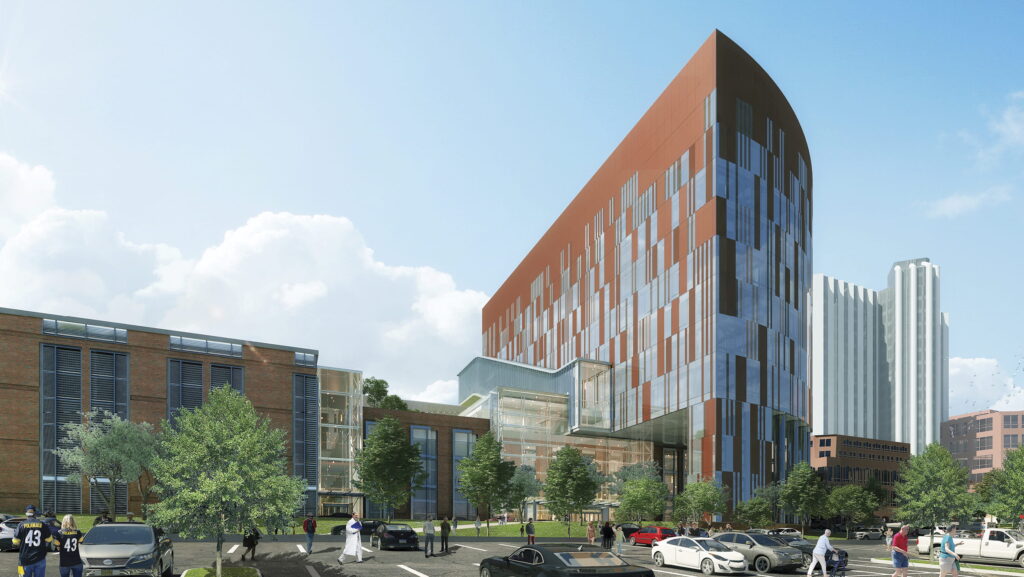 As part of its growth strategy, UPMC has long been a nimble user of technology, from early adoption of electronic medical records to the use of robotic surgery to the development of what is called a "clinical data warehouse" with the goal of advancing personalized medicine. Despite the pandemic, UPMC technology experts and clinicians were poised to provide digital solutions by working together with a range of technology partners to ensure safety and accessibility for patients and their own work force alike. To secure safety for patients and staff, UPMC quickly implemented digital temperature scans at hospital entrances, aided by their tech partner, Certify. Likewise, UPMC supported 85 percent of its staff through the widespread use of Microsoft's Office tools, distributing more than 900 remote access points for newly remote call center staff in a secure fashion, allowing for continuing patient and health plan member service. Again working with Certify, UPMC created an electronic platform to register non-UPMC healthcare workers, and later, patients, for Covid 19 shots. Through the use of this technology, more than 470,000 vaccines were delivered smoothly across the region. With attention turned to outpatients and ambulatory patients, telemedicine technology was scaled to realize a 50-fold increase in virtual care visits, translating to some 6,500 visits each day. "Most importantly, though, is the breathtaking pace of change has resulted in better experiences for our patients, insurance members and staff," said Chris Carmody, Senior Vice President, UPMC Information Technology Division. "There's no question that the pandemic has been a catalyst for accelerating the transformation of health care even at UPMC, where we've long prided ourselves on being ahead of the curve." For its efforts, UPMC was named one of the nation's "Digital Health Most Wired" health system this year by the College of Healthcare Information Management Executives for the 23rd year in a row, reportedly one of only seven health systems eligible for this highest tier of recognition. In the last five years, UPMC has invested more than $2.4 billion in technologies across the health system. At the same time, UPMC has also invested in building projects to enhance care for the region. Begun in March 2019, a 410,000 square foot expansion at UPMC Mercy Hospital, called the UPMC Mercy Pavilion, will increase capacity for outpatient vision and rehabilitative care. Slated for completion in the spring of 2023, the $510 million tower will feature 81 eye exam rooms, ophthalmology operating rooms, 10 rehab exam rooms, and 87,000 square feet of space dedicated to research. Additional highlights include a fully furnished life skills apartment so patients with vision or mobility issues can transition to independent living; an outdoor healing garden, and a patient gym. Heading the Pavilion's Vision Institute is Dr. Jose'-Alain Sahel, a world renown ophthalmologist. Serving as director of the Pavilion's Rehabilitation Institute is Dr. Gwendolyn Sowa, a clinical scientist and Chair of Physical Medicine and Rehabilitation. UPMC had invested $386 million in the past 10 years, with $52 million since 2019, to continue the expansion of specialty care for children, women, cancer, heart and vascular, and the latest technology in the northern region including Sewickley, Wexford, Cranberry Township, McCandless Township and Hampton Township resulting in a $753 million economic impact and a $22.5 million community benefit to the northern region of Pittsburgh. Those expansions have included the UPMC Lemieux Sports Complex, where patients have access to complete UPMC Magee-Womens specialty services such as imaging, OB/GYN services, surgical consultations, cancer genetics experts, gynecologic and reproductive services. The facility now includes a UPMC Children's Express Care urgent care location. At UPMC Passavant-McCandless, services include a UPMC Magee-Womens Imaging Center, urogynecology clinic, robotic bronchoscopy for improved lung screening, the first in the Pittsburgh region and the second in the country, and the UPMC Heart & Vascular Center, among many other services. At UPMC Passavant-Cranberry, the 71st UPMC Hillman Cancer Center opened on December 1, 2021, providing expanded medical oncology services. Also located there is an Advanced Mobile Emergency Response Unit (ARU), a specially equipped sport-utility vehicle staffed with advanced care providers trained to respond to various mutual-aid situations to assist area EMS providers during emergencies. UPMC reported a $1.7 billion, IRS-defined community benefits during fiscal year 2020. Of that $1.7 billion, $509 million made care accessible for the most vulnerable residents in their communities, including $121 million for free, discounted care to 20,000 patients. Caring for 18 percent of patient across Pennsylvania, they provide 25 percent of the hospital charity care in the Commonwealth. Some $558 million was used for health and wellness programs/charitable contributions and $599 million for medical research and education, funding more than half of all hospital funded research in Pennsylvania and 98 percent of all hospital-funded research in Western Pennsylvania.
In the heart of Westmoreland County, Excela Health continues its mission of improving the health and well-being of every life it touches.  With a focus on quality patient care, Excela recently established its Surgical Institute, based in Excela Latrobe Hospital, continuing its "evolution from a capable, community-based confederation of hospitals to a true system of care … one that can provide tertiary and quaternary care in virtually all specialties of medicine and whose quality and outcomes are on par or exceed those of the finest like-programs in the nation," noted John Sphon, Chief Executive Officer.  The project represents a $10 million investment in both technology and facility upgrades.  Featuring a state-of-the-art operating room, the centerpiece is the da Vinci Xi, the latest iteration of the surgical robot acquired in 2019, along with a navigational bronchoscopy system, among other upgrades.  Dr. Michael Szwerc, program champion, Medical Director of Robotic Surgery and Director for the Center for Lung and Thoracic Disease at Excela, explained that the key to helping patients navigate a cancer diagnosis is seamless, coordinated care.  "The creation of the Surgical Institute allows us to bring greater focus to our resources and the entire patient experience within a center of excellence," he said.  "Here we will bring various surgical disciplines together and provide them the latest robotic surgical instrumentation.  This collective expertise both in talent and technology means the best possible outcome for those in our care."  In the face of the Covid pandemic, Excela continued to move forward with cardiovascular care evidenced by the adoption of a new procedure to improve symptoms of patients with systolic heart failure.  Electrophysiologists and vascular surgeons in The Heart Center at Excela Westmoreland Hospital announced their first successful implantation of the Barostim™ Baroreflex Activation Therapy this fall, the first in the state to do so.  The implantable is the world's first FDA-approved heart failure device to use neuromodulation–the power of the brain and nervous system.  Further, the Society of Thoracic Surgeons (STS) recognized Excela's heart surgery program among the top 2 percent nationwide in 2021.  The distinguished, three-star rating from STS considered patient care and outcomes. Less than 10 percent of all programs in the STS database achieve this elite status.  Excela also introduced Trans Aortic Valve Replacement (TAVR) to Westmoreland County residents.  This addition created a local option for those with symptomatic, severe aortic narrowing who are at risk for standard valve replacement surgery.  For its efforts in the treatment of chronic obstructive pulmonary disease (COPD), heart attack and heart failure, Excela was cited as a High Performing Hospital by U.S. News & World Report 2021.  In the area of obstetrics, Newsweek magazine, with the Leapfrog Group, a national non-profit reporting on safety and quality, ranked the Family Additions Maternity Center at Westmoreland Hospital as one of the best in the U.S. for the second year in a row, the only program in southwestern Pennsylvania to earn the accolade.  Excela Health continues to be recognized as a leader in its use of information technology, the latest coming from the College of Healthcare Information Management Executives, ranking in 2021 as a "Digital Health Most Wired" healthcare organization for the second consecutive year.  Excela attained a certified level 7 and Special Recognition designation for both hospital and outpatient performance, reflecting their demonstrated commitment to implementing technologies and strategies such as population health/cost-of-care analytics, health information exchange integration, and patient portals to help analyze data and achieve meaningful and efficiency outcomes.  Extending care to the residents of Connellsville (Fayette County) and beyond, Excela Health announced plans for the development of a 30,000 square foot outpatient/ambulatory care medical complex.  In a preliminary phase, early assessments of the $12 million project may include a wide range of services that would be complimentary "to what is currently available in the area."  To combat Covid 19, Excela Health launched a Testing and Evaluation Center in Greensburg where individuals could utilize a drive-up window for testing and also have the opportunity to see a provider for evaluation if needed.  Some 26,000 drive-through and 7,000 face-to-face Covid tests were provided to community residents.  Monoclonal antibody infusion treatment for patients diagnosed with Covid was also offered.  Vaccination clinics throughout Excela's service area provided nearly 54,000 vaccines to date with continuing pop-up clinics co-sponsored with school districts, churches and others.  Excela also attends to community needs via public and employee health screenings, wellness programs, community education, health professional's education and community aid.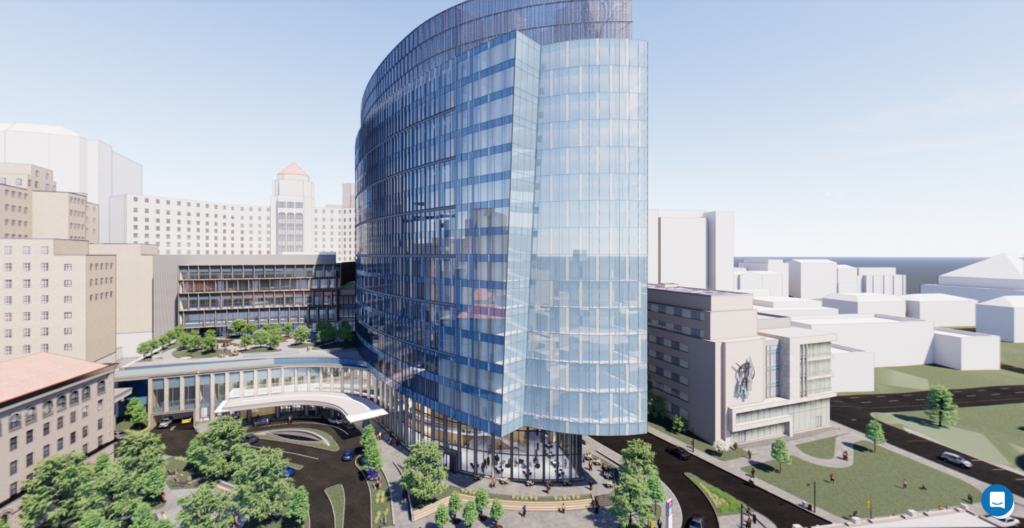 Looking to affiliate with hospitals who are "culturally aligned and relentlessly focused on quality", the Mayo Clinic met just such an organization in St. Clair Health, based in Mount Lebanon. Since the affiliation in 2016, St. Clair has developed numerous programs in conjunction with the Mayo Clinic, such as the pharmacogenomics program, the study of how a person's unique genetic make-up (genome) influences his/her response to medications, utilizing a patient's genome for medication dosing. Another such program is the development of a high-risk breast cancer screening that combines mammography/imaging with a patient's medical/obstetrical history thereby allowing those at high risk to be managed accordingly. Heart care, too, at St. Clair continues to move forward with two, new technologic advances: PFO closure, a means of closing a small hole in the heart to prevent stroke or heart attack, and Watchman, a minimally invasive procedure for those with atrial fibrillation not caused by heart valve problems who need an alternative to blood thinners. St. Clair has now performed more than 150 TAVR procedures, a minimally invasive means of treating those with severe aortic stenosis by implanting a new valve within a diseased heart, improving quality of life and heart function. On St. Clair's main campus, the newly opened Dunlap Family Outpatient Center includes high accuracy cardiac imaging with the newest nuclear camera in the region, taking images in just three minutes or less boasting a higher resolution and greater accuracy than the more traditional 20 to 30 minute camera. "People want consumer access to the highest quality care close to home," noted John Sullivan, MD, Senior Vice President and Chief Medical Officer. "Through our affiliation with Mayo Clinic, we can share resources and make decisions with the help of the best and brightest. Our philosophical approach is one of not simply having you come to us, but us coming to you. All part of being a patient-centered organization." For those coming in to see an oncologist, for example, they may also see a breast surgeon and other medical specialists without leaving the building. "It's what patients want but are not used to normally," he added. This concept has been successful at St. Clair as evidenced by patient satisfaction and Leapfrog scores: St. Clair Health was awarded an "A" Hospital Safety Grade for achieving national standards in patient safety for the 19th consecutive period along with patient satisfaction scores for inpatient and outpatient care in the top 10 percent.
Throughout the 627+ days since the pandemic struck the region, Heritage Valley Health System (HVHS) has "ramped up" advancements at its three hospitals according to Norman F. Mitry, President and Chief Executive Officer. "We strive to find technologies that minimize the amount of downtime for patients," he explained. "At the same time, we seek to maintain our commitment to high quality and cost effective care for all patients, many of whom are seniors." Continuing to expand its robotic surgical capabilities at all three of its hospitals, located in Sewickley, Beaver and Kennedy Township, Mitry views this expansion as a "big part in the evolution of health care in an inpatient setting." The latest such addition at the Beaver campus is the Auris Health Monarch™ Robotic Bronchoscopy Platform enabling an earlier, more accurate diagnosis of small and hard-to-reach nodules in the lung's periphery using a less invasive means. "This robotic platform allows Heritage Valley to provide state-of-the-art medical procedures locally," said Dr. Matthew Woodske, Heritage Valley Medical Group Pulmonology & Sleep Medicine. "When paired with our other technologies, we can give patients an accurate and safe diagnosis and treatment plan." Heritage Valley Beaver is among the first hospitals in the U.S. to utilize the platform. Among its accolades, HVHS had earned a 2020 "Digital Health Most Wired" recognition for Acute and Ambulatory Care by the College of Healthcare Information Management Executives. "Heritage Valley's Board of Directors is committed to an annual investment in information technology," said Jon Zagorski, Chief Information Officer. "This has enabled us to provide physicians and caregivers with state-of-the-art technology that supports our mission to improve the health and well-being of all people in the communities we serve." HVHS recently invested $10 million in renovations and new construction for its behavior health program. A $1.8 million remodel of its 32-bed adult unit at Beaver followed a new 24-bed adult ligation resistant unit at the Kennedy campus along with a renovated 21-bed geriatric psychiatry unit. A joint venture with Encompass Health led to the construction of a new 55-bed rehabilitation hospital in Sewickley just prior to the pandemic, with a 12-bed Encompass Rehabilitation satellite unit opening within the Kennedy campus hospital. Mitry expressed great pride in the system's efforts to provide Covid vaccines citing more than 100,000 shots given to date through a community initiative with the Community College of Beaver County (CCBC). Through two locations, up to 2,000 shots per day were processed through the CCBC gymnasium site and up to 400 per day at a Robinson Township location. "Our Covid Clinics have been an investment in our community," Mitry noted. "Staff, retired nurses and community members all volunteered at these clinics, all wanting and needing to do this voluntarily for our communities."
A New Meaning for "City of Champions"
Pittsburgh has been known by many names, not least among them the "City of Champions" thanks to its sports prowess.  With the onslaught of Covid 19, healthcare workers have been pushed to the brink of endurance and emotion but have come up heroes, or champions, in their ability to provide high quality, personalized care to the region.  While misinformation and frustration have led to some animosity for healthcare workers in other parts of the country, our region has rallied around those providers just as those providers have served not only as caregivers and healers, but consolers, comforters, and surrogate family members, especially for the critically ill and dying.  A hefty toll to pay for those spending extreme hours away from home and family to care for our families.  "Western Pennsylvania is known for being a community that comes together quickly during challenging times and the pandemic was no exception," added Nick Vizzoca, Healthcare Council.  "One example of how our region's "healthcare heroes" worked collaboratively during the pandemic was through the Regional Response Health Collaborative Program.  The program quickly brought together partners to support Pennsylvania's long-term care system by offering Covid 19 readiness and response."    Partners in the program included Allegheny Health Network, the Healthcare Council of Western Pennsylvania, the Jewish Healthcare Foundation, and the UPMC Community Provider Services.  Other subcontracted partners in the region include Excela Health, Penn Highlands Healthcare and St. Clair Health.  Now, our City of Champions title extends to those healthcare heroes and all essential workers who have fought through these trying times.  Perhaps they embody what author Lewis Carroll knew all along:  "One of the deepest secrets of life is that all that is really worth the doing is what we do for others."  mg