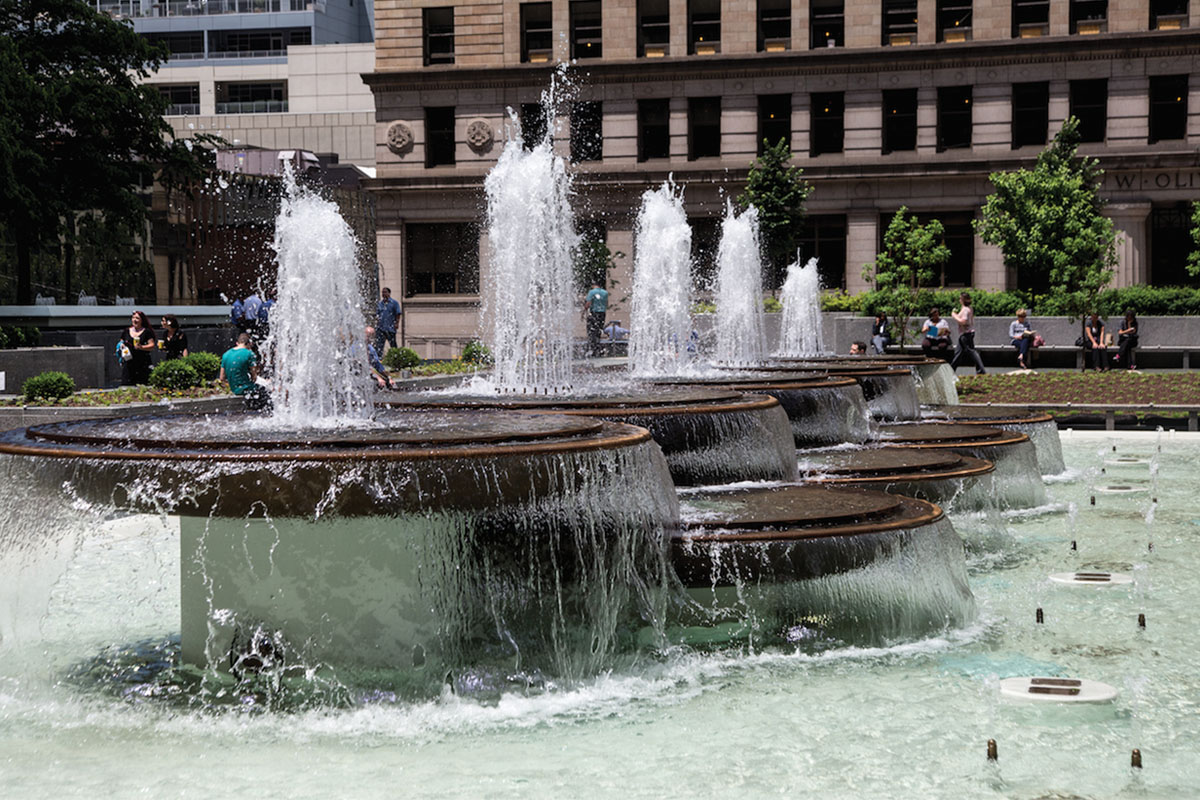 Over the past few decades, the Pittsburgh region has been rebuilt and reborn, shedding its murky past while still staying true to its historical roots. From the communities and the rivers, to the culture and economy – today, Pittsburgh stands strong, with a focus on establishing a brighter future for generations to come.
In March of 2016, the city of Pittsburgh celebrated its 200th birthday, marking the beginning of its most transformative era to date. In the coming years, the City of Bridges will no longer be branded with the stigmas of the past, but instead, celebrated for its attractive riverfronts, green initiatives, thriving Downtown, world-renowned universities, eclectic arts scene and much more.
Forged in steel, saved through philanthropy
The region's history has largely been centered on its origins in the steel industry, which have shaped much of Pittsburgh and its suburbs' legacy throughout the years. Increased demand for steel during the Civil War ushered in a new economic age, and Pittsburgh quickly became one of the largest producers of steel in the world. Over time, the city grew in both population and prosperity, and served as a booming metropolis with endless possibilities for future growth.
"Pittsburgh was the silicon valley of the world in 1890," said August Carlino, president and CEO of the Rivers of Steel National Heritage Area. "All the engineering genius that went into creating the world's infrastructure was rooted in the steel industry at that time – and that's how we grew to be such a thriving city."
As Pittsburgh's economy began to grow, city industrial tycoons used their newfound wealth for the greater good, and invested in many local institutions to enhance Pittsburgh's culture and further establish the communities that now make up what we know as the Greater Pittsburgh Region. Some of today's most notable landmarks were made possible by the industrialists of the steel age, and that sense of philanthropy has remained consistent over the years.
And when the steel market eventually diminished in the 1980s and jobs became scarce, Pittsburgh surprisingly maintained a relative sense of stability with loyal residents and leaders investing back into the community.
"The philanthropic nature of Pittsburgh is what sets it apart from other cities," continued Carlino. "We've been through some devastating times, that's for sure, but we've been able to overcome because of the large number of generous leaders who have consistently invested personal funds back into our city. People have a strong affinity to Pittsburgh – that's what makes it so great."
In 2014, Pittsburgh was named one of the world's most resilient cities by the Rockefeller Foundation, honoring the community for its ability to thrive during periods of major economic or social change. Today, there are more jobs in the city and its surrounding areas than there were when the steel industry was at its peak. Plans for further growth and development support the vision of a Pittsburgh that is strong, stable, nimble and innovative.
Introducing, the next Next Pittsburgh
If you take a walk down some of Pittsburgh's main streets today, you'll find a host of quaint outdoor and rooftop eateries, boutique storefronts, intriguing art installations, bustling markets and lunchtime performances that attract residents from all over the region. On weeknights and weekends, a once quiet Downtown is now activated with arts festivals, conventions, sporting events, gallery crawls and seasonal attractions, including ice-skating and a holiday market. In the spring and into the fall, visitors arrive to enjoy new bike and running trails along the rivers, kayaking and paddle boarding, along with participating in organized tours via foot, bus, Segway or boat. Buildings that were once crumbling have been renovated to accommodate a larger pool of Downtown residents. And, more is coming.
The Golden Triangle is a community of its own – but this hasn't always been the case.
In the early 1960s, Pittsburgh was a product of the donut effect, when local governing bodies focused spending on developing the city's outer suburban areas rather than the urban core. Over the years, this strategy caused a divide between neighborhoods, and created a less accessible Downtown area.
"If you weren't going to a performance or to see a ballgame, there really wasn't a reason to visit Downtown on the weekends before," said Jeremy Waldrup, president and CEO of the Pittsburgh Downtown Partnership. "Very few imagined that Downtown living would become not only a possibility, but highly desirable as well."
Over the past decade, the Pittsburgh Downtown Partnership (PDP) has made a concerted effort to establish Downtown Pittsburgh as a true community, not just a spot for weekday office-dwellers. In the coming years, Downtown will reconnect to adjacent neighborhoods, with the introduction of more than 4,500 residential units and an increase in hotel rooms by 25 percent. These new units will be strategically located in up-and-coming communities such as the Strip District, Uptown and the Lower Hill—particularly exciting is the 28-acre redevelopment of the former Civic Arena site.
"Downtown is more of a destination than it's ever been," Waldrup said. "There are things going on in the city that are attracting people from all over. Now, people want to walk to Market Square or swing by the cool new rooftop bar at the Hotel Monaco. Downtown has become the place to be – even outside the work week."
In 2015, the PDP teamed up with city Mayor Bill Peduto to launch the Envision Downtown initiative – a public private partnership aimed at crafting a 21st-century vision for the sustainable and efficient development of a Downtown for all. The group plans to enhance the Downtown scene by finding innovative ways to introduce short-term, impactful pilot demonstration projects, including place-making, public transit and infrastructure improvements, while engaging stakeholders in longer-term planning and design work.
"Pittsburgh was originally designed for the automobile," Peduto said. "In the coming years, we're looking to redesign Downtown so that it's accessible for everyone—whether you ride a bike, drive a car, take the bus or even walk."
Plans for a more accessible Downtown have helped local businesses and tourism organizations attract new patrons as well.
When the 2008 recession hit, many residents formed a greater appreciation for the unique amenities available right in their own backyards. "Staycations" became more popular among area families, and regional attractions gained attention from a wider pool of visitors looking to escape for a few days or a weekend.
"Employment in leisure and hospitality in the Pittsburgh metropolitan area has grown 33 percent since the recession, and added 10,000 net new jobs to the area in just the last year," said George Mokrzan, chief economist for Huntington Bank. It reflects the added boost to the economy provided through the 'New Pittsburgh.'"
Today, tourism attractions in local counties have made strides to improve exhibits and create events to draw tourists and residents who might not have considered the Pittsburgh region a vacation destination.
Mark Miner, chairman of the board of trustees for the Beaver Area Heritage Museum, an organization located 30 miles northwest of Pittsburgh, has been instrumental in helping to enhance the Beaver area as a historical destination. In 2015, the Beaver Area Heritage Foundation received a $500,000 commitment from the Allegheny Foundation in a $2.3 million campaign to complete Beaver Station Cultural & Event Center, an adaptive reuse of a 118-year-old former railroad passenger station. Upon completion, the center hopes to attract new faces to the area.
"As our neighboring regions develop their own cultural attractions, out-of-towners will be more likely to visit," Miner said. "Improving tourism across the Greater Pittsburgh area will encourage businesses to set up shop in places that they may have missed before."
The museum itself was named Best Local History Museum in the nation in 1998, and future plans to build out the heritage campus are underway.

Plans For a Bright Future
Though many believed Pittsburgh's steel-centric economy would be the source of its eventual demise, the large influx of technology and startup companies in recent years has paved the way for a newly revitalized city. Armed with support from local political groups and nonprofits, the Steel City has migrated to a new cash crop, silencing the stories of what once was and welcoming the possibilities of a flourishing future.
In the early 1980s, the Greater Pittsburgh area experienced an unemployment rate of 17 percent, according to multiple reports. A college education did not guarantee a job for local professionals, causing much of the younger population to seek positions elsewhere. The city's status dropped virtually overnight, and economically challenged communities became more common.
Recognizing the need for a change, local groups worked directly with tech-industry influencers to create an environment for established companies and emerging startups to call home. Innovation Works, the region's largest and most active seed-stage investor, has invested over $53 million in more than 160 technology startups since 1999. Its nationally ranked accelerator program, AlphaLab, offers a
Plans for a more accessible Downtown have helped local businesses and tourism organizations attract new patrons as well.
20-week program for qualified start-ups to get up and running, increasing chances for long-term success.
Today, thanks to such programs, Pittsburgh and its surrounding areas have been flooded with some of the most pioneering businesses in the world. Buildings in the Downtown region that were once inhabited by some of the greatest minds in the steel industry have been newly renovated and modernized to make way for the next generation of leaders.
"We're noticing entrepreneurs in technology and life sciences have benefited from the strong presence of Google in our area, and companies such as Duolingo, Aquion Energy, Cohera Medical, NoWait and 4Moms have experienced incredible successes," said Audrey Russo, president and CEO of the Pittsburgh Technology Council. "The number of startups that have received venture capital, from inside and outside Pittsburgh, has grown quarter over quarter for the last year – and this trajectory will likely continue."
Small businesses in general have gained traction over the years. The shift from large shopping centers and restaurants to smaller, boutique storefronts in the Downtown region and its surrounding areas has awakened a new pool of entrepreneurs.
Local banking institutions have continued to show their confidence for small business growth in the market. In 2014, Huntington Bank issued more than 230 Small Business Association 7(a) (SBA) loans to businesses in the Pittsburgh area, and was named the number one lender of SBA loans in the country.
"Pittsburgh's economy is on the rise in part because of the growing number of small business owners in the region," said Sam Huston, business banking regional director at Huntington Bank. "Small business creates over 60 percent of all new jobs and we will continue to make it our mission to support that growth."
Pittsburgh's educational institutions have also aided this long-term job creation strategy. Both Carnegie Mellon University and the University of Pittsburgh are committed to devising programs that foster a pioneering spirit.
As the city continues to attract new opportunities for jobs, many local college students are choosing to stay in the area after graduation, and young professionals who grew up in Pittsburgh are coming back to put down roots. Headlines about the "brain drain" a few years ago are now about the "brain gain." A surge of millennial talent is reviving what was lost during the 1980s, making the region more diversified as a whole.
Communities that were once in disrepair have become desirable investment neighborhoods for young professionals looking for an affordable, urban lifestyle close to attractions and amenities. Areas like Brookline, East Liberty, Manchester, Larimer and Polish Hill are beginning to prosper once again – and new development is on the horizon. In fact, the City created an entirely new Department to handle the influx of new building permits and licenses coming in since Mayor Bill Peduto took office.
"Pittsburgh has a lot to offer. Our residents have the opportunity to live in an area with great quality of life, a diverse population – and all at a relatively low cost of living," said Bill Flannigan, CCO of the Allegheny Conference. "We have really grown and developed over the past 30 years and endured many devastating times – and now, we're thriving from it. "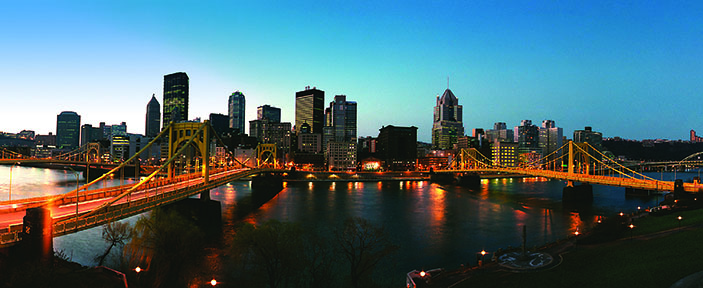 Once the Backyard of Our Industry, Now the Front Door to Our Communities
On a sunny day in Pittsburgh during the mid- 1900s, when steel production was at its peak, the sky around the riverbanks was almost completely clouded with pollution. For much of the region's lifetime, the rivers were only utilized as a zone to shelter area steel mills or deliver goods, and local residents often associated the riverfronts with danger.
With the help of several local foundations, Pittsburgh's rivers have been given a second chance – sparking a sustainability revolution that has created opportunities to reinvent public spaces that were once ignored.
Progressive organizations like the Pittsburgh Parks Conservancy, a local nonprofit focused on rebuilding Pittsburgh's park system, have been key drivers in redeveloping some of the city's most celebrated green spaces. To date, the Parks Conservancy has raised more than $84 million toward improving area parks, and has launched several initiatives to develop the city and its surrounding areas.
The Parks Conservancy helped restore Mellon Square Park, the first modern garden plaza to be built atop a parking garage. In 2015, the group also launched the Parks Prescription Program, a pilot project aimed at tackling childhood obesity and other health challenges by "prescribing" children to play outdoors. These are just some of the many plans in place to help encourage people to better utilize the region's beautiful outside spaces.
"A top priority for our organization is to nurture original thinking and creative expression in Pittsburgh's children. One project we have in the works is the reimagined Frick Environmental Center in Frick Park," said Meg Cheever, president and CEO of the Pittsburgh Parks Conservancy. "This project is an investment in Pittsburgh's future, and once it's complete, people of all ages, from all parts of the city, will have access to hands-on environmental education. It's our hope that experiences like these will inspire the children who visit our parks to become our future conservation leaders."
Downtown streets have received a makeover as well. In 2014, Mayor Peduto allotted $250,000 in city funds to build five miles of protected bike lanes. The city also launched a new Healthy Ride program through the Pittsburgh Bike Share, inspiring local residents to choose a healthier transportation option. The many convenient biking programs have since made city streets a safer place for both cyclists and drivers, and continue to foster a more eco-friendly atmosphere in the Downtown area.
From skyscrapers to local parks, to river banks and city streets – the Greater Pittsburgh area has taken drastic measures to ignite change in its communities over the years. The rivers that once caused a divide between shores are now a uniting force connecting the region. Today, the city alone boasts more than 45 acres of park space, 13 miles of riverfront trails and 3.8 million square feet of Energy Star-certified land – a far cry from the Pittsburgh of the past.
Here's to the Next 200 Years
As major transformations enhance the Pittsburgh area, the region will only continue to blossom. Although plans for future improvements pushed forward by local organizations will pull the city further away from its days of despair, it is Pittsburgh's people that set it apart. The citizens of the Greater Pittsburgh area have a special bond with their community – a loyalty that many refer to as the city's true identity.
"Years down the line, I want to see a region where there aren't poor neighborhoods, where the business districts are always thriving and Pittsburghers stay true to their roots," said Mayor Peduto. "When you think about Pittsburgh in a nostalgic way – before the steel collapse, before all the economic struggles – that's the city I want for our future."