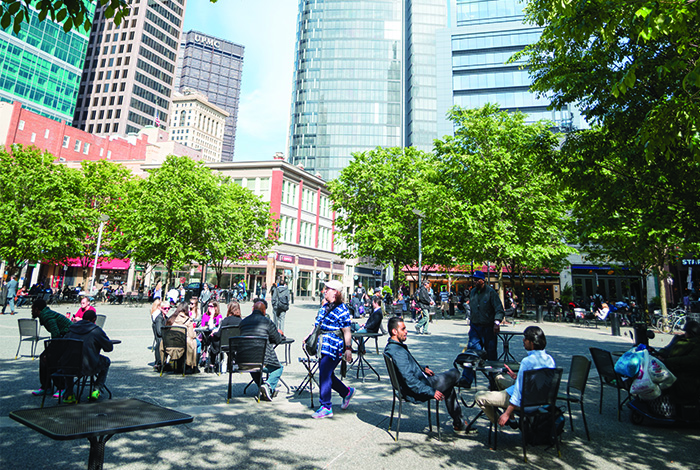 People are buzzing about Pittsburgh.
In the past few years, the city has received a long trail of accolades, topping lists as the most livable city or best new travel destination.

But 'buzz' is a phenomenon that isn't just about how many people are talking, but what they're saying. So MetroGuide asked some of the city's biggest champions why Pittsburgh is so deserving of its rise on the national scene. Their perspective is as intangible as it is tangible—a story of pride and energy behind a city of three rivers, 446 bridges, and more than 305,000 people.

The 'Big Small Town' That's Easy to Call Home

"Pittsburgh genuinely is an inviting town," says Jim Belchick. "It doesn't matter where you came from—you're welcome."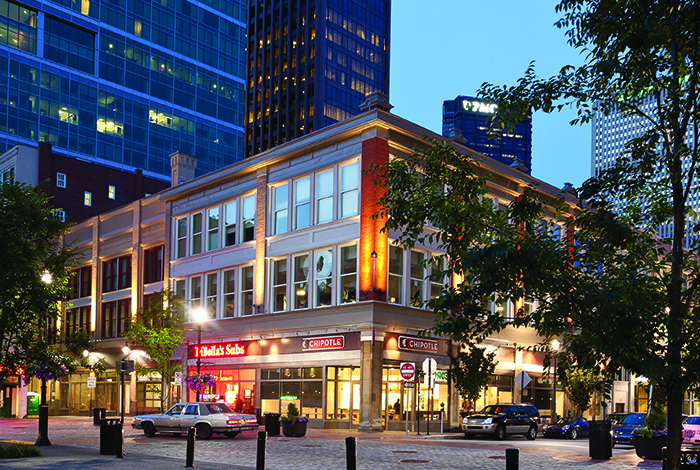 Belchick is the Shadyside based real estate agent for Coldwell Banker, whose relocation department settled hundreds of transferees last year in the Pittsburgh region. Business is booming, thanks in part to companies' growing investment in resettling their employees.
Other real estate experts are quick to praise the friendliness of Pittsburgh. Tracy Young, the relocation director for Berkshire Hathaway Home Services, is someone so rooted in Pittsburgh that she jokes she'd never leave.
"We laugh about how some longtime residents don't want to cross a river, but sometimes it's true!" she says. "What we're really saying is that people here take such an active and vital role in their neighborhood. They feel connected to where they live."
In fact, Young chose to stay in town partly because of the investment she could feel in Pittsburgh's communities. As a chemical engineering graduate from Carnegie Mellon University, she certainly had offers to leave. But growing up in a middle-class neighborhood in Pittsburgh's South Hills area, she saw how it was possible to "make a good life here, regardless of whether your family was bluecollar or whitecollar."
More than a century of philanthropic investment has given the region a backbone of equity. Under the stewardship of the Pittsburgh Parks Conservancy, the city maintains a truly massive amount of public land, like Frick Park, 644 acres of preserved forest named for American industrialist Henry Clay Frick. Or Schenley Park, 300 acres named in 1889 for famed benefactor Mary Schenley. As it sprawls through the neighborhoods of Greenfield, Squirrel Hill, and Oakland, Schenley Park hosts citywide events like summer movie festivals, concerts, and an annual vintage sports car race.
Of Pittsburgh's big city amenities, Young and Belchick say that the lively arts and culture scene most surprises newcomers. Strolling around the 14 square blocks of the city's Cultural District, they can enjoy dozens of fine dining establishments, 12 art galleries, and six theaters. Those world-class institutions include Heinz Hall, the 2,661seat residence of the Pittsburgh Symphony Orchestra, and the Benedum Center for the Performing Arts, home of the Pittsburgh Ballet Theater.
Across the water from the Cultural District are two of the three sporting institutions that are the crown jewels of Pittsburgh: Heinz Field, home of the Pittsburgh Steelers, and PNC Park, the Pirates' family friendly baseball stadium that boasts stunning views of the city skyline. Just a mile away is the CONSOL Energy Center, where raucous hockey fans cheer on the Pittsburgh Penguins.
"I always tell people, Pittsburgh can be whatever you want it to be," says Belchick. "We're not ever going to be the size of New York City, but we have all the amenities of a large city with a small-town feel. You have the best of both worlds."
Those who wish to escape the city lights will love Pittsburgh's backyard. A treasure trove of outdoor activities sits just 90 minutes to the southeast, starting with Seven Springs Mountain Resort, the wintry haven of ski enthusiasts. A little further south is Ohiopyle State Park, gateway to the 70-mile Laurel Highlands hiking trail. Ohiopyle is an adventurer's paradise, home to open fields for stargazing and a bustling main drag by a sleepy stretch of the Youghiogheny River, which twists upstream into wild, Class 4 rapids.
And yet a major piece of history is just 10 minutes away. Nestled into the woods and cantilevered over a 30-foot waterfall is Fallingwater, the masterpiece of architect Frank Lloyd Wright. Built for the Kaufmann family in the 1930s as their summer getaway, the house was a welcome retreat from the coal bitten air of Pittsburgh, where the Kaufmanns ran their eponymous department store. Now, it welcomes more than 167,000 visitors a year, who step through the exquisitely preserved house to experience Wright's vision.
Something for Everyone in a Diverse Housing Market
It may not be built by one of the foremost architects of the 20th century, but newcomers' ideal home is waiting to be found in Pittsburgh's housing market. That's the experience driven belief of Susan Sadowski, the senior vice president of relocation and development for Howard Hanna Real Estate Services.
Sadowski oversees Howard Hanna's relocation offices across eight states, resettling employees from all across the country.
"It's really interesting to help people find their neighborhood match in Pittsburgh," she says. "When people are moving from, say, Boston, they tend to go into Mt. Lebanon, Sewickley, or the Lawrenceville area—areas with that little downtown feel, because that's what they're used to. Or we might bring someone up from North Carolina or Texas, and they're looking for the suburban experience they had before. In Pittsburgh, they find that in subdivisions within Fox Chapel or in Cranberry Township to the north." Sadowski says that newcomers also are finding the right educational match for their children.

"Our school districts are a big plus," she says. "Parents who want a smaller, neighborhood feel will find it in places like Quaker Valley School District in Sewickley, or in the South Hill districts like Mt. Lebanon, North Fayette, and South Fayette."
The Pittsburgh region's public schools are highly ranked across the state and nation. But newcomers will find additional opportunity in the city's longstanding private schools: established names like the Winchester Thurston School, the all boys Central Catholic High School, or the all girls Ellis School.
It adds up: while for many families, the school district is the deciding factor, there's so much depth and quality to Pittsburgh's neighborhoods that they can make a good life wherever they settle.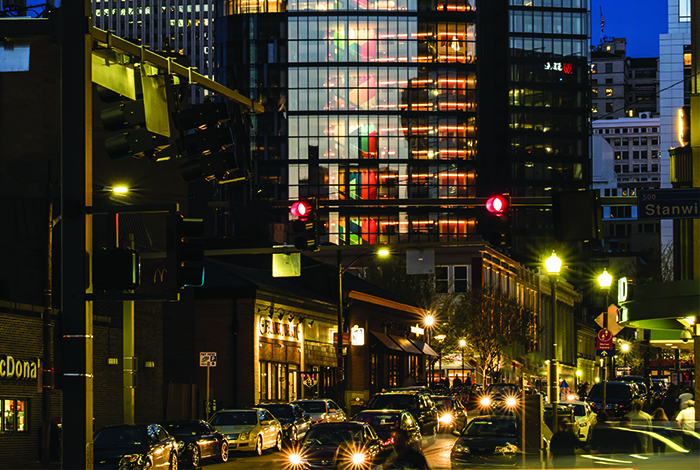 An Urban Renaissance Across the City
Perhaps no urban neighborhood has received more buzz than Lawrenceville, a thin stretch of land along the Allegheny River just a few miles northeast of Downtown. For decades beyond the 1980s, Lawrenceville was a neighborhood of dilapidated rowhouses and warehouses, the gritty remnants of a flagging steel industry.
Then, it was an area best avoided when the sun went down. Now, the Butler Street corridor is one of the city's most electric scenes. A hip energy mingles with the traditional: vintage boutiques, a secondfloor bowling alley, and quirky finds like a specialty card shop sit beside neighborhood bars and sandwich shops.
There also isn't a dining trend missing, not when Lawrenceville's popular restaurants are dishing up fusion cuisine, tasty small plates, and hearty gastropub fare. It's the sort of risk taking that helped to inspire Pittsburgh's win as Zagat's top food city in 2015.
The neighborhood has so much buzz that it's often the first place out-of-towners ask about when they relocate—particularly if they're from a big city like New York. Most can't believe what they can get for their dollar.
"You can find a house in the heart of a great district like Lawrenceville for $300,000!" says Belchick. "That's a bargain to a New Yorker."
Out-of-towners have fallen for Lawrenceville's classic brick rowhomes, whose brightly painted doors and windows delight from the outside. Inside, exposed brick and lofty ceilings extend the charm.
The strong demand for housing has attracted investors who are renovating forgotten properties and building brand new ones. Where to live often comes down to the interior space that the buyer prefers, says Belchick.
"When I'm introducing people to the Lawrenceville area, I often take them through my house first, so they can get a sense of a typical home," he says. "And my house is tall—four bedrooms tall—but it's narrow. So some people say, 'How do you live here?' But if you like the solid brick architecture, you can always open up a floor and have a two-story living room with an office on the third floor. Otherwise, you can live in one of the newer developments cropping up, which have a more open layout."
With the investment surge, prices in buzzworthy neighborhoods like Lawrenceville are no longer undervalued. But Pittsburgh prices are still a bargain. In 2015, Zillow reported that the median sale price of homes in Pittsburgh was $153,600, well below the national median of $175,500 for single-family homes.
"The ability to purchase a home in this area is unparalleled," says Young. "And more often than that, we're comparable to or more affordable than where people are coming from."
Lawrenceville isn't the only neighborhood that has experienced a revival. The construction boom is even more visible in up-and-coming areas like East Liberty, where land is at less of a premium. Perhaps more than any other neighborhood in Pittsburgh, East Liberty is restoring the convenience of urban living, and its own legacy as a shopping district. The neighborhood is home to a power trio of grocery stores—Whole Foods, Trader Joe's, and Giant Eagle—as well as Bakery Square, a mixed-use shopping center and the headquarters of Google's Pittsburgh office.
East Liberty also has another ace up its sleeve: Target, the only superstore within the city. Many observers credit the store's grand opening in 2011 for kick starting the wave of new development on Penn Avenue, including new apartment complexes at the doorstep of Target and Bakery Square.
Then there's the Strip District, which, like Lawrenceville, has an industrial past and a bustling scene. The Strip is famous for its weekend market, which draws a busy pedestrian crowd into specialty grocery stores and coffee shops, right past the sizzling grills of outdoor food vendors.
The Strip District's diversity of ethnic influences, including Asian, Italian, Mexican, and Latin American eateries, makes it one of the city's biggest melting pots. It's also a short drive or bike ride away from Pittsburgh's central business district. So it's no surprise that loftstyle living has followed in renovated buildings like The Cork Factory or The Cigar Factory. And as always, there are neighborhoods that aren't aiming to be 'up-and-coming' at all—the kind of neighborhoods where quality-of-life is good and housing is especially affordable.
"I am really keeping my eye on the West End, especially the under considered area of Banksville/Westwood. You can count on this," says Belchick. "It's a safe neighborhood that's just five minutes from Downtown, tucked in between Green Tree and Crafton. Now, Crafton is very desirable because of the architecture, but a lot of people can't afford Crafton. So I'm starting to see people buying houses in Banksville/ Westwood instead for $80,000﹘$90,000, making some renovations and upgrades, and in time, they have a beautiful new home in the city of Pittsburgh."
Real estate professionals agree: Pittsburgh has so much untapped housing opportunity that market saturation still isn't a concern.
"I don't necessarily believe that there is a tipping point in Pittsburgh," says Young. "We were so fortunate to avoid the real estate bubble. You're not going to see your house necessarily triple in price in three years, but you'll see a flow of nice steady growth."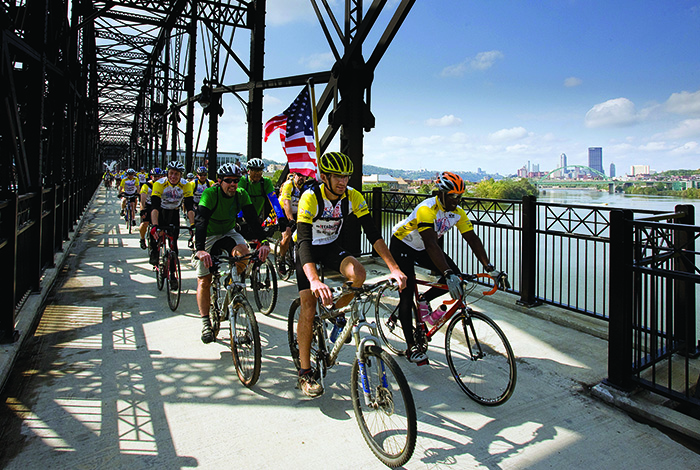 Spirited Momentum in the Business Community
An abundance of housing opportunities, first-class school districts, and cultural amenities: none of this would be possible if the job market wasn't strong.
Enter the Allegheny Conference on Community Development, a force behind regional, environmental, and economic evolution since 1944. Working with its affiliate organizations— the Greater Pittsburgh Chamber of Commerce, the Pennsylvania Economy League of Greater
Pittsburgh, and the Pittsburgh Regional Alliance (PRA)—the Allegheny Conference is focused on various issues affecting the economy and quality of life in the 10-county Pittsburgh region. That includes the critical priority of ensuring that the region's workforce aligns with employers' needs, from supply to skill sets.
From the Conference's mile-high view, potential is everywhere. Recently, its staff facilitated a series of focus groups with regional leaders about their current and future talent requirements, bringing more than 130 CEOs, human resources directors, and education experts to the table. "The momentum and collegiality of all the businesses here was palpable," says Linda Topoleski, the Allegheny Conference's vice president of workforce operations and programs, and the staff lead on a supply-demand study that the Conference is undertaking. "This is a moving train."
James Reddish, part of the national project team working with the Allegheny Conference on the project, couldn't agree more. "We were struck by the volume and quality of business engagement [related to the supply-demand study focus groups]," he says. "You don't often find a business community with this strength of leadership." Topoleski is fond of describing Pittsburgh's engagement by way of local tech entrepreneur Don Charlton, who says, "In Pittsburgh, we really feel that the entire city is behind us, helping us succeed."
Spurring Pittsburgh's growth in the information technology sector is one of the key goals of the Allegheny Conference's workforce strategy. According to Topoleski, a number of promising factors have converged to draw IT professionals to the city: more favorable perceptions about the depth of job opportunities, rising salaries, and an awareness of the region's favorable cost of living.
Pittsburgh got another major boost in February 2015, when Uber announced that it was launching a robotics research lab and technology center in the Strip District. As part of a joint venture with Carnegie Mellon University (CMU), Uber's Advanced Technologies Center is working on developing the technology for driverless cars. When construction finishes on a nearby site, the company will have another famous neighbor: Apple, which has leased 26,000 square feet at The Yards at 3 Crossings for an undisclosed project.
Another big win: Facebook's announcement in January 2016 that it was opening its Oculus virtual reality office in the Oakland neighborhood, just a block from the University of Pittsburgh's iconic Cathedral of Learning.

Home Grown Talent Gets Next-Level Funding
Big name tech moves owe a lot to the presence of university powerhouses like Pitt and CMU, which provide access to some of the brightest minds in research, computer science, and engineering. Yet many of their graduates aren't moving on to bigger companies, but starting their own 'next big thing.'
Case in point: CMU's Center for Innovation and Entrepreneurship (CIE) incubated an astounding 130 companies in the past five years, the result of seed funding, strong corporate partnerships, and mentorship.
Of the CIE's most recent startups, 11 have been acquired by companies like Google, IBM, Boeing, and Home Depot. But several others have rapidly become a local success story, like Branding Brand, whose mobile commerce platform serves a growing plate of Fortune 500 companies. Branding Brand is the brainchild of three CMU graduates who evolved the company from College Prowler, a venture they formed while studying at CMU's Tepper School of Business. "An overnight success typically takes two to five years," quips Michael Annichine, CEO of MageeWomens Research Institute & Foundation. Annichine knows firsthand how much it takes to bring an idea to market. In 2009, he sold his company in the financial services industry and began building his career at several entrepreneurship incubators in the region: the Pittsburgh Life Sciences Greenhouse, Cleveland, and Innovation Works, a Ben Franklin Technology Partner.
"Between universities with executive-in-residence programs and other local institutions, there's  an estimated $5 to $7 million spent annually on an ecosystem to support entrepreneurs," he explains. "It took more than 10 years just to build that ecosystem."
Now that the ecosystem is established, its players can focus on moving great ideas through the pipeline at a faster clip. Part of that is accomplished by capturing 'dormroom ideas' and accelerating the learning curve for entrepreneurs. The other part depends on providing a surge of capital so that businesses can have a larger impact.
Contrary to how most people imagine a startup (poof! viral), fledgling businesses have a defined fundraising target for every stage of growth. First, there's proof of concept: will the idea work? Then, market ready: will it sell? Next, scalability: can the business expand?
"Pittsburgh has been really good at bringing a lot of seed funding to the table," Annichine says. "We're now beginning to attract that next level capital, which I think is desperately needed."
Annichine is seeing promising signs that capital is flowing into the area. He names regional venture capital firms who are opening offices in Pittsburgh, as well as local firms that primarily were invested on the West Coast, but are now consolidating their activities here. These are the types of moves that were rare five years ago.
"One of the things we've been able to do lately is generate a buzz nationally," he says. "We're getting more national investors to the table, which is significant."

Strategizing for Sustained Growth
There's more than one way to attract investors. In 2015, the Allegheny Conference spearheaded the Power of 32 Site Development Fund, which helps to prepare sites for construction when traditional sources of financing are not options for landowners or developers.
So far, this private, patient mortgage loan fund has raised $49 million. Sites in the Pittsburgh region, as well as in parts of nearby Ohio, West Virginia, and the Maryland panhandle are eligible, with particular consideration given to brownfields.
"We don't want to lose projects because we don't have enough sites ready to meet corporate demand," says David Ruppersberger, president of the Pittsburgh Regional Alliance, the region's economic development marketing organization.
Southwestern Pennsylvania's rolling topography may require extra time for site preparation, such as installing water and gas lines, so planning for horizontal construction is essential. Infrastructure is just as important, says Ruppersberger: incoming corporations often desire sites of 20+ acres, with some companies specifying that they will only consider sites that are in proximity to Class 1 rail service or interstate highways.
Yet as competition for new business heats up, Allegheny Conference officials say that planners are far from relying on 'smokestack chasing'—the strategy of drawing one major employer to the region and then gambling on that company's commitment.
Instead, Pittsburgh's story is about a network of companies who have reinvested in the region time and time again. According to the PRA's annual Business Investment Scorecard, 2015 was the ninth straight year that capital investments exceeded $1 billion. A total of 275 business investment deals were announced, encompassing expansions, relocations, attractions, and development deals across the 10-county region.
"Seven out of 10 deals were expansions, supporting the impact of a 'growing your own' economic development strategy," says Philip Cynar, senior communications specialist at the Allegheny Conference. "In the end, a blend of both expansions and attractions is good. But the proof of the region's value as a business investment destination is really found in the decisions of existing companies, who decide to further invest here because the region is working for them."
Which industry sector led the way in deals of the 275 that were announced? Advanced manufacturing—an answer that still surprises those who think of Pittsburgh as an aging steel town. The sector announced 63 deals, nearly double the 37 each that were made by the financial services and technology industries.
With its many surprises, Pittsburgh just might be the kind of place that visitors have to see to believe. Topoleski sums it up best, as she describes what she's learned about attracting top talent: "If you can get them here one time, they're sold."